Samaritan's Purse recently completed disaster relief deployments in both states.
We thank God for successful deployments in Albany, Georgia, and Hattiesburg/Petal, Mississippi, both of which came to a close on February 18. In response to damaging January storms, more than 2,600 Samaritan's Purse volunteers helped nearly 900 residents clean up their homes and properties between the two sites. Our teams, working in partnership with Billy Graham Rapid Response Team chaplains, reported a combined total of 120 people newly saved by Jesus Christ in the Albany and Hattiesburg/Petal areas.
Dozens Saved in Albany
In Albany, 1,882 Samaritan's Purse disaster relief volunteers helped 677 homeowners clear storm debris from their properties and attach tarp to damaged roofs. We first responded there after a terrible wind storm damaged homes Jan. 2-3 and continued our work after a series of powerful tornadoes roared through the southern U.S. during the weekend of Jan. 21-23.
When Albany homeowner James Johnson looked at the pile of huge trees the tornado had thrown into his backyard, he worried how he would be able to clean up the mess.
After dozens of Samaritan's Purse volunteers surrounded his home to clear away the debris and nail tarp to his roof, James' spirits lifted.
"Thank God for these people here," he said. "They do a really good job. I never could have done this myself."
Diane Turner from Dahlonega, Georgia, was one of the volunteers who cleared tree limbs from James' and his neighbors' yards. This was Diane's first Samaritan's Purse disaster relief deployment, but she collects items for Operation Christmas Child shoebox gifts as part of Concord Baptist Church in Cumming, Georgia.
Diane had sent a message on social media, asking fellow church members how they could help Albany residents after the tornado. A few seconds later, she received an email from Samaritan's Purse about the need for disaster relief volunteers there.
"I saw it as God's confirmation," said Diane, who volunteered in Albany with fellow church members. "I really wanted to volunteer with Samaritan's Purse," she said. "Now, after helping these people here, I want to do it some more."
Gillionville Baptist Church in Albany hosted Samaritan's Purse. Eight-three individuals received Jesus Christ as Lord and Savior through the deployment. One of those new Christians is 83-year-old Lester Johnson, an Albany homeowner who ended up volunteering with us more than a dozen times in his hometown.
Making a Difference in Mississippi
The Jan. 21 tornado that struck Hattiesburg and Petal, Mississippi, tore holes in the home Sandra Mack's great-grandfather built in Hattiesburg. Rain pouring in through the torn ceilings weakened floor boards and soaked both family heirlooms and new furniture Sandra had purchased to remodel the house that four generations of her family have called home.
"Whatever you can do to help, I appreciate it," Sandra said. "This house stood through Camille, Katrina, and many other storms. … This (tornado) was one of my biggest fears."
A total of 772 Samaritan's Purse disaster relief volunteers helped 209 homeowners in Hattiesburg and Petal clean up after this past January's tornado. Carterville Baptist Church in Petal hosted the volunteers.
There were 37 salvations reported during the deployment from Jan. 23-Feb. 18. Those who made professions of faith in Jesus Christ include Lisa Barnes, who came to Christ during a Samaritan's Purse Bible presentation to her friends Kayla and Warren Randle. The Randles credit Jesus with protecting them when their house crumbled around them.
"My husband wrapped me up in his arms, and Jesus wrapped him up in His—there's no other explanation," Kayla said. "We almost lost our lives. God saw us through this."
Samaritan's Purse Disaster Relief deployed to the same area four years ago in February 2013 after a similar EF3 tornado.
Volunteer Kathy McCrary from Petal volunteered with us four years ago. Her husband, Johnny, who joined her as a volunteer this past January, said that the damage is just as heartbreaking.
"Sadly, after these tornadoes and Hurricane Katrina, we're starting to get experienced at this," Johnny said. "We pull together."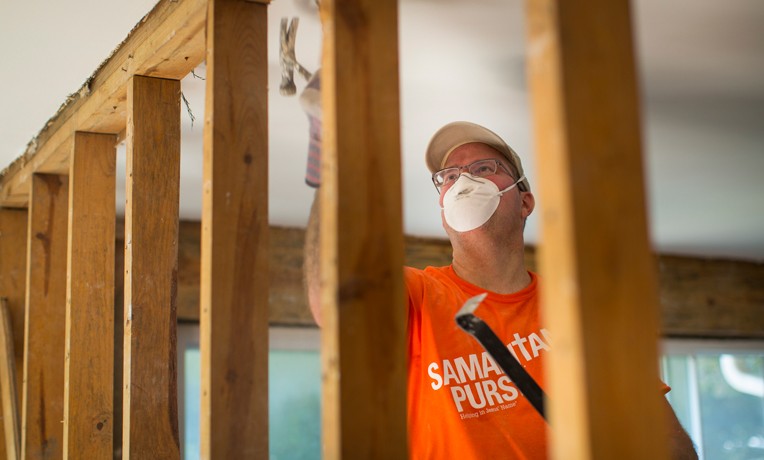 U.S. Disaster Relief
Samaritan's Purse mobilizes and equips thousands of volunteers to provide emergency aid to U.S. victims of wildfires, floods, tornadoes, hurricanes, and other natural disasters. In the aftermath of major storms, we often stay behind to rebuild houses for people with nowhere else to turn for help.
---
U.S. Disaster Relief 013622