Operation Heal Our Patriots helps jumpstart healing for a husband and wife from Florida.
Bless the Marriage of a Military Couple
013960
Sean and Brandy Karpf's teenage romance began one summer as they both worked the late shift at their local McDonald's. They spent until the early hours of the morning breaking down equipment, cleaning, and closing the store.
Some fleeting high school crushes are quickly forgotten, but this one lasted three years and culminated in an August 2004 wedding. They were only 19 and 20 when they exchanged vows.
Fast forward 18 years to June 3, 2022, at Samaritan Lodge Alaska. Sean and Brandy stand gazing intensely at each other, recommitting themselves to God and each other in a public marriage rededication ceremony conducted by an Operation Heal Our Patriots chaplain.
"Today I recommit myself to God, to you, and to our marriage," Sean tells Brandy. He asks for forgiveness, promises grace in the future, and says he will look for the best in Brandy. He wants to make new memories, he continues, filled with joy and laughter. Above all, he desires to have a marriage built on Christ and His Word.
Then, Brandy repeats the same through tears. They kiss.
That they made it from 2004 to 2022—and got connected with Operation Heal Our Patriots, Samaritan's Purse marriage ministry to injured military veterans—is "an answer from God," Brandy said.
Before arriving in Alaska for a week of Biblically based marriage enrichment, the Karpfs' marriage was hanging by a thread. As Brandy heaved desperate prayers heavenward, this seemed to be their last chance at making the relationship work, for themselves and their children.
They now see that God had good plans in store for them. Sean received Jesus Christ as his Lord and Savior while in Alaska and was baptized in Lake Clark. Brandy's faith was reinvigorated, and they both have committed to participating in a healthy, Bible-believing church back home in Florida.
"It's reconnecting us not only to each other but to God," Brandy said. "This trip saved us. That means our kids get to keep Mom and Dad."
A lot has happened to the Karpfs over nearly two decades: including seven years of Army service, a serious combat injury, and continuing fallout from that. Seeing the challenges they've faced is critical to recognizing God's hand at work and appreciating all that happened in Alaska.
Devastating Injury Changes Everything
Two children—a girl and then a boy—came quickly for the newly married couple. Sean, in his early 20s by that time, wanted to provide for his family of four and serve his country and decided to join the Army in 2007. The wars in Afghanistan and Iraq were raging. Sean spent a lonely Thanksgiving in basic training.
Brandy too felt alone. "When Sean joined the military, it was difficult," Brandy said. "I didn't have a partner to help with two young children in diapers."
It didn't get easier when Sean deployed with the 82nd Airborne Division to Kandahar, Afghanistan, from 2009-2010. He saw the horrors of war and lost a squad member, killed in action, in February of 2010.
Time flew by, and in 2012 the now battle-hardened soldier returned to Kandahar. On June 15, while on foot patrol there, his life changed suddenly.
"We were in between two river systems and saw some guys [enemy combatants] running on a rooftop, 300 meters out," Sean said. "Since I was weapons squad leader, they told me to bring the gun up to the front and pull security on this rooftop that we saw guys running on."
Sean and his gunner starting making their way to the head of the troop formation. As they did, Sean unfortunately stepped on a pressure plate bomb and it exploded.
"[After] the bomb went off, they had to get me to the other side of the smallest river, so that a helicopter could land and medevac us out of there," Sean said. His fellow soldiers quickly put him on a stretcher, crossed the wadi, and waited. But, as soon as the chopper arrived, the enemy opened fire.
"Once they started firing at it, the medevac had to get out of the area," he said. "So now the guys that brought me over to the other side—I'm strapped to a litter—they're in a firefight with the guys on the rooftop. About 5-10 minutes went by and I heard another helicopter come in and do a couple gun runs on the building. Then the medevac was able to come back in and pick me up."
Badly injured, Sean was quickly flown to Germany and then to Walter Reed National Military Medical Center in Bethesda, Maryland. Brandy, who was working in Fayetteville, North Carolina, at the time, rushed to her sedated husband's side along with their two elementary school-age children.
After two weeks of questions, reports, and surgeries, Sean authorized a below-the-knee amputation on his left leg. The couple then spent more than a year rehabbing at the hospital. Their kids stayed with Brandy's mom in Florida for most of that time. When the kids finally joined them, it was especially hard on their daughter. She didn't like to look at her daddy, who had gone from 6-foot-1, 235 pounds to 175.
Finally, Sean was medically retired from the Army, and the family moved back to Jacksonville. In 2014, Sean started as a full-time intern with the Jaguars NFL team, eventually serving as a strength and conditioning associate coach through the 2018-2020 football seasons. It was a great job, but it came at a cost. The hours were long, the travel was frequent, and the pressure was intense.
"He was often in pain when he got home and would go straight to our bedroom where he would have dinner and go to bed, wake up and repeat," Brandy said. She too balanced a full-time job as their two children grew up.
Sean continued to fight post-traumatic stress from his combat service, which manifested in both withdrawal and angry outbursts toward Brandy and the children. "Dealing with PTSD, I denied having it for a long time," Sean said. "Meanwhile I was getting angrier and angrier." In addition, he faced the physical and emotional challenges of dealing with limb loss and a new prosthetic.
Crisis Leads to Christ
In 2019, the family moved to a home better equipped for Sean and in early 2021 he took a less stressful job. But, in January of this year the couple faced perhaps their greatest crisis. It came to light that Sean was having an affair. He expressed remorse and regret, but he and Brandy both spiraled into deep depression. Brandy made two attempts on her own life. After that, she says she "prayed with all my heart," throwing their marriage into the hands of God, asking for a sign to help her go on despite the pain.
The very next day she saw a friend's social media post about Operation Heal Our Patriots, encouraging military couples to apply. "I knew it was God answering my prayer—it was divine intervention!"
At Samaritan Lodge Alaska, the Karpfs got to focus on God, their marriage, and a small group of other military couples facing similar circumstances.
"We're bonding," Brandy said. "With this retreat, it's engaging Sean, and he's opening up and we're communicating. At home, it would just be a blank stare."
Sean agreed: "Being here has helped me reconnect with Brandy, no distractions and so much one-on-one time."
They both enjoyed hiking, fishing, and wildlife viewing together. More importantly, they benefited from marriage classes led by our Operation Heal Our Patriots chaplains who brought a Biblical perspective to topics including conflict resolution, communication, and forgiveness.
"Coming to Operation Heal Our Patriots has given us a new lease on marriage."
"I know things will be different [when we go home] because of the tools we've been given and the connections we've made with other couples," Brandy said.
Best of all, the couple had their hearts touched by the Lord in a powerful way. Sean was saved, and Brandy was convicted of her need to draw close to Jesus again. Experiencing God's forgiveness and forgiving each other was life changing.
"Something tugged at my heart. God told me this is what you need to do," Sean said. "The only way I can repair our relationship is to live through Christ…This is me giving myself up." Now he said he trusts that "God is looking out for us and wants the best for us."
They are excited to grow together in faith as a couple and as a family. "This is what we needed," Brandy said. "Coming to Operation Heal Our Patriots has given us a new lease on marriage."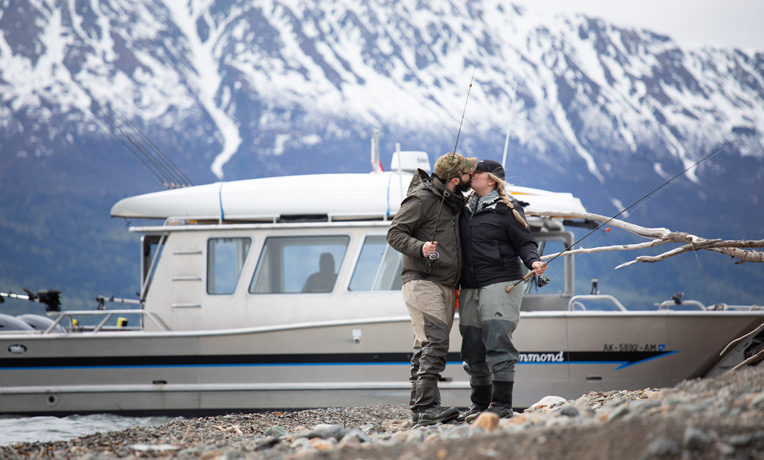 Bless the Marriage of a Military Couple
Operation Heal Our Patriots helps military couples build a strong spiritual foundation during a week of Biblically based workshops, relationship-building wilderness activities, and individual care by our retired military chaplains. We offer all this free of charge to these American heroes as a token of our appreciation for their service and sacrifice. Your gift will help us cover the costs—including transportation, lodging, activities, and long-term Family Care—so that we can help them find hope in the Lord.
---
Operation Heal Our Patriots 013960
Suggested Gift: $60