11 participants were baptized in Lake Clark and six military couples renewed their marriage vows during the first week of the summer season
While on patrol in Marjah, Afghanistan, Marine Sergeant Joe Mejias' working dog, Ace, alerted him to the presence of an improvised explosive device (IED). The problem was that Ace had lain down at his feet, indicating the bomb was directly below.
Joe spent the next 45 minutes perched motionless on top of a 24-inch pressure plate with 70 pounds of high explosives buried underneath. He was obviously concerned any movement could kill him, propelling him from this life into eternity.
It was only only after a technician disabled the weapon and discovered it was built to respond to the weight of a heavy vehicle—not a man—that Joe was released from his frozen stance.
"Chronic, painful wounds, extreme stress, and marital conflict had left them frozen in their tracks, unsure of how to get unstuck."
Several of the 10 military couples that attended Week 1 of Operation Heal Our Patriots last week in Port Alsworth, Alaska—including Joe and his wife Brittany—had been feeling similarly helpless in their post-injury lives. Chronic, painful wounds, extreme stress, and marital conflict had left them frozen in their tracks, unsure of how to get unstuck.
A few of the veterans, including Army Staff Sergeant Justin Lindley, Marine Staff Sergeant Adel Abudayeh, and Army Sergeant Andrew Berry, admitted that it was a violent struggle for them even to get on a plane and come to this week of marriage enrichment. They had misgivings up to the final days before the trip.
Surely the enemy of their souls wanted them to remain hopelessly trapped in a web of intense grief, anger, depression, remorse, and feelings of guilt.
"Isolation has been my best friend and my greatest enemy," Adel said.
He survived gunshot and shrapnel wounds in both Iraq and Afghanistan; he also sustained traumatic brain injuries (TBIs) and deals with post-traumatic stress disorder (PTSD).
God Did a Tremendous Work
God began to bring healing to invisible wounds during their week at Samaritan Lodge. A huge welcome by town residents, the splendor of Alaskan wilderness, and time spent together in fishing and hiking set the stage. The loving embrace of Samaritan's Purse staff and volunteers made a huge impact.
"Everyone here has been so delightful, helpful, friendly, and loving," said Andrew Berry, whose Army career ended when an IED left him with a TBI, PTSD, and a wounded right leg and lower back.
Ultimately, the Holy Spirit, through devotions, marriage classes, and counseling with retired military chaplains, freed individuals to receive comfort and salvation.
Joe, Justin, Adel, and Andrew all either placed their faith in Jesus Christ as Lord and Savior for the first time or rededicated their lives to Him last week, as did Andrew's wife, Becky; Adel's wife, Dana; and Justin's wife, Jasmine. A reconciled relationship to their Creator lays the foundation for a strengthened marriage. The seven of them were baptized in Lake Clark to cap off the week in celebration. (Brittany, Joe's wife, was already a baptized believer.)
"My husband asked Jesus into his life," Dana Abudayeh said. "That's what I was hoping for this trip and God answered."
Joe Mejias's whole demeanor seemed changed by week's end.
"God has a plan for me and my family," said the Marine who battles now with PTSD and severe back pain. "I want to thank God for not giving up on me."
Justin Lindley can list numerous physical wounds from his combat service. But his wife, Jasmine, said the invisible injuries "are by far the worst." She said he felt he was beyond the reach of God's forgiveness.
"After talking with the chaplain and being here, he knows that's not true," she said. "That in itself was amazing. That was one of the biggest struggles he had."
There was even more healing as the week went on.
"Our relationship was pretty much going downhill, if not ending," Jasmine said. "Through all the prayers and everything, it's opened our hearts. We know now we were meant to be here. God called us and brought us here. So we opened our hearts—this is where we were meant to be—this is going to be life-changing for us and we're going to make it through this."
Justin addressed staff and other couples at a fireside farewell. "You guys have literally changed my marriage," he said. "You saved my marriage. You saved me. I know I'm going to go home a better husband and a better father."
Four others were baptized as well on Friday: Kristine Winland, Amber McCart, and Courtney and Rory Shaffer. Kristine and Amber had received Christ within the past year, joining their husbands, Josh Winland and Josh McCart, as believers. Army National Guard Specialist Courtney Shaffer rededicated his life to Christ, and his wife, Army Specialist Rory Shaffer, received Christ as Lord and Savior June 2 in Alaska. Both Shaffers served post-9/11 tours in Iraq and battle PTSD. Rory has a TBI and other wounds caused by an explosion at a checkpoint in Mosul in 2010.
"I can thank God for his endless pursuit,' Courtney said.
Before the baptisms, six couples committed/recommitted their marriages to Christ in a ceremony on the shores of Hardenberg Bay. The couples were: the Mejiases; the Berrys; the Lindleys; the Shaffers; Marine Sergeant Mark Dean and his wife, Becky; and Marine Sergeant John and Amber-Lin Bentley.
"It's been a fantastic week seeing God moving in hearts and healing marriages."
Mark Dean suffered multiple concussions from a total of 27 direct explosions during combat and has been diagnosed with TBI. John was injured by an 85-pound IED blast in Afghanistan in 2010. "It went off underneath my seat. I absorbed most of the blast," John said.
Josh Sanner, a Samaritan Lodge fishing guide, accurately summarized the extraordinary start to the 2015 season: "It's been a fantastic week seeing God moving in hearts and healing marriages."
All 10 couples left the marriage enrichment training in Alaska as professed Christians—some as more mature brother and sisters and others as brand-new believers.
"God's done a tremendous work," Chaplain Dan Stephens said.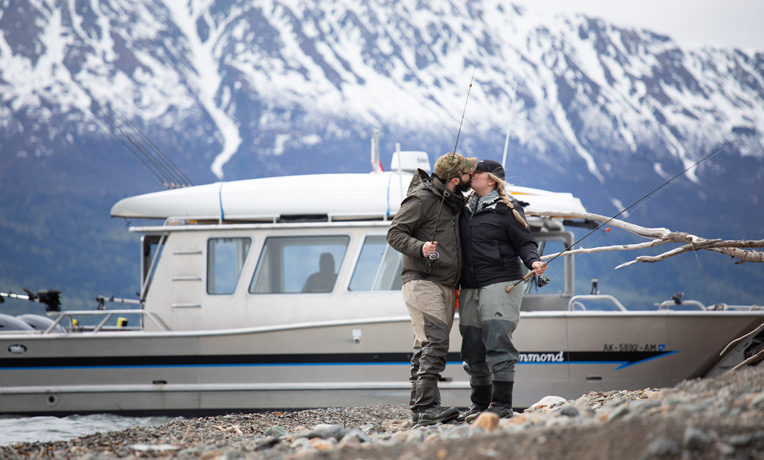 Bless the Marriage of a Military Couple
Operation Heal Our Patriots helps military couples build a strong spiritual foundation during a week of Biblically based workshops, relationship-building wilderness activities, and individual care by our retired military chaplains. We offer all this free of charge to these American heroes as a token of our appreciation for their service and sacrifice. Your gift will help us cover the costs—including transportation, lodging, activities, and long-term Family Care—so that we can help them find hope in the Lord.
---
Operation Heal Our Patriots 013960
Suggested Gift: $60