Homeowners are praising God for His provision as they begin to recover following violent weather
A last-second decision to exchange a gift bag may have saved Alondra Acosta's life. It certainly became the springboard for a spiritual transformation in her heart.
Alondra was getting ready for a wedding the Saturday evening after Christmas when she thought the gift bag for her present appeared too small. So she hopped in her car to go exchange it.
On her way home, fierce lightning crisscrossed the dark sky. Heavy rain pelted her car. Then tornado sirens blared. Alondra knew she couldn't make it back to her mobile home in the Dallas suburb of Rowlett, so she stopped in an adjacent neighborhood.
She struggled to push open her car door but finally escaped. Alondra pounded on the front door of a house but no answer. She screamed as she saw the tornado bearing down in her direction. With wood whizzing past her head, she grabbed a column of porch bricks and held on for dear life.
Seconds later, utter silence. Still trembling, Alondra peered around her. No damage to the house where she was, but others around her were destroyed. She got back into her car and drove to the mobile home park where she's lived for the past seven years. Her unit was obliterated. But she found her Chihuahua cowering under some rubble.
Alondra heard about Samaritan's Purse at a nearby church. On a blustery New Year's Day, our volunteers showed up. They cleared debris, chainsawed downed trees, and neatly assembled her belongings.
As the work was drawing to a close, Team Leader Bill Burden took some time to speak with Alondra. Bill shared how much God loves her and how Christ had died for her sins and risen from the dead. Alondra prayed to receive Jesus Christ as her Savior and Lord.
As the some 18 volunteers circled up to present a Bible to Alondra—signed by each team member—Bill announced to the group: "I want to introduce you to a new sister in Jesus Christ." They clapped and cheered. Alondra's smile beamed.
"This is a special morning," Alondra said afterward. "Definitely, definitely. God spared me because He knew you guys were coming today."
Thankful in Garland
Our volunteers have also been making a difference in nearby Garland, especially hard hit when 11 different tornadoes ripped through the Greater Dallas area.
Work began on New Year's Day at the Garland home of 91-year-old Ernest Vank, a Navy veteran from World War II. He thought the storm would bypass the house where has lived since the 1950s.
As his son-in-law Mark Baker—married to daughter Glenda—pleaded with Ernest by phone to seek shelter, a powerful tornado struck. The roof lifted off, and the walls of the front room where Ernest was exploded outward. He was catapulted about 15 feet and landed on the ground, with a double-hung window crashing on top of him.
When the storm passed, neighbors rushed to the scene. Ernest, who is no more than 5 feet tall, was struggling to free himself. He miraculously survived with only a few minor cuts.
Daughter Phyllis Vank Sweeden and husband Robin heard about Samaritan's Purse at a special gathering of nonprofit organizations and knew that we could provide the disaster relief work their family needed.
An army of some 50 Samaritan's Purse team members finished up the cleanup work at the 1.5-acre property on January 2. They were joined by about two dozen workers from Mountain Top Concrete—whom God led to come over from Fort Worth to volunteer on Saturday. They donned Samaritan's Purse orange shirts and operated chainsaws, skid-steers, and a mini-excavator to clear the property.
"Not only did we get to serve this family in their time of need, but my workers got to hear the Gospel that was proclaimed," said company owner Cesar Serrato, an evangelical Christian. "That's what it's all about."
Ernest was not able to attend the Bible presentation, but Phyllis and Robin, along with Glenda and daughter Victoria, received it on his behalf.
"This is a great day," Phyllis said before the ceremony while sifting through precious belongings. "We're grateful my father is OK. And we're thankful for Samaritan's Purse helping us. We are blessed."
"The Lord Is So Good"
Samaritan's Purse is also working to the southwest of Garland in neighborhoods throughout Glenn Heights and DeSoto.
Two distraught homeowners we were able to help in Jesus' Name were Roberta and Loyd Moses of Glenn Heights. Roberta rode out 45 seconds of sheer terror hunkered down in a hall closet, while Loyd huddled in the bathtub. Their home was severely damaged, but they walked out without a scratch. Most of the houses in their cul-de-sac were leveled.
Samaritan's Purse volunteers Leslie Meinen, Kayla Muth, Anna Shafer, and Tracy Sauvageau were on their way to another house when they saw Roberta and Loyd crying in their front yard. The group stopped and asked if they could lend a hand. After praying with the couple, the foursome got to work. For the next two hours—while Roberta and Loyd had to take care of some needed paperwork at the nearby fire station—our volunteers cleaned up the Moses' front and side yards.
When they arrived back home, they were overjoyed. The past 12 months have been trying for Roberta and Loyd. She's been battling breast cancer. He came close to dying from a chronic lung disease and had to be isolated when he contracted a rare staph infection. And then the tornado.
"2015 was not a good year for us, but God was good to us," Loyd said.
"My heart explodes when total strangers did what they did today," Roberta said, her voice cracking with emotion. "The Lord is so good. We praise Him through it all."
Please pray for our disaster relief teams in Texas—and in north Mississippi—for their continued outreach to homeowners. Pray also for God's blessing for more volunteers in the days ahead.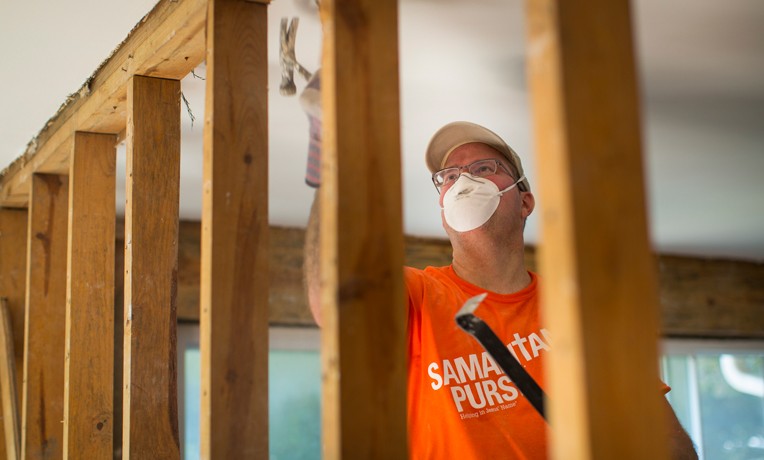 U.S. Disaster Relief
Samaritan's Purse mobilizes and equips thousands of volunteers to provide emergency aid to U.S. victims of wildfires, floods, tornadoes, hurricanes, and other natural disasters. In the aftermath of major storms, we often stay behind to rebuild houses for people with nowhere else to turn for help.
---
U.S. Disaster Relief 013622