Samaritan's Purse volunteers helped a Griffin, Georgia, homeowner after a tornado swept through her neighborhood.
U.S. Disaster Relief
013622
Zanina Berry was preparing dinner for herself and her granddaughter in the kitchen of her Griffin, Georgia, home on Jan. 12 when she heard a "big bang" outside. The noise was alarming, but what happened next was genuinely frightening—the windows of her house started to violently shake.
Zanina knew a tornado was bearing down on her neighborhood. She and her granddaughter quickly hid in a nearby bathroom and remained there as the twister roared past. Moments later, all was quiet. "In a second, it was gone," she said.
When Zanina went outside to survey the damage, it was worse than she imagined. She didn't know what to do. But soon a volunteer team from Samaritan's Purse arrived to help. View the above video to hear more of Zanina's story.
"They left their homes to come and help us," Zanina said. "I am very grateful."
Samaritan's Purse is assisting homeowners in Griffin who were affected by the recent tornadoes that damaged over 2,000 houses. Our volunteers are tarping roofs, cutting up downed trees, and clearing debris from yards. We have helped over 300 homeowners thus far, but more still need assistance. If you would like to volunteer, please go to spvolunteer.org to learn more.
"They left their homes to come and help us. I am very grateful."
Please pray for residents in Griffin who are still recovering from the devastation and for our teams as they serve in Jesus' Name.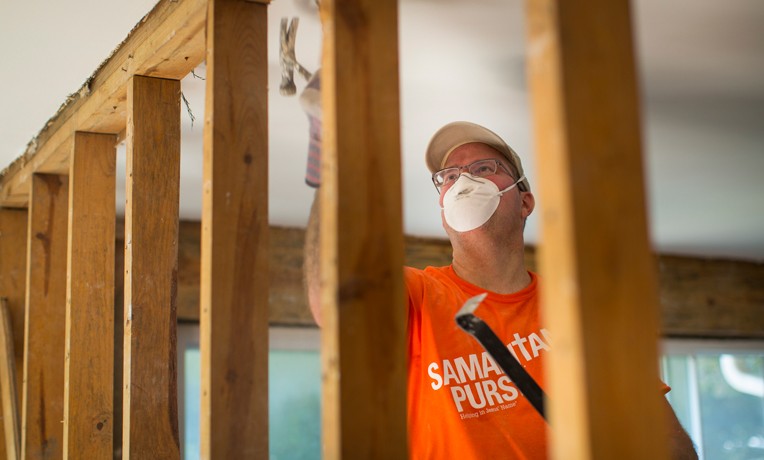 U.S. Disaster Relief
Samaritan's Purse mobilizes and equips thousands of volunteers to provide emergency aid to U.S. victims of wildfires, floods, tornadoes, hurricanes, and other natural disasters. In the aftermath of major storms, we often stay behind to rebuild houses for people with nowhere else to turn for help.
---
U.S. Disaster Relief 013622