Samaritan's Purse guides in Alaska get to use their backgrounds and outdoor experience to glorify God and point military couples to the hope found in the Lord Jesus Christ.
Bless the Marriage of a Military Couple
013960
Military couples have been coming to Samaritan Lodge Alaska now for more than a decade with Operation Heal Our Patriots, and each of the 17 weeks of the program provides once-in-a-lifetime wilderness experiences.
Our Samaritan's Purse guides play a vital role in giving these couples memorable excursions together. Longtime outdoorsman and guide Ralph Meloon says it's an opportunity to point people to Jesus Christ out on a fishing boat or on a hike. It's also an opportunity to remind them of the love they have for each other.
"We want to introduce them to enjoying life together as a couple," Meloon said. "We want them to realize that they can have fun together and that their relationship can be rebuilt."
"Guiding is great. Fishing is fun. But in the end, it's about God saving the soul."
Deep into Lake Clark National Park and surrounding wild spaces, these weekly adventures help couples disconnect from worry and reconnect with each other. Most important, they help participants go deeper with God as they engage with the Creator of such beauty—the Lord Jesus Christ.
For more about our guides, watch the video above.
"It's really special to guide the couples and to see them experience Alaska for the first time," said Rachel Edson. "What I love most about being a guide, though, is being able to spend time with people, get to know them, and hear their stories."
Our dedicated guides, each with years, in some cases decades, of wilderness guiding experience, make these spiritually-strengthening excursions possible in the remotest parts of southwest Alaska.
"As guides at Samaritan Lodge Alaska our job is to point people to God and to hope in Him by providing experiences in the beauty of His creation," said longtime Operation Heal Our Patriots guide Avishai Smadja, an Israeli who now lives and guides fulltime in Alaska. "Every day is different, and every day brings a new challenge as we take people out and allow them to experience this vast wilderness. Guiding is great. Fishing is fun. But in the end, it's about God saving the soul."
We thank God for all He did during the 2023 summer season of Operation Heal Our Patriots, which concluded Sept. 22. Couples can begin applying for the 2024 season beginning Feb. 1. Learn more about Operation Heal Our Patriots and how to apply.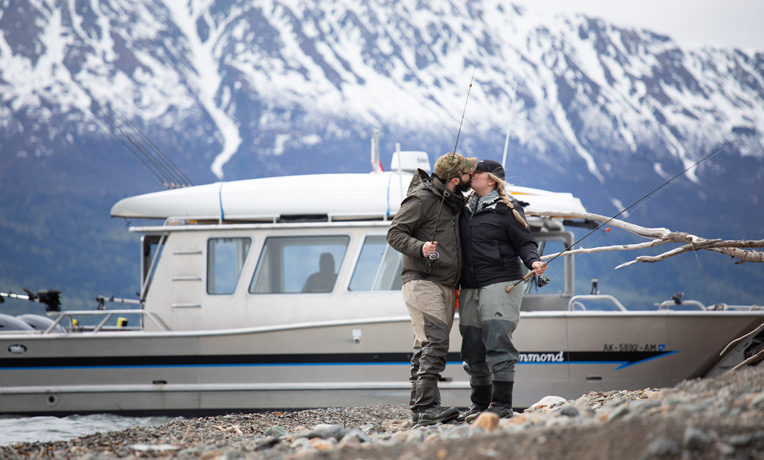 Bless the Marriage of a Military Couple
Operation Heal Our Patriots helps military couples build a strong spiritual foundation during a week of Biblically based workshops, relationship-building wilderness activities, and individual care by our retired military chaplains. We offer all this free of charge to these American heroes as a token of our appreciation for their service and sacrifice. Your gift will help us cover the costs—including transportation, lodging, activities, and long-term Family Care—so that we can help them find hope in the Lord.
---
Operation Heal Our Patriots 013960
Suggested Gift: $60