Samaritan's Purse water, sanitation, and hygiene programs, coupled with evangelism and discipleship, are improving physical and spiritual well-being in rural communities
The vast majority of people in the United States take clean water and proper sanitation for granted. We can get all we want from multiple taps in multiple rooms of our homes. The waters we use to wash clothes and dishes, flush toilets, and take a shower never mix, at least not in any way that endangers us.
A two-hour flight from Miami to Port-au-Prince, Haiti, changes everything.
Give
Almost a third (31 percent) of Haitians do not have access to an improved water source. A shocking 83 percent of the population does not have access to proper sanitation facilities, such as latrines or septic systems.
On a daily basis, these statistics mean that families are at continual risk for a host of serious, even deadly, illnesses, including cholera and typhoid.
With no nearby source of clean water, a family member—most likely the mother—will have to walk long distances in search of it. It's an inconvenient, strenuous, and never-ending process.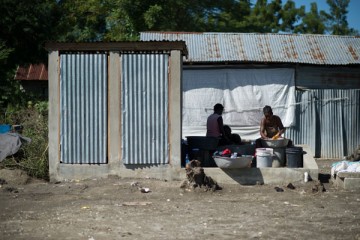 Sometimes the water source is not clean anyway. When the water required for your shower, your kitchen, and your laundry comes from the same muddy pool—also used by livestock as a watering hole and toilet—it is not a healthy situation. Other times the contamination occurs at home, simply because the relatively small amount of water collected is used and reused for so many purposes.
Samaritan's Purse staff in Haiti understands the critical importance of water, sanitation, and hygiene (WASH) projects for the health of communities. Last year, we drilled 18 permanent wells, constructed 19 sanitation facilities (bath and laundry pads), and built 92 permanent latrines. More than 6,000 people were educated through our participatory hygiene and sanitation transformation program. An additional 8,500 elementary school children were trained in basic health and hygiene.
We've established a water and sanitation (WATSAN) committee of five to seven members in each of the 23 communities we serve. They are responsible for mobilizing the neighbors to assist in construction of the wells, latrines, bathhouses, and laundry pads. Neighbors learn to work together and take responsibility for their needs.
"It's a complete partnership through and through," said Lisa Ennis, WASH program manager.
The WATSAN committee is also responsible for ongoing water and sanitation management within their respective communities. Two people from each committee are trained in well operation, maintenance, and repair.
"Most of the communities are really excited because they want water closer to where they are," said Kristen Gunther, WASH program coordinator. "It's been a good process to learn with communities and walk beside them and learn what works and what doesn't."
In the small and often overlooked Nan Rakèt community near Léogâne, the people previously contracted diarrhea, fevers, and cholera from their water sources. Now that Samaritan's Purse has helped them construct an artesian well, a bathhouse, and laundry pad, the community has clean water, a private place for bathing, and a convenient spot to safely wash their clothes. Seven household latrines were also built for families in need.
"Thank God for sending Samaritan's Purse," said Dias Verdieu, president of the WATSAN committee in Nan Rakèt.
Committee members were trained to maintain the equipment. Verdieu said he views the entire project as "a great step forward" for everyone involved.
Satisfying Physical Thirst, Feeding Spiritual Hunger
Beyond just improving physical health, Samaritan's Purse also seeks to make an eternal difference.
"My hope is that they see Jesus through us [in] the way that we interact with people," Gunther said.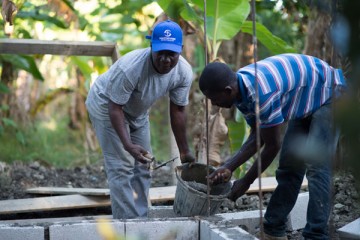 Each WASH project includes an evangelism and discipleship component, primarily a series of four training meetings. Samaritan's Purse conducts the first three trainings, and then local church members coached by our staff conduct the fourth meeting.
Lessons focus on becoming a Christian and growing spiritually, gaining victory over temptation, walking with Christ, and reading and studying the Bible. After completing the four trainings, participants receive a graduation certificate, a Creole Bible, and a Creole discipleship book with additional lessons to be studied in their local church context.
In Nan Rakèt, an area where voodoo is commonly practiced, about 100 people came to the discipleship classes. Verdieu said he learned to stand firm with God and serve Him faithfully. Estinfil Adelene, who was among those who gave their lives to Jesus as a result of the training, said, "I feel I'm another person."
In Sentandre, another community near Léogâne, about 400 men, women, and children graduated from the discipleship program. Area pastors had never before seen such interest in studying the Word of God, said Joseph Cliford Toussaint, WASH project coordinator. Last December, an Operation Christmas Child distribution was held there as well.
Ennis, the program manager, said many Haitians have never had any Bible teaching other than on Sunday mornings, and they are hungry for interaction and discipleship. The WASH programs are an effective bridge to families, opening up opportunities for local partner churches to follow up.
Please pray for Samaritan's Purse staff as they work with others to bring physical and spiritual healing to the people of Haiti.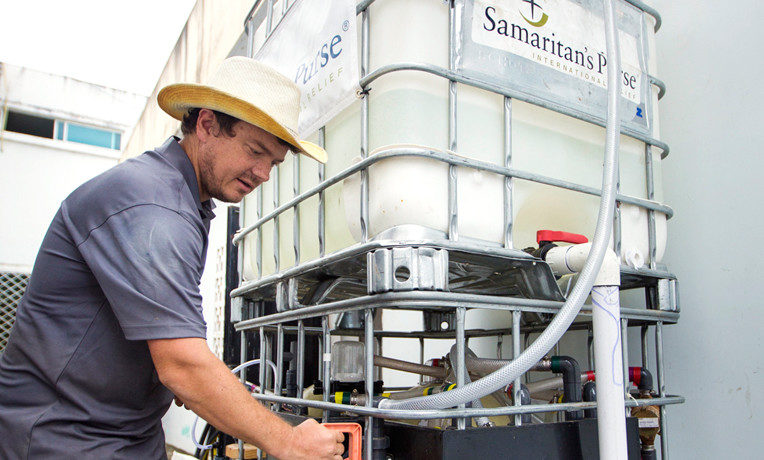 Clean Water
Your gift for clean water can provide tanks, filters, latrines, hygiene training, and other essential measures to protect water sources and prevent the spread of disease as we seek to meet physical and spiritual needs in the Name of Jesus.
---
Clean Water Projects 013659
Suggested Gift: $75