A man in Catawba County, North Carolina, sees hope as Samaritan's Purse volunteers work and accepts Jesus as Savior
When Samaritan's Purse volunteers met Newton resident George Barden, they could tell he had lost everything. They described the look on his face as hopelessness.
Give
 A flash flood surprised residents of Catawba County, N.C., with historic levels of rainfall on Saturday, July 27, devastating the area and causing more than 800 affected homeowners to request help.
According to City of Conover Police Chief Steven Brewer, the flood exceeded the 100-year zone and is like nothing he has ever seen.
On the night of the heavy rain, George kept looking outside as the waters rose, but when a creek behind his house overflowed, the 47-year-old was surprised by neck-deep water suddenly filling his house, forcing him to swim out to save his life.
Unfortunately, almost none of his belongings were salvageable.
"Never had something like this happen," George said. "I've been here for 22 years and nothing like this has happened before … Ain't much you can do about it."
Samaritan's Purse sent staff and equipment to help people affected by the deluge. Volunteers working out of our base at Tri-City Baptist Church in Conover began aiding homeowners with debris cleanup and mud outs on Aug. 2. Over the next 11 days, 89 volunteers from the local area helped worked on 39 flood-damaged houses.
George was among the homeowners who received a full mud-out. Volunteers stripped the wet insulation, pulled up the ruined flooring, and removed cabinets that had begun to rot from water damage. Although he was staying with his sister, George came out every day to be with the volunteers and help where he could. He was a man of few words, but that didn't stop Billy Graham Evangelistic Association Rapid Response Team chaplains from talking with him.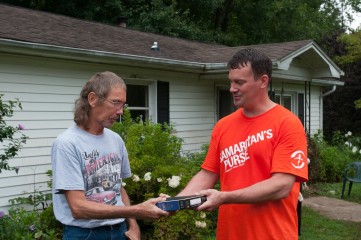 "The chaplains talked to him right away," said Dan Bailey, a volunteer from Hamburg, Penn. "They could see how downcast he was."
George sat in his yard, not saying a word and barely showing any kind of expression on his face.
"They asked him if he had a relationship with Jesus," said Brent Graybeal, the program manager for the response. "He said, 'I know of Jesus, but I don't know Jesus.'"
That day, George accepted Christ as his Savior. Even though he had lost everything he had, the day our disaster relief crew came to help him in Jesus' name, he gained something that no flood could damage or sweep away.
"He received the Gospel with joy real quick," Dan said. "It's really neat to see how ready he was to receive the Good News. Some people don't want to hear it."
Although George had few words to say, he did offer a reason to give his life to Christ.
"Well, I ain't getting any younger," he said as his expression of hopelessness began to soften.
A couple of days later, as volunteers presented him with a Bible after the job was completed, George broke down and cried.
"I've never felt so loved before," he whispered to another volunteer.
During the presentation of the Bible, a volunteer told the parable of the two houses built on different foundations and how the one built on the rock was not swept away. He explained that now, George too can have that foundation on the rock of Jesus.
Brent put his arm on George's shoulder afterward as other volunteers began to pack up and walk away. George clutched the Bible to his chest.
"Things we can do are temporary, but the things Christ can do are forever," Brent said to encourage George that even after we leave, the hope he felt that day can continue as he grows in his new life with Christ.
While George still has concerns about his house's current state and difficulty finding work, he does have more hope than when the week began.
He said one of his hopes is that he'll read his new Bible.
"Never owned a Bible before," he said. "I'm going to keep it until I'm done."
While spraying George's house to prevent mold, volunteer Roger Rowe was surprised by the marking of a cross on the wall. He and other volunteers had spent the past couple of days in the same very spot removing cabinets, but not once did they notice the marking on the wall.
"It appeared to me like a cross had just appeared," Roger said. "It was just shinning on the wall. I pray it's a sign that the Lord is working in George's life in a mighty way."
Please pray that George will grow in his faith, and for those trying to recover from the flood.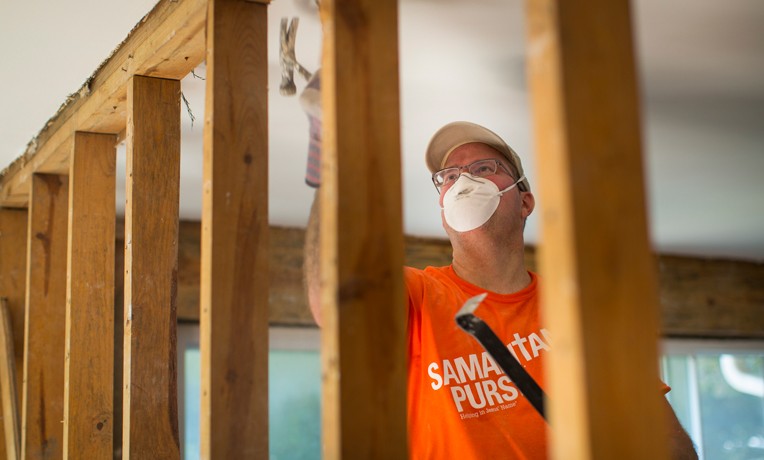 U.S. Disaster Relief
Samaritan's Purse mobilizes and equips thousands of volunteers to provide emergency aid to U.S. victims of wildfires, floods, tornadoes, hurricanes, and other natural disasters. In the aftermath of major storms, we often stay behind to rebuild houses for people with nowhere else to turn for help.
---
U.S. Disaster Relief 013622