Samaritan's Purse volunteers repair and rebuild homes destroyed by the historic storm that pummeled cities in southeast Texas.
U.S. Disaster Relief
013622
Betty Malonson will never forget waking up early one morning to find a foot of water in her home in Houston. Betty had to wade through Hurricane Harvey's rising floodwaters in order to escape to safety.
In the devastating aftermath of the August 2017 storm, more than 10,000 Texas residents were rescued from floodwaters and 300,000 structures were damaged.
Samaritan's Purse worked in the hardest-hit areas for months, deploying five of our disaster relief units to the Lone Star State. More than 11,000 volunteers assisted families across the region with mud-outs and debris removal.
Since our initial response, Samaritan's Purse has continued serving hurricane victims in Jesus' Name through a rebuild program. We're doing major home repairs, such as installing new carpet and floors, repairing roofs, and replacing appliances, at no cost to homeowners.
To date, volunteers have rebuilt, repaired, provided material assistance, and replaced manufactured homes for more than 220 families. We have also provided financial support for other long-term recovery groups to assist nearly 450 families.
Betty is grateful for our volunteers who worked hard to get her back into her home. "They repaired the house as if they were repairing their own home," she said.
"I have a new home, and it's all paid in full. I spread the word about how Samaritan's Purse helps rebuild lives—because they rebuilt mine."
Please pray for the families who are still struggling after Hurricane Harvey. Pray for our volunteers who are bringing the hope of Jesus Christ to hurting homeowners.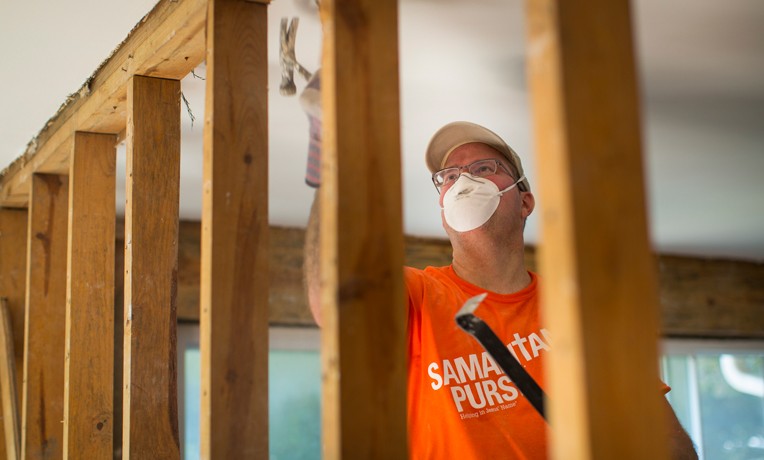 U.S. Disaster Relief
Samaritan's Purse mobilizes and equips thousands of volunteers to provide emergency aid to U.S. victims of wildfires, floods, tornadoes, hurricanes, and other natural disasters. In the aftermath of major storms, we often stay behind to rebuild houses for people with nowhere else to turn for help.
---
U.S. Disaster Relief 013622