Residents recount the harrowing moments deadly twisters tore through their lives, leaving them searching for hope in the midst of mourning.
U.S. Disaster Relief
013622
Where residents of Mayfield, Kentucky, lined downtown streets to watch a Christmas parade just days earlier, the sidewalks are now strewn with the debris of a flattened city. More than 70 people died in Kentucky alone last weekend as tornadoes ripped through the community in the nighttime hours of Dec. 10. At least 88 people were killed in total as twister after twister roared through multiple states, the deadliest December tornado event in U.S. history.
The twister was one of as many as 50 tornadoes produced from the deadly storm tearing a path from Arkansas to Illinois. Hundreds of homes, businesses, and churches were destroyed in its path. Thousands are still without power.
Samaritan's Purse President Franklin Graham encouraged people to pray as our U.S. Disaster Relief units quickly deployed to the hardest-hit areas of Kentucky and Arkansas.
"The greatest thing we can do right now is care for one another, comfort one another, and pray," Franklin said. "Pray for the people who have lost everything. These are mothers and brothers and sisters and children that have lost their homes, lost loved ones. They need our prayers."
SIGN UP TO VOLUNTEER: MAYFIELD | DAWSON SPRINGS
Our volunteers are now hard at work in multiple locations in Kentucky, helping homeowners in Jesus' Name as they begin to pick up the pieces of their lives.
Billy Graham Rapid Response Team chaplains are also on the ground offering spiritual encouragement to the many hurting people.
Many more volunteers are needed. Our response in Kentucky will be ongoing for some time. To volunteer, visit SPVOLUNTEER.ORG.
Our disaster relief response in northeastern Arkansas has been completed. We helped 31 homeowners and we praise God that three people received Jesus Christ as Lord and Savior during the response
Note: This article was originally published on Dec. 16 and has been updated to reflect the completion of our relief work in Arkansas and also the visit of Vice President Mike Pence to Mayfield on Dec. 18.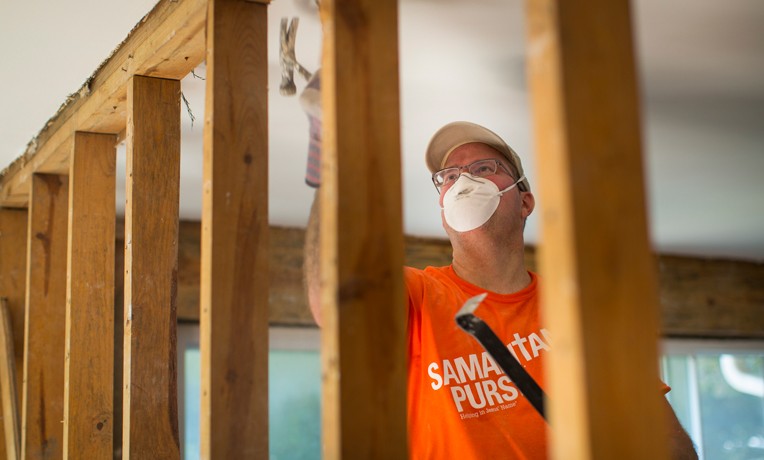 U.S. Disaster Relief
Samaritan's Purse mobilizes and equips thousands of volunteers to provide emergency aid to U.S. victims of wildfires, floods, tornadoes, hurricanes, and other natural disasters. In the aftermath of major storms, we often stay behind to rebuild houses for people with nowhere else to turn for help.
---
U.S. Disaster Relief 013622