Through Operation Heal Our Patriots, God is working to transform couples by the power of the Gospel.
Bless the Marriage of a Military Couple
013960
As his unit rolled out on regular patrol that day, Army Specialist Marco Fernandez took his position in the mounted gun of a Stryker armored vehicle. They were transporting an officer to another base and then checking out Iraqi villages to look for potential threats.
As Marco's convoy sped past a town on that sunny day, October 23, 2012, tragedy struck in the form of a remotely triggered improvised explosive device (IED).
"Everything appeared to be normal, then there was a quick flash and everything was smoky. There was fire, a loud ringing in my ears. I was trying to process what had just happened because everything was normal then all of a sudden you blink and there's fire and flames and chaos."
When he tried to walk, his body fell. He blacked out. Next a fellow soldier was pulling him from the vehicle and across sand. He woke up a day later in a military hospital, and a week after that he was lying in a bed in Germany where he learned his right leg had been amputated.
Since that life-changing attack seven years ago, Marco has been trying to rebuild his life. And for the past two years, he and his wife, Illyssa, who is currently active duty Air Force, have been building their new marriage.
They said that coming to Samaritan Lodge Alaska through Operation Heal Our Patriots this summer provided them with the honeymoon they never had. But even more important than that, it gave Marco the opportunity to open up about the pain and loss of his combat experience, which, in turn, helped Illyssa understand the difficult issues he deals with on a daily basis. The couple also learned invaluable communication skills during Biblically based marriage enrichment classes taught by our retired military chaplains.
"I just think it's better to deal with things while they're small instead of dealing with them when they're bigger," Illysa said. Marco said the community of military couples provided them a safe place to share their challenges. "It's helpful being surrounded by other veterans who can relate to what we've been through."
Stronger Marriages, Transformed Lives
Marco and Illysa were one of six couples who recommitted themselves and their marriages to God in Alaska during Week 12 of the Operation Heal Our Patriots summer season. Four individuals professed Jesus Christ as Lord and Savior, and three participants were baptized in Lake Clark.
Army Sergeant Loni Vazquez was one life transformed through the power of the Gospel. He said that for years he had not known God's forgiveness and did not desire to have a relationship with him. Through classes and conversations with our chaplains, Loni learned that God wanted to provide him a fresh start to his life and marriage. He received Jesus Christ as Lord and Savior on Thursday night.
"I was overall a bad person. I don't blame PTSD (post-traumatic stress disorder) for it. I believe it was more something inside me," Loni said. "Here I think I found Jesus because He opened my eyes and cleansed me of things I had done. I was one of those people who used to believe if I prayed to God, He would turn it back on me and say you only come to me when you have problems. But now I realize I can pray to him anytime anywhere."
Army Sergeant First Class Joe Celestine, and his wife Lucy, were also in Alaska during Week 12. They are both longtime followers of Jesus Christ. Nonetheless, Joe says his 24 years in the Army and four combat deployments to Iraq and Afghanistan still take a toll on his life, marriage, and family.
"We saw a lot of surprise attacks, a lot of IED explosions, a lot of soldiers killed in action," Joe said. Lucy said her husband still calls out military coordinates and commands in his sleep, even after eight years in retirement.
Though the Celestines have children, grandchildren, and many years of marriage to celebrate, they needed time away to connect with each other and other military couples. Beyond that, they wanted to hear more about what God has to say about strengthening their marriage.
"Deployments are hard on families," Joe said. "I used to leave, and she would be left with everything and then I'd come back and try to pick up like nothing happened."
Lucy said their faith in God is what saw them through the most difficult times, and that God continues to carry them through the valleys.
"That's what kept us together even when he was in Iraq and Afghanistan. We still had God," Lucy said. "If we didn't have God in our lives I don't know where we would be."
Please continue to pray for military couples as they arrive at Samaritan Lodge Alaska this summer through September 13. Operation Heal Our Patriots provides a week of Biblically based marriage enrichment training for 16 weeks each year in Alaska followed by an Aftercare program with ongoing care and discipleship through on-call chaplains, training events, regional meetings, and an annual reunion. More than 1,000 U.S. military couples are now part of this Samaritan's Purse ministry.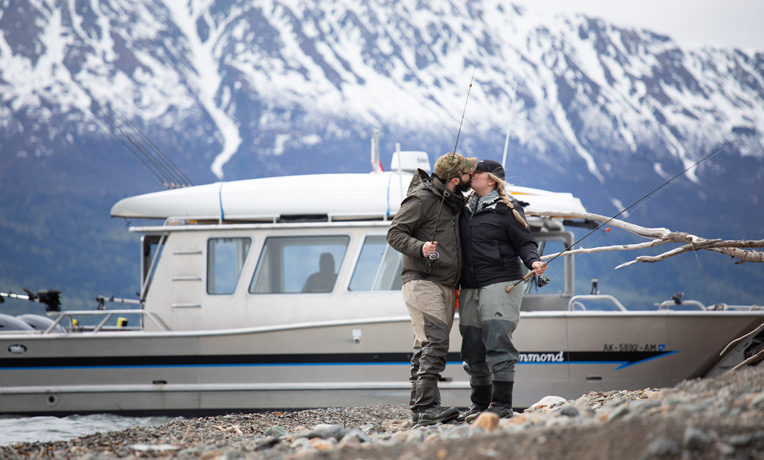 Bless the Marriage of a Military Couple
Operation Heal Our Patriots helps military couples build a strong spiritual foundation during a week of Biblically based workshops, relationship-building wilderness activities, and individual care by our retired military chaplains. We offer all this free of charge to these American heroes as a token of our appreciation for their service and sacrifice. Your gift will help us cover the costs—including transportation, lodging, activities, and long-term Family Care—so that we can help them find hope in the Lord.
---
Operation Heal Our Patriots 013960
Suggested Gift: $60