Watch a Samaritan's Purse volunteer use her own experiences to comfort tornado victims in Northern Illinois.
The massive, EF-4 tornado that struck Jackson, Tennessee, in 2008 nearly cost Julie Boyer her life. According to doctors, it did take away her ability to run.
Julie took shelter in a dorm on the campus of Union University the night the tornado hit Jackson. The building took a direct hit.
"I was trapped in a bathtub with five other young women for about 40 minutes," she said. "We were crushed under about 18 feet of debris."
She suffered fractured vertebrae and ribs, and was told she would never be able to run or be pain-free.
She was determined to prove the doctors wrong, and became a runner again. Julie was thankful her body was healing, but she still carried emotional and spiritual scars.
"Even though Jesus had given me the ability to run again, I felt like my whole life was still in shambles," she said. "I didn't know when I would ever have a new normal again. I was holding onto the knowledge that I know that He is a God of hope."
God brought Julie out of the darkness and instilled in her a desire to help others the way she had been helped. When Samaritan's Purse put out the call for volunteers to help tornado victims in Northern Illinois, she knew she had to go.
"I felt really a special prompting from Jesus that this was one of the tornadoes I was supposed to be at," she said. "I felt so clearly that He wanted me here and He was calling me here."
Northern Illinois was hammered by devastating storms last week. Some of the worst damage occurred in rural DeKalb and Ogle County, where one massive twister cut a 22-mile path of destruction.
Samaritan's Purse is working in the towns of Rochelle and Fairdale, which were directly in the path of the storm.
Julie has been part of volunteer teams that are tarping damaged roofs, cutting up and removing downed trees, and clearing debris.
She's also taking time to talk with storm victims about her experiences, and praying with them.
"We needed her to be here and share her stories, to tell us life goes on, you can make it, I've made it, you can do it," said Christina Tobler, a homeowner we helped in Fairdale.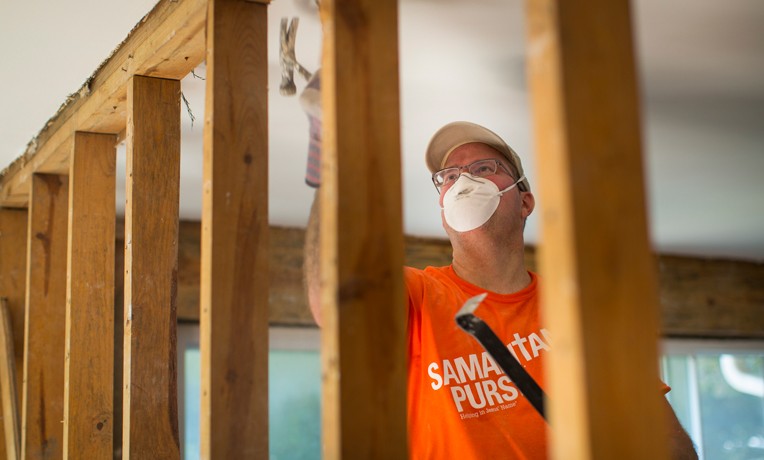 U.S. Disaster Relief
Samaritan's Purse mobilizes and equips thousands of volunteers to provide emergency aid to U.S. victims of wildfires, floods, tornadoes, hurricanes, and other natural disasters. In the aftermath of major storms, we often stay behind to rebuild houses for people with nowhere else to turn for help.
---
U.S. Disaster Relief 013622