Franklin Graham says Samaritan's Purse is committed to helping win the fight against Ebola
Nearly 100 tons of supplies to fight the deadly Ebola virus that arrived last week on a 747 cargo jet chartered and stocked by Samaritan's Purse are being distributed in Liberia.
The airlift departed from Charlotte on Wednesday, Oct.1. It landed in Monrovia early the next afternoon Liberia time. The plane was greeted on arrival by Liberian Vice President Joseph Boakai, who, at the invitation of Franklin Graham, toured Samaritan's Purse international headquarters in Boone, N.C., in 2012.
The shipment was immediately unloaded and warehoused. Samaritan's Purse staff members have begun distribution of the supplies.
Franklin Graham and Jeremiah C. Sulunteh, Liberia's Ambassador to the United States, were among those who attended a special send-off ceremony for the airlift of supplies to help stop the spread of the terrible virus, which has claimed over 3,800 lives in West Africa, including more than 2,200 in Liberia alone.
"Behind me is a plane loaded with supplies and equipment to fight Ebola and save the lives of Liberian people," Franklin Graham said as the cargo jet was loaded. "Samaritan's Purse is committed. We believe that with God's help, and the support of many people in this country and around the world, we will be able to win the battle with Ebola. It's going to take time, and it's going to take the international community standing beside nations like Liberia to help them. The people of Liberia not only need help, but they need our prayers. We need God's help. Ebola is devastating."
Ambassador Sulunteh expressed gratitude for the supplies.
"We are very very thankful to Samaritan's Purse for this support," he said. "This represents hope for the Liberian people—the sick in the villages, those who thought there was no hope because no help was on the way."
Samaritan's Purse is known and respected in Liberia and has had an active country office there for more than a decade, providing various forms of relief to the previously war-torn country.
"Samaritan's Purse has been there even before Ebola," the ambassador said. "They have been there working with the people, providing health care, providing education. They are not strangers to Liberia. We remain so grateful for their support."
Franklin Graham prayed that God will use the supplies, and the work of Samaritan's Purse in Liberia, to bring healing to many.
"Father we know that you love us," he prayed. "We know that you care. We thank you for the hope we have in Jesus Christ. We pray that this plane will be a symbol of hope for the people of Liberia and that the contents of this plane will be used to save lives."
At the conclusion of the ceremony, Ambassador Sulunteh went back to the podium to "bestow honor to our newest Liberian, Franklin Graham."
"I want to ask my friend Franklin Graham to join me on the podium as I pin him as an honorary citizen of Liberia—in the name of the Father, the Son, and the blessed Holy Spirit," he said.
The flight signals a new strategy for Samaritan's Purse as we continue the battle against the unprecedented outbreak.
The revamped focus, in line with Liberian and international strategy, will be on establishing and supervising Community Care Centers in areas hard-hit by the deadly virus.
In remote areas of the country Samaritan's Purse will train Liberians to run 10-bed facilities that provide basic supportive care. Our national and international staff will manage operations.
A NEW EFFORT TO STOP EBOLA: Our multi-faceted approach will focus on establishing Community Care Centers and providing public health education.
Four large tents to be used in the set up of these facilities were onboard the 747, which represents just the beginning of the work as Samaritan's Purse is prepared to build and manage up to 15 Community Care Centers in rural areas across the country.
Also onboard the flight were supplies for thousands of infection protection and control kits. These kits will be distributed in communities as part of a massive public awareness campaign spearheaded by Samaritan's Purse, which aims at reaching 300,000 people in multiple hot-spot counties in Liberia.
Each kit includes rubber gloves, a bucket, soap, disinfectant, and a specific disinfectant for treating drinking water. As the public health system in Liberia has been overwhelmed by the Ebola crisis, basic hygiene, especially hand-washing, has become more critical than ever.
In addition, items for a smaller number of caregiver kits were packed on the plane. They are intended for interim home-based interventions in cases where infected community members cannot go to an Ebola Treatment Unit (largest service provider) or a Community Care Center. These kits include protective clothing, hydration items, medicines, and disinfectant, among other items.
Samaritan's Purse has been responding since March to the outbreak in Liberia. An initial awareness campaign provided potentially life-saving information to nearly 450,000 people, plus many more via radio spots. A church-focused campaign begun in August has reached several thousand religious leaders, representing approximately 450,000 congregants.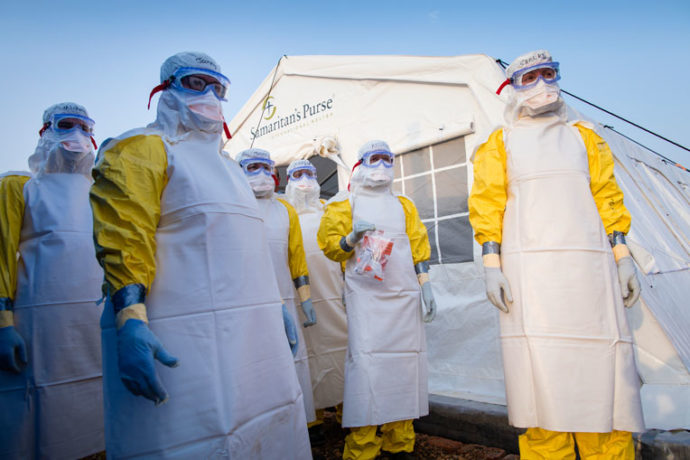 Ebola Response
Samaritan's Purse has the expertise and experience to respond to Ebola outbreaks in Africa. We can coordinate awareness and community engagement campaigns, as well as provide emergency medical assistance. We are currently working in Uganda—in coordination with church partners—and have previously responded in Liberia, the Democratic Republic of Congo, and other countries. Your gift supports this lifesaving work.