Samaritan's Purse continues to help Jefferson City tornado victims salvage personal belongings and remove downed trees.
U.S. Disaster Relief
013622
UPDATE: Our response has now concluded in Jefferson, City, Missouri (June 4). More than 800 volunteers helped 95 homeowners. We praise God that 11 individuals received Jesus Christ as Lord and Savior.
Tornado sirens echoed around Meagan McSpadden's apartment as the young mother rested in bed following a long nine-and-a-half-hour shift. Like many families in Jefferson City, she was used to the sound—choosing to write it off as a precautionary measure rather than a true warning. When she and her daughter Hazel were awakened by a loud crash, however, Meagan looked outside to a scene she hoped she would never see.
"I saw people outside, people crying. They had just lost their homes and just the disaster that was left behind—it was horrible," Meagan said. Each of her neighbors at the Hawthorne Park apartment complex had been affected—many missing stairs and windows while other buildings were reduced to fragments.
"The tornado just ransacked everything. It lifted a bunch of things out in the field across from us. They lost stairs, they lost windows, they lost everything. It's scary to think a little wind and rain can do that," Meagan said.
Meagan and her family had to evacuate their apartment immediately—leaving little time to salvage and pack their personal possessions for transportation. Samaritan's Purse volunteers arrived some 32 hours after the storm hit, ready to help them box up their belongings for easy moving.
"I feel very blessed that my family is being taken care of. It would have taken us probably a couple of days to get everything together so we can get everything moved out of here," Meagan said.
As Meagan interacted with Samaritan's Purse volunteers, she was overwhelmed by the joy and love with which they helped her family—clearly a testament to the goodness of God. Meagan's faith in the Lord was reignited and she made the decision to rededicate her life to Him, coinciding with a fresh start for her and her family.
"I have been through a lot of things in my life and my faith kind of lingered a little bit," Meagan said. "I stopped reading my Bible, I stopped going to church and after something like this, it kind of restores your faith in Him."
"My life will be completely turned around," Meagan said. "I'm definitely going to introduce God more into my daughter's life, read the Bible every day, attend church more frequently, not just on holidays. We just definitely need to have more of His influence in our lives."
"I'm going to introduce God more into my daughter's life."
Surrounded by Trees and Angels
When the EF-3 tornado devastated her community on May 22, Wanda Bond was already enduring an intense emotional storm of her own. Not only did the strong winds capsize the trees surrounding her home, it was also the two-year anniversary of her husband's passing.
"I was 17 when we got married. He was my life—that's all I've ever really known," said Wanda. She had been married to her husband Gary for 53 years, moving from their farmhouse of three decades to a quiet suburban home after his death. She could no longer maintain the farm as it should be. "It was just too much," she said.
Two years later, the same phrase would echo in her mind as forceful winds circulated around her Jefferson City home.
With minutes to seek shelter, she and her dog cowered in the bedroom closet in the middle of the night. Vigorous winds shook her home and sparked a fear for her life.
"It feels like your house is falling apart," she said. "It kind of lifts up, moves, and rattles and you can hear all the debris hitting, the trees coming up and snapping, and things hitting the house—it's horrible. You don't think you're going to live."
Still, through it all, she prayed that God would protect her in the storm. "He surrounded my house with trees but He also surrounded it with angels," Wanda said.
Though the trees fell, her home survived the storm without so much as a scratch. "I know that that was my husband looking out for me. We were just surrounded by love and angels protecting us and that's how we made it," she said.
Another set of "angels" arrived days later to help Wanda recover from the storm.
Samaritan's Purse volunteers cleared storm debris and removed every downed tree from Wanda's property while reminding her how loved she is in the eyes of the Lord. "For the volunteers to come do this, it makes me feel closer to God. It's awesome," she said.
Please continue to keep our team members and volunteers in your prayers as they show Missouri families the hope of Christ in this difficult time. If you are interested in getting involved, please visit SPVolunteer.org for more information.
Samaritan's Purse is also responding to severe storms in Michigan, Ohio, and Oklahoma.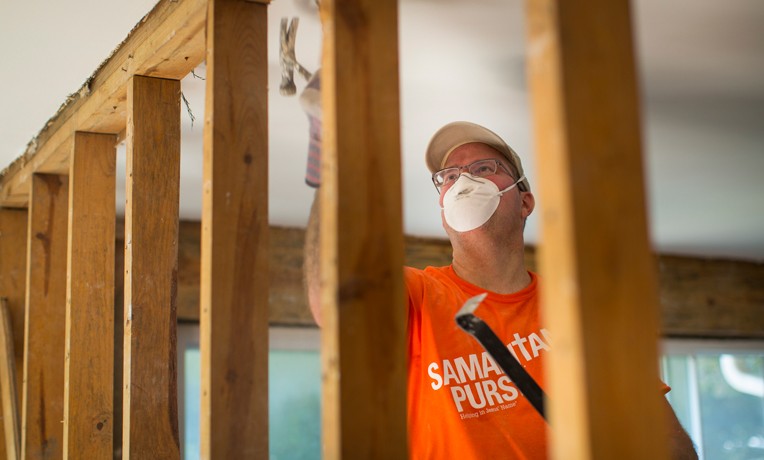 U.S. Disaster Relief
Samaritan's Purse mobilizes and equips thousands of volunteers to provide emergency aid to U.S. victims of wildfires, floods, tornadoes, hurricanes, and other natural disasters. In the aftermath of major storms, we often stay behind to rebuild houses for people with nowhere else to turn for help.
---
U.S. Disaster Relief 013622