Samaritan's Purse continues to help residents and churches rebuild one year after Hurricane Harvey swept through southeast Texas.
U.S. Disaster Relief
013622
Rockport, Texas, resident Calistro Torres decided to weather out Hurricane Harvey, and as it made landfall he witnessed it rip through his roof, tear up his walls, churn up his floors, and toss around furniture. Praise God the 72-year-old survived the onslaught.
In the aftermath, our volunteers arrived at Torres' house to remove debris and prepare it for repairs. Several months later Torres' home was chosen as one of several hundred homes we would restore through our rebuild program.
It was just a couple of weeks ago that we finished work on Calistro's house. Our volunteers presented him with a Bible signed by the whole crew. And it was during that same presentation that he prayed to receive Jesus Christ as his Lord and Savior.
"I'm in God's family," he said. "I am 72 years old and maybe I will live to 100. You never know what God will do. I am learning how to read my Bible, and I'm going to church. It makes me feel good to be a Christian."
One Year Ago: Immediate Response
One year ago this weekend (Aug. 25-26), Category 4 Hurricane Harvey made landfall around Rockport, Texas. After wreaking havoc on the small coastal town, the storm carved a destructive path in communities all along the Texas coast with high winds and heavy rain.
In Houston, a then-weakened Hurricane Harvey stalled over the metropolitan area, pouring down over 50 inches of rain. For a brief time, boats replaced cars along local streets. A little northeast of the city, in Nederland, Texas, near Beaumont, Harvey set a single-storm U.S. record, inundating the town with more than 60 inches of rain—that's over five feet!
---
The damage from this storm was widespread and devastating for residents of southeast Texas. Responding to this disaster required Samaritan's Purse to roll five of our U.S. Disaster Relief units into the region. As the waters receded and roadways opened, we immediately got to work.
With the help of more than 11,000 volunteers, Samaritan's Purse assisted more than 3,000 families with emergency repairs, debris removal, and mud-outs of homes with severe flood damage.
From Then Until Now: Repair, Rebuild, Restore
Since this initial response, Samaritan's Purse has launched a multiyear rebuild program in Texas to help families recover and move back home. So far, volunteers working with our rebuild projects have helped restore more than 315 homes, and we are partnering with qualified recovery groups to help 500 more families.
You Can Still Volunteer at Rebuild Sites in Texas
Seventy-year-old Ann Lamont is another homeowner whom we helped return to her house. She had to evacuate when the water in her house was up to her waist. Ann and several of her neighbors were rescued by the fire department and brought to a nearby church, where they stayed for several days until floodwaters receded.
Ann couldn't believe that Samaritan's Purse would do major home repairs at no cost to her. Our volunteers worked hard installing new windows, carpet, floors, and cabinets. We replaced the kitchen appliances, hot water heater, furnace, and bathroom fixtures. We also repaired the roof.
Ann was overwhelmed with gratitude to Samaritan's Purse for helping in her time of desperate need.
"I have been truly, wonderfully blessed," she said. "I'm grateful and thankful. God has given me a brand-new house."
Rodney Turner also recently returned to a restored Houston home after our volunteers completed work there.
"I just thank God for all the volunteer workers who helped me get my house back together," Rodney said. "I've been blessed to have a brand-new house built from the ground up. It's not mine, it's God's."
Helping Church Recover
Many churches throughout southeast Texas were severely damaged by the hurricane last August.
We started providing reconstruction grants earlier this year to churches damaged by Harvey, and so far 150 churches have been able to make much needed, and often extensive, repairs to their places of worship.
"Let me be honest," said Pastor Edward Buford, pastor of Sonrise Community Church in Houston, whose church also serves as a homeless and rehabilitation community. "If nobody had shown up, we would have had to shut down. We were fighting, but things were getting real bad. With Samaritan's Purse showing up it was like God saying 'I want you here.'"
Samaritan's Purse helped Sonrise replace their roof and vast portions of walls, flooring, furniture, and electrical systems.
Hearts Made New
God's faithfulness to heal hearts, even in the midst of crisis, has been evident over the past year. By God's grace, many Texans have realized—for the first time—their need for Christ and have turned to Him for salvation. Since volunteers first started work in the area following Harvey, we have seen more than 500 people make decisions to follow Jesus Christ as their Lord and Savior.
Many other homeowners, already Christians, have been encouraged and strengthened in their faith.
Please continue to pray for Texas, our teams, and for God's continued work in the lives of people still recovering after Hurricane Harvey.
Note: This article was edited on Aug. 27 to clarify rainfall totals and add the information about Nederland, Texas.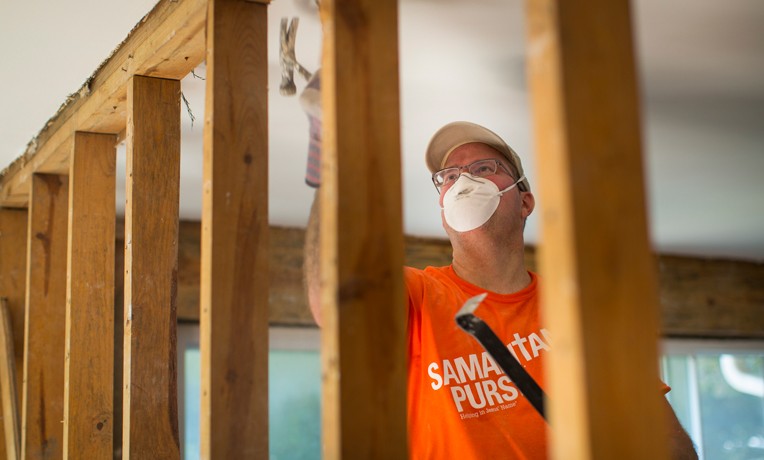 U.S. Disaster Relief
Samaritan's Purse mobilizes and equips thousands of volunteers to provide emergency aid to U.S. victims of wildfires, floods, tornadoes, hurricanes, and other natural disasters. In the aftermath of major storms, we often stay behind to rebuild houses for people with nowhere else to turn for help.
---
U.S. Disaster Relief 013622