Doniphan, Missouri, homeowners experience God's love as Samaritan's Purse volunteers clean out flooded homes.
U.S. Disaster Relief
013622
Tammy Mellon hasn't had an easy time of it lately. Eight weeks ago she had back surgery, and then about two weeks ago she had to flee her home.
She had only a matter of minutes to escape with her wheelchair and a few pieces of clothing before the water rushed in.
She was forced to evacuate her home in Doniphan, Missouri, as the nearby Current River swelled beyond its banks with April rains.
This is the second time she's lived in a house that's been flooded—this time with about four feet of water. Even in the midst of her loss she experienced God's love for her as she prayed for the floodwaters to recede and then for help with cleaning up the damage.
SIGN UP TO VOLUNTEER
"I prayed every day," Tammy said. "The next thing you know, God sent these people to my house. He answered my prayer," she said. Samaritan's Purse volunteers quickly cleared away soaked walls and flooring from her home—a labor of love that affected her deeply.
Team leader Dennis Robinson told the volunteers who worked on her house this past week about the impact their efforts have had on Tammy. "She's had quite a load lifted off her shoulders," he said.
Volunteers also were touched by the opportunity to help. Doniphan was Roberta Kallay's seventh disaster relief response with Samaritan's Purse. Her first was during the South Carolina flood response in October 2015.
"I'm pleased to spend time with people in this kind of ministry," said the retired welder and utility company worker from Lawrenceburg, Indiana.
A Rush Against Time
Gary and Delores Garrett only had 15 minutes to evacuate.
Their home overlooking the Current River began to take on water as the couple hurriedly stuffed clothes into a bag, moved belongings to higher shelves, and threw things from the stairs to load them into their truck.
By the time they shut their door to leave water was rushing into the house.
A yellow waterline is still visible five-and-a-half feet high across a downstairs window that overlooks a, now, sand-filled yard.
The green of grass that once filled the property was quickly covered by river-bottom sediment.
Gary had built the house overlooking the river so they could enjoy the fishing and the wildlife— eagles, turkeys, and deer—from a second-story sunroom.
They'd returned years ago to this town, the town where the high school sweethearts had met and started dating.Now both 74, they've tried to salvage flood-damaged keepsakes of their early years together.
Their graduation photo and reunion photos had been on the top shelf of a four-tier display unit, but " it didn't matter how high you had it," Delores said.
So much furniture had been pushed around by the water that "we had to bust down each door to get from room to room," she said. "We had to clean out one room before we could get into another one."
Samaritan's Purse volunteers helped the Garretts move what they could onto their carport to dry.
Sadly many items could not be salvaged, including two red and green Operation Christmas Child shoeboxes Delores had not yet finished filling.
"I was in the middle of packing the shoeboxes," Delores said. "I'm going to have to throw away the contents and start again." One box contained a stuffed animal; the other one had hair ties, bandanas, and combs.
The Garretts also lost their four shelves worth of books that they'd planned to share with their three daughters and 15 grandchildren.
Many volumes collected over the course of their Christian walk were ruined—numerous Bible commentaries, theology books, inspirational writings, and books by Billy Graham and his son, Franklin, president of Samaritan's Purse.
Surprised By Blessings
Though the Garretts' second floor was spared, the first floor had to be gutted to the studs.
Samaritan's Purse volunteers who cleared out water-soaked sheetrock and insulation were a Godsend to the couple who'd otherwise be left to recover alone.
"This has been a blessing," Gary told volunteers. "I knew it was going to take time for me to clean this up. I was going to do it myself slowly, but you did in one day what it would have taken me four weeks to do."
Samaritan's Purse began helping homeowners in Ripley County on May 7. The need for volunteers continues.
Please pray for those affected by the flooding and for our volunteers as they work and witness in Jesus' Name.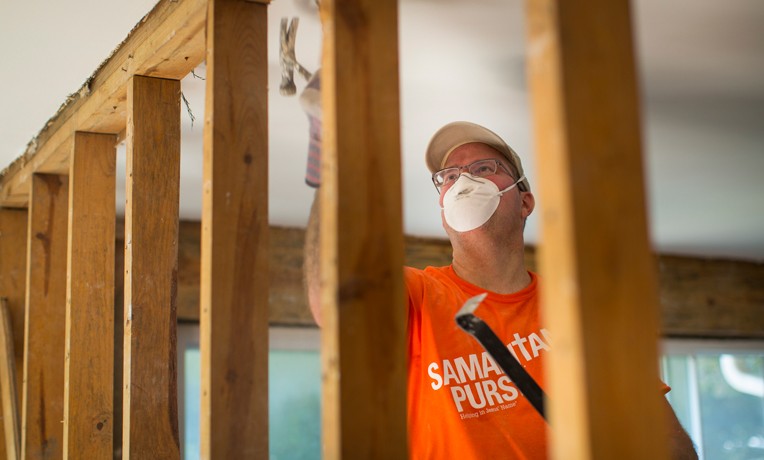 U.S. Disaster Relief
Samaritan's Purse mobilizes and equips thousands of volunteers to provide emergency aid to U.S. victims of wildfires, floods, tornadoes, hurricanes, and other natural disasters. In the aftermath of major storms, we often stay behind to rebuild houses for people with nowhere else to turn for help.
---
U.S. Disaster Relief 013622