Samaritan's Purse is lending a helping hand after Louisiana floods—more hands are needed
Samaritan's Purse teams are fanning out across two parishes of northern Louisiana this week, providing urgently needed physical labor and ministering spiritually to devastated homeowners in the Name of Jesus Christ.
One area where we've started work is a close-knit West Monroe neighborhood cherished by residents. Most everybody seems to know each other; several are blood relations. They've seen multiple generations grow up in these modest residences.
Though they've seen high water here before, several people said they had never experienced anything like last week's flooding. For some, lifelong homes are now in disarray. Many of their belongings, sadly, have now been cast to the curb as rubbish—soaked by two to three feet of floodwater, the overflow of a nearby canal. Drywall, flooring, furniture, and many other items had to be dumped.
"It's bad out there," one little boy blurted out from his passing school bus window as he noticed the piles of once-treasure-now-trash.
Long-time resident and local minister Donnie Carter said, "This here is [northern] Louisiana's Katrina," referring to Hurricane Katrina (2005).
Helping Miss Joyce
One neighborhood fixture is grandmother Joyce Davis. She and TyRhonda, her teenaged granddaughter, were at home during the flood. At one point, the water was up to her waist, Joyce said.
"It was murder … Everything was floating around in my home," she said mentioning overturned appliances, such as her refrigerator. TyRhonda was frantic, deeply concerned for her grandma.
The two were eventually taken out of their home and driven to a nearby shelter by a neighbor.
"I was praying," Joyce said. "I was asking God to let it stop raining, for the water to go down."
"I know how the people felt in Katrina," she said.
On Wednesday, Joyce visited her home and found a team of Samaritan's Purse volunteers ready to help her.
Led by U.S. Disaster Relief veteran Paul Brock of Rochester, New York, the group got down to business quickly and finished the stripping of two large rooms in just an afternoon. (Drywall had to be removed from top to bottom.) They will return to complete work in the coming days.
When asked if she wanted to see the team's progress, Joyce said, "It probably looks like a fish that's been gutted."
And it did—just the bones of the structure remain. But that's OK, because that's what is needed for the house to be ready for repair/reconstruction.
Overall, Joyce was bubbling with enthusiasm for her new friends: "They're perfect. All the volunteers around here are wonderful. They'd bend over backwards to help us."
"All the volunteers around here are wonderful. They'd bend over backwards to help us."
A five-time heart attack and one-time stroke survivor, Joyce Augustine Poole Morgan Davis—her full name—is the 17th of 19 children. She's faced obstacles before and will not be daunted now.
"I'm calm. I'm not scared," she said. "The Man Upstairs will take care of me. He's done it before."
God is doing it again this week through Samaritan's Purse volunteers.
More Volunteers Needed
Team Leader Paul Brock is honest about the work needed in Louisiana. "It's hard. It's hot. It's nasty," he said.
So many things need to be removed before the job is done: drywall, nails, cabinets, insulation, flooring, screws, doors, molding, trim, carpeting, appliances, furniture, and more. Attention to detail is a must. The quality of our work is the platform for our witness.
"When we finish with it, it's ready to be put back together," said Paul, who started volunteering with Samaritan's Purse in 2010. "The homeowners will not have to pay the contractor to finish the cleanup. It's ready to go."
Although our work orders are increasing, the volunteer turnout so far in Louisiana has not been as high as expected. Our scheduled completion date in Monroe has already been pushed back to late April.
"When you have such few volunteers and you're doing such detailed work, it takes a long time," Paul said.
The needs are great, and waters still have not completely receded. Program Manager Bruce Poss said, "It's going to be a long-term response for Samaritan's Purse. We're going to be here for weeks on end.
"Samaritan's Purse is getting a lot of work to do. A lot of people ask us to help. As far as prayer needs, we need to pray that God will send the volunteers. We need local volunteers and out-of-town volunteers to join in the work here."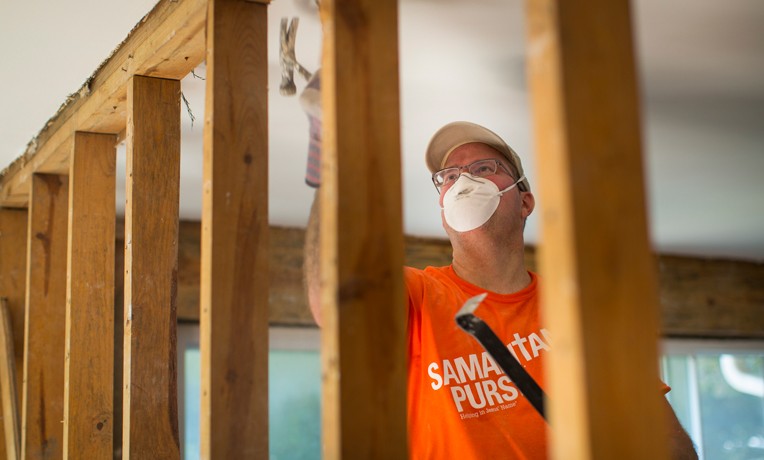 U.S. Disaster Relief
Samaritan's Purse mobilizes and equips thousands of volunteers to provide emergency aid to U.S. victims of wildfires, floods, tornadoes, hurricanes, and other natural disasters. In the aftermath of major storms, we often stay behind to rebuild houses for people with nowhere else to turn for help.
---
U.S. Disaster Relief 013622