Volunteers help a woman whose houseboat was damaged by a tornado in Alabama—a first in Samaritan's Purse history
When Margaret "Mickie" Falke's husband died in 2011, she decided to carry on their shared dream of living on a houseboat. Mickie purchased the boat and had been living on it for nearly three years when she docked in Athens, Alabama, along the Tennessee River this past spring.
Everything was going well until April 28, when Mickie heard sirens and knew that she was in danger.
"I was on the boat when the alarms went off," Mickie said.
Mickie grabbed her dog and hurried to join around 20 other people who had taken cover under the marina as multiple tornadoes touched down in the area.
High winds tore away part of the awning from the marina and flung it onto Mickie's boat, forcing the railing through the roof of the craft. The mast pole was knocked down, and water started to pour into Mickie's home.
"My initial thought was that my boat was gone," Mickie said. "This was my dream, and I was thinking that my dream was fixing to get washed away."
After the storm had passed, Mickie attempted to repair the boat herself. Samaritan's Purse responded to the spring twisters in four states, including Alabama. When she heard that our volunteers were in the area, she called the organization and asked for assistance.
Initially, staff members were unsure if we could help because of the unusual nature of the job. Mickie's home would be the first houseboat serviced in Samaritan's Purse history. But after hearing Mickie's story, the team was moved to action.
"I'm thinking, 'How can we make this happen for this lady?'" said program manager Wayne Shoemaker. "This is a person that we can sure share the love of Christ to."
A team of 12 workers arrived on the scene to find Mickie exhausted from removing the carpet and wood flooring from her houseboat. The electricity was out, so she had no access to hot water and was unable to cook. Despite all of the damage, Mickie seemed hopeful to move forward.
"She was really tired, but she still had a forward spirit about her," Wayne said. "She was very positive in her idea that she was going to move forward and not backwards."
Volunteers from all over the country joined forces to cut away the broken railing, patch holes in the roof, and place a tarp over Mickie's 57-foot boat. After they had finished, the team presented Mickie with a new Bible to replace the one she had lost in the storm.
The volunteers then prayed over Mickie and invited her to eat dinner with them at the Samaritan's Purse base at Clements Baptist Church. Mickie was even able to take a hot shower after having bathed in the river since the storm hit. She was touched by the willingness of the volunteers and personally thanked them for all of their hard work.
"I was kind of about to have a meltdown," said Mickie, who had been overwhelmed by the devastation.
She appreciated one volunteer's willingness to talk with her and pray for her when she most needed it.
"Everybody was great," she said. "One [of the volunteers] had recently lost his home in a fire, and he was able to be here helping people like me."
Just two days after our volunteers helped Mickie with her houseboat, storms caused severe flooding in Pensacola, Florida, where Mickie's family lives. Mickie was reassured when she learned that Samaritan's Purse was responding to this disaster as well.
"[Homeowners] are usually overwhelmed with the massive tasks that lie ahead from the storm damage. Most have no idea on how to proceed," Wayne said. "It's important we help turn the tide, so to speak, and begin recovery in their world."
You can help to share the love of Christ with homeowners like Mickie by volunteering with Samaritan's Purse U.S. Disaster Relief. Find out about current opportunities.
For You have been a strength to the poor,
A strength to the needy in his distress,
A refuge from the storm. —Isaiah 25:4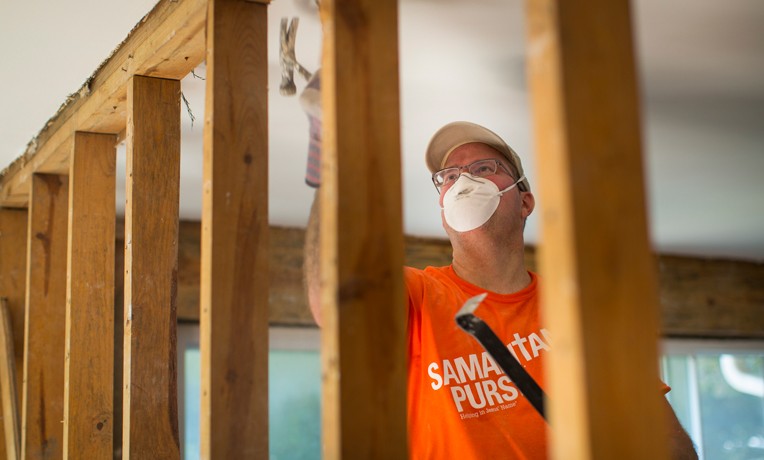 U.S. Disaster Relief
Samaritan's Purse mobilizes and equips thousands of volunteers to provide emergency aid to U.S. victims of wildfires, floods, tornadoes, hurricanes, and other natural disasters. In the aftermath of major storms, we often stay behind to rebuild houses for people with nowhere else to turn for help.
---
U.S. Disaster Relief 013622