Samaritan's Purse national staff members in Liberia are conducting a broad awareness campaign to help church leaders bring critical information about the deadly disease to their congregations.
The ongoing outbreak of Ebola virus disease in West Africa, already unprecedented in its range and scope, continues to claim more victims every day.
Nearly 4,000 total Ebola cases have been reported in five West African nations as of September 5. The latest report from the World Health Organization puts the death toll at just over 2,100 victims.
Samaritan's Purse national staff members in Liberia are actively combatting the disease by providing Ebola awareness programming within the country. Since mid-August, we have educated more than 8,000 church leaders and others, who will reach as many as 200,000 congregants with potentially life-saving information.
This church awareness campaign initially targeted areas in and around Monrovia and has now expanded to the counties of Lofa, Gbarpolu, and River Gee. Lofa County borders the forested area of Guinea, where the outbreak is believed to have started late last year.
These current activities build on our previous national awareness campaign, begun in March and recognized by government and United Nations agencies for its effectiveness. Nearly 450,000 people were reached through flyers, posters, community events, and other activities, plus many more who heard our radio spots as well. Though this figure represents more than 10 percent of Liberia's total population, many people remain uninformed, in fear or in denial regarding Ebola.
Samaritan's Purse continues to develop further response plans for this outbreak.
"We haven't left Liberia for good. We're just reloading," Samaritan's Purse President Franklin Graham said. "We'll be going back. So pray that God will give us wisdom as we take our next steps."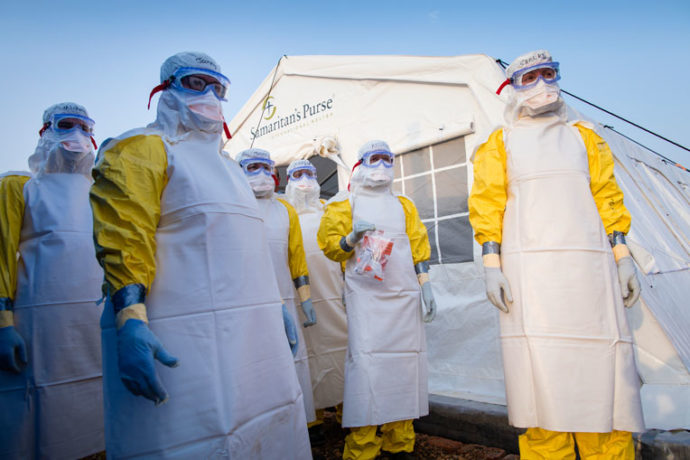 Ebola Response
Samaritan's Purse is responding to a major Ebola outbreak in the Democratic Republic of the Congo. We have established an Ebola Treatment Center where we are providing expert and compassionate clinical care in Jesus' Name. Your gift supports this lifesaving work.