Anger threatened to destroy a Marine and his marriage until he turned to Christ at Samaritan Lodge Alaska.
Bless the Marriage of a Military Couple
013960
The first time Marine Lance Corporal PJ Kehs was shot at, he was crossing a street in Fallujah, Iraq–and he fell. Just then, a tracer round zipped over, striking the man behind him.
"Why did I fall? I didn't trip over anything. I literally just went down," he said. "I should have taken that bullet."
His fellow Marine survived the enemy round, but PJ was still enraged. Intense anger at the attack was his immediate response. It was natural to him, and the Marines only intensified it—ferocity rather than fear in the face of danger.
Later, after some of PJ's buddies were mortally wounded, survivor's guilt began to crush him. His anger grew stronger. When he returned home to Pennsylvania, it consumed him.
"I had family and friends who looked up to me, and I had to be the hero figure to them," PJ said. "I had to be who they envisioned me to be and any problem revealed a weakness. And that angered me that I was having that weakness. So, I just shut it all off. I shut down my emotions. I formed a heart of rock."
PJ's emotional coldness and his angry, hair-trigger reactions to the most mundane things were eroding his marriage. His wife, Chelsea, became more like a roommate than a spouse.
And though she'd tried for years to get him into counseling to deal with his anger and traumas, he refused.
Chelsea coped with her own fear and isolation by listening to sermons online and reading a Christian devotional book and a Bible that an aunt had given to her.
"I was starting my own relationship with God," Chelsea said. "But I didn't think PJ would be very accepting of it."
That's because PJ's anger extended to God, too. He blamed God for taking away the people who loved him—especially his paternal grandparents—when he was a young boy.
"The people who were guiding me were taken away very early on in my life," PJ said. "It became especially hard when I was battling PTSD. It was another reason to be angry with God, with myself, with everybody. I just kept asking, 'Why am I here?'"
Last fall, Chelsea reached out to another military couple in their hometown who'd attended Operation Heal Our Patriots in the summer. They said the week in Alaska rescued their marriage. Chelsea shared the information with PJ, and they decided to apply. To their surprise, they were accepted.
A New Beginning in Christ
When PJ and Chelsea arrived at Samaritan Lodge Alaska during Week 1 of the 2023 Operation Heal Our Patriots season, they eagerly plunged into the program's activities—fishing, hiking, kayaking, and bear viewing. But it was through the marriage enrichment classes, led by retired military chaplains, that PJ began to open up and allow himself to be vulnerable.
"It's hard for me to talk about me," PJ said. "But the chaplains told us about their experiences. They opened up about their vulnerabilities, and it made me more comfortable and allowed me to open up about my own."
Through the classes and private counseling sessions with the chaplains, PJ started to relax and realize that he didn't need to be mad all the time. He and Chelsea also learned how to better communicate.
"Coming here has given us tools that enable us to dive deeper and not just get through the day," Chelsea said. "We now have the tools we need to help us work through whatever it is, whatever the issues are for that day."
We praise God that PJ and Chelsea realized what their marriage needed most— to be rooted in a personal relationship with Jesus Christ. When a chaplain shared the Gospel with them, they both readily invited Christ to be their Lord and Savior. On Friday that week, they were baptized together in the frigid, 40-degree waters of nearby Lake Clark.
"Walking out there, I was cold, but coming out of the water it was warming, spiritually warming and physically warming," PJ said. "Something was keeping me warm, and I think it was God."
Hope Restored
Shortly before he boarded a plane to leave Samaritan Lodge Alaska, PJ said he was encouraged that he and Chelsea were leaving a stronger couple.
"Operation Heal Our Patriots has given us hope again," PJ said. "This week has given us hope that we can get through whatever problems arise. It has given us faith that we're going to be OK."
Chelsea agreed and added that she would recommend Operation Heal Our Patriots to any veteran couple in need of healing.
"I'd tell them to just hold out until you can get here," she said. "It will be the most life-changing week of your life, just as it has been for us."
Please pray for the couples who will come to Samaritan Lodge Alaska each week this summer with Operation Heal Our Patriots. Ask God to bring the healing they need and for them to realize anew how much He loves them.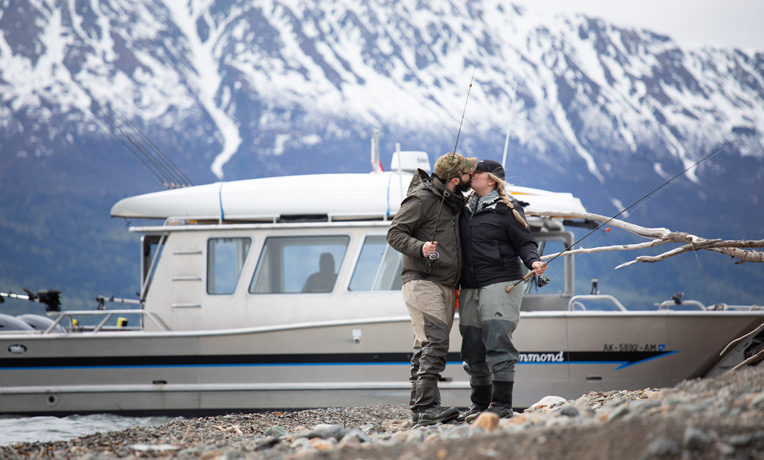 Bless the Marriage of a Military Couple
Operation Heal Our Patriots helps military couples build a strong spiritual foundation during a week of Biblically based workshops, relationship-building wilderness activities, and individual care by our retired military chaplains. We offer all this free of charge to these American heroes as a token of our appreciation for their service and sacrifice. Your gift will help us cover the costs—including transportation, lodging, activities, and long-term Family Care—so that we can help them find hope in the Lord.
---
Operation Heal Our Patriots 013960
Suggested Gift: $60