Through a Samaritan's Purse initiative, the Zande people of northeastern Democratic Republic of Congo are embracing the love of God in Jesus Christ.
Violence and instability have long plagued the Dungu Territory of northeastern Democratic Republic of Congo (DRC).
Churches, schools, and houses burned down during armed conflict decades ago have never been rebuilt, leaving communities seemingly trapped in spiritual and physical poverty.
In the wake of so many years of violence, many families have been left with limited resources, struggling with widespread disease and little access to medical care. Local churches are often similarly stifled in their attempts to care for and disciple the people in their communities.
Over the past several years though Samaritan's Purse teams have traversed treacherous roads to work among the Zande people and others in the remote region. Working alongside local leaders we've helped reinvigorate area churches, focusing on both the physical and spiritual health of congregants.
Through our project, the Zande Initiative, we have brought training and resources to implement more effective agricultural practices; strengthened local healthcare services; instituted hygiene and sanitation systems that protect springs and groundwater; and provided properly constructed latrines. We've also helped rebuild church buildings to replace a portion of those that were destroyed by conflict.
In partnership with local congregations, these programs have equipped pastors and, in turn, church members and new believers to live out their faith with new energy.
Witnessing the Love of God Through Medicine
Suzanne, a 26-year-old South Sudanese refugee, is one of many who have been impacted through the Zande Initiative.
For years Suzanne worked as a farmer to provide for her family. When violence erupted in South Sudan she fled to the DRC hoping for a better life. However, Suzanne's struggles persisted. Suffering from a chronic illness and without income to pay for medical care, she faced a desperate situation.
Through the Zande Initiative, Suzanne began receiving free primary health care in the nearby village of Doruma. Upon arrival, the young mother was given medical attention and received much-needed surgery, allowing her livelihood as a farmer to be restored.
More than medical care, Suzanne and her husband say they "witnessed the love of God, manifested through Samaritan's Purse." The couple now understands that "God cares, restores, and still heals."
The doctors, nurses, and other healthcare professionals involved in our programs are seeing changes in their community that benefit everyone.
"The love of Jesus we are receiving from Samaritan's Purse is changing our lives," said Dr. Samuel, the head of the health zone of Doruma in Dungu. "Health workers have been trained, health facilities received medicine donations, boreholes have been rehabilitated, latrine sand springs have been constructed [for our facilities]."
Dr. Samuel said that many patients who previously sought the local shaman for treatment now visit the health facility where they receive support from Christian medical workers and see their medical conditions improve.
"Community behavior is progressively changing thanks to the Word of God shared by Samaritan's Purse staff," he said.
Replacing Fear with Faith in Jesus Christ
It was through the agriculture and livelihoods aspect of our project that God began to open the heart of a 34-year-old farmer named Noah.
Before learning about Jesus, Noah made regular offerings to the local idol, hoping his devotion would prevent crop failure or encourage further success. Regular trips to a local shaman were made if someone was ill.
Like many families in Dungu, Noah's traditional religion pushed him and his family deeper into hardship, anger, and strife. Much of his meager income from farming went towards religious rituals.
The idea of trusting a loving God was foreign to him.
Then Noah got involved in our agricultural trainings and watched his crop yields increase and his family's health improve.
He also learned about our local radio broadcasts. He listened to multiple programs per week that addressed topics such as water and food treatment, latrine and personal hygiene, and COVID-19 prevention. He also heard our evangelists and field coordinators discuss Biblical topics including how to start a relationship with Jesus Christ and how to follow Him as a disciple.
It was during one of these radio programs that Noah received Jesus Christ as his Lord and Savior.
Lives Transformed By the Gospel
We thank God for Noah, just one life changed among many, as we help meet the immediate physical needs of a community while also sharing the truth of the Gospel of Jesus Christ.
"I was able to understand the immense love of God towards me and my family," Noah said, describing his newfound faith in the Lord Jesus Christ as opposed to his former reliance on animism, superstition, and idol worship.
After becoming a Christian, Noah started attending discipleship classes offered through the Zande Initiative that introduced him to sound, Biblical doctrine and connected him with a local church.
Today, Noah says he is learning how to read Scripture for himself and he and his wife take time together at the end of each day to pray. While life in Dungu remains difficult, Noah trusts God with his future.
"God is the source of my deliverance. I have entrusted to Him all my family," he said. "No matter what tests come our way."
The Zande Initiative has recently concluded but local community members—empowered and equipped by six years of discipling from Samaritan's Purse—have formed an association to keep the work moving forward. In addition, the project has become a springboard as we expand and extend our ministry and evangelism efforts throughout Dungu and in other parts of the country. We give thanks as God continues to work through a number of Samaritan's Purse ongoing projects in the Democratic Republic of Congo.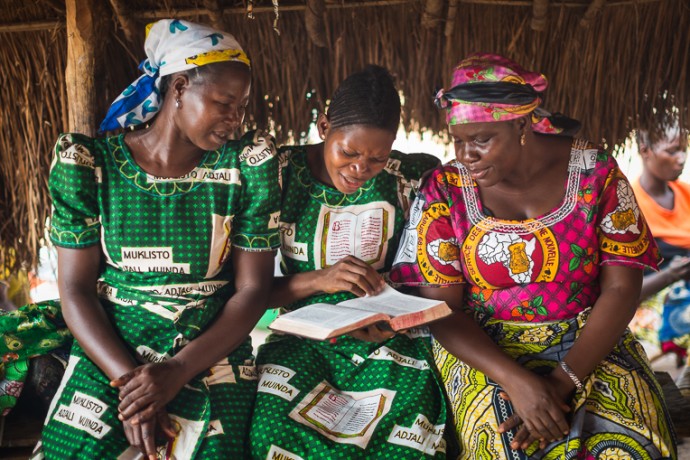 DRC Projects
The Democratic Republic of Congo (DRC) has faced a 20-year civil war that has left 5 million people dead and 2.6 million currently displaced. Samaritan's Purse continues to help survivors of the war by providing feeding, nutrition, and agriculture programs, along with other projects. In addition to meeting physical needs, we have helped rebuild churches and train pastors and Christians in the Word of God, giving them the tools to spiritually love and support their neighbors as they continue facing violence.