Samaritan's Purse volunteer teams have already completed more than 700 work orders in Lake Charles. Many more volunteers are needed to wrap up our response in this hard-hit community.
U.S. Disaster Relief
013622
Rusty and Gloria Terry were trapped in their home the day Hurricane Laura slammed into southwestern Louisiana. Rusty had worked hard the previous day to repair his truck, but when they finally got ready to evacuate, the truck wouldn't shift gears. Rusty tried and tried, but eventually realized they were stuck.
"I couldn't believe it," Rusty said. "We couldn't go anywhere. This truck is all I had."
The Terrys hunkered down. They'd weathered hurricanes before, but Laura had strengthened into a more devastating storm than anything they could have expected. For nearly 12 hours, Laura's winds were so strong that they shook the house. "I didn't think the hurricane was going to last that long," Rusty said. "I'll never forget it."
And he has a scar to remember it by.
He'd opened the screen door to see what damage was being done to the other homes. That's when a piece of debris blew into his face and cut his forehead.
"I had no idea it would be this bad," he said. "The wind blew nearly every single shingle off the roof."
VOLUNTEER IN LAKE CHARLES, LOUISIANA
But things seemed only to get worse. It wasn't long after the sky cleared that Rusty and Gloria realized the difficult truth—moving forward and surviving the storm's devastating aftermath would prove much harder than riding out the storm itself.
A Shocking Aftermath
The Terrys had to wait about a month before water and power were restored. Meanwhile, without anywhere else to go, they had to continue living in their house. It didn't take long for mold to start creeping into the walls, and with the roof severely damaged, the water wasn't going away.
"There was not a dry spot in that house when it rained," Rusty said. "The whole bed would get wet. We had to put a piece of wood over a hole in a back room."
Rusty said they especially had to be on the lookout for leaks in the kitchen, sometimes moving their dinner plates out of the path of dripping water while trying to finish a meal.
After 40 years in construction, Rusty knew how to tarp a roof but was unable to do the work on his home due to back injuries and complications with diabetes. He also knew he wasn't able to pay for significant repairs.
Over the years he'd helped friends and neighbors with rebuilds and roof repairs after storms, but, this time, he found himself on the other end and didn't know where to turn.
Orange Shirts Arrive
Samaritan's Purse volunteers came to the Terrys' home during a week when they felt especially low. When our teams met the couple, Rusty had just been in the hospital for several days with dangerously high blood sugar.
The Samaritan's Purse team worked hard ripping out damaged ceilings and removing yard debris. Volunteers also laid down tarp on the roof.
When Rusty saw all this work being done for his family, his spirits lifted. He couldn't stop thanking them.
"It's a blessing to see that tarp up there. Just having a dry spot in the home is the important thing. That tarp makes me so happy," Rusty said.
Military Families Still Serving
A group of volunteers from our Team Patriot project also showed up at the Terrys' home. Team Patriot is a Samaritan's Purse initiative started in 2019 to deploy Operation Heal Our Patriots participants in the aftermath of natural disasters.
This time, Team Patriot helped out a fellow veteran, as Rusty had served for 10 years with the Marines.
For one military spouse, Pam Joaquin, the Lake Charles response was her second time volunteering with Team Patriot. She had first deployed with the group to Vidor, Texas, following Tropical Storm Imelda.
"I love the idea of spreading Jesus' blessings and serving around other veterans and their wives," Pam said. "Honestly, I can't think of anything better."
Pam said she'd struggled to find a sense of purpose after her husband was injured in Iraq and she quit her job to care for him. Team Patriot has provided unique opportunities for her to serve in the Name of Jesus Christ. This has helped restore some meaningful direction in her life.
"We get to give back to the community, and, in turn, it's a huge blessing for us," Pam said.
Michelle McCurry came all the way from Oregon to lend a hand to hurting homeowners in Lake Charles. Michelle grew up with a father who worked in construction, and she said it's rewarding to put those skills to work for people in critical need.
"When you see the trials of life and the storms people are going through—to help them physically and mentally heal from that—it's amazing."
Michelle and her husband David—a 21-year Army veteran—heard about Team Patriot during the annual Operation Heal Our Patriots Reunion and the project immediately grabbed their attention. "We looked at each other and we both thought, 'We've got to do this.'"
The couple then volunteered in Vidor, which was our first Team Patriot disaster relief response.
David was unable to join Michelle in Lake Charles due to a severe bout of pneumonia. He had been in and out of the hospital over the last year and was still recovering. Michelle was grateful she still was able to serve with her Operation Heal Our Patriots "family."
Although the work in Lake Charles was hard, Michelle said God always provided the strength and wisdom the team needed each and every day.
"You feel God's presence here," she said.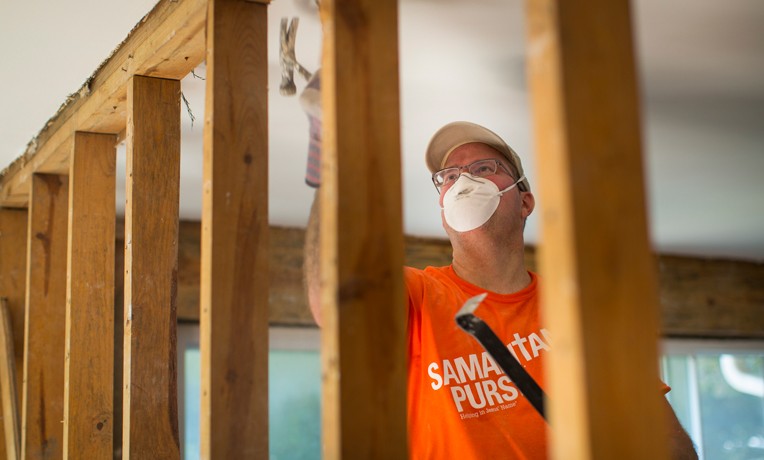 U.S. Disaster Relief
Samaritan's Purse mobilizes and equips thousands of volunteers to provide emergency aid to U.S. victims of wildfires, floods, tornadoes, hurricanes, and other natural disasters. In the aftermath of major storms, we often stay behind to rebuild houses for people with nowhere else to turn for help.
---
U.S. Disaster Relief 013622