Samaritan's Purse is sending supplies to finish work on the mission hospital
Samaritan's Purse airlifted medical supplies and equipment to the new ELWA Hospital in Monrovia, Liberia, from Greensboro, North Carolina, on August 22. These supplies will help ready the hospital before its dedication ceremony on October 22.
Samaritan's Purse first began working on new facilities for ELWA Hospital in 2011 when Samaritan's Purse President Franklin Graham visited and decided to improve the medical center through reconstruction.
Build or Improve a Mission Hospital
013805
Loaded on the Samaritan's Purse DC-8 were an X-ray machine, two anesthesia machines, infant incubators, an ultrasound machine, a blood bank refrigerator, IV pumps, critical supplies for wound care and suturing, linens for the hospital beds, and other surgical support and instruments.
"Franklin Graham, at the time of announcing the project, set three objectives that the hospital is to strive toward," said Kendell Kauffeldt, Samaritan's Purse Liberia country director. "The hospital must be a place of ministry where people are cared for in Jesus' Name, the hospital must provide quality medical care, and the hospital must be sustainable."
Work on the hospital was delayed for a year when Ebola Virus Disease spread to Liberia in early 2014. More than 4,800 Liberians died as a result of the disease, and it's estimated that more than 10,500 people were infected.
One of those infected was Dr. Kent Brantly, a Samaritan's Purse post-resident working at ELWA Hospital. After struggling with the disease in Liberia, he was airlifted to Emory University Hospital in Atlanta, Georgia. August 21 marked the two-year anniversary of his release.
Samaritan's Purse worked in Liberia throughout the Ebola crisis—providing clinical care as well as spearheading an awareness campaign—and is continuing to help those who face lasting challenging. We've started various programs including a survivors' clinic, which takes place at the current ELWA Hospital.
ELWA Hospital was founded in 1965 by Serving in Mission. It treats thousands of people around Liberia's capital city, Monrovia. The new facility will be approximately 46,000 square feet on seven acres, nearly double the size of the old hospital. It will include three operating theaters, male and female wards with 20 beds each, pediatric and obstetric wards with 18 beds each, seven labor rooms, outpatient and infectious disease departments, a full lab and imaging department, and an emergency room, among other areas. The new facility will be one of the largest hospitals in Liberia.
"The new ELWA Hospital that Samaritan's Purse is building will bring great joy and hope, both of which is desperately needed in Liberia after the Ebola crisis devastated so many," Kauffeldt said. "After such a devastating medical disaster, the new hospital will be a reminder for many of God's faithfulness."
The new facility will increase the hospital's capacity, making it possible to provide quality medical care to more people. See the updates below from August 22-25.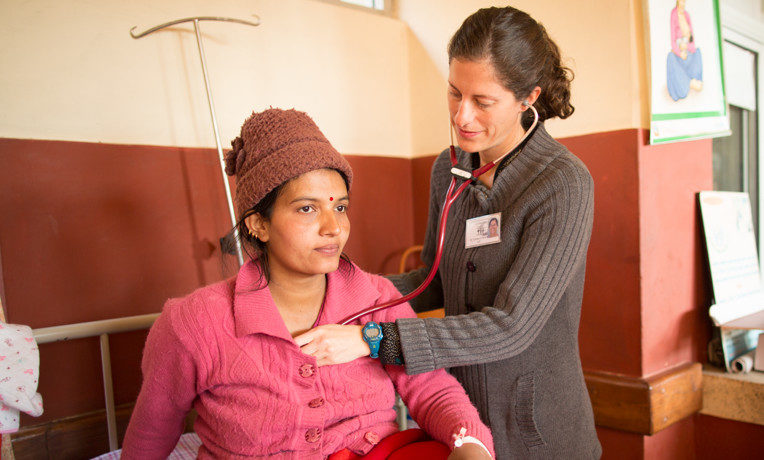 Build or Improve a Mission Hospital
Your gift will help us build or upgrade surgical suites, emergency rooms, maternity wards, and other medical facilities as a lasting testimony to God's healing power. "He received them and spoke to them about the kingdom of God, and healed those who had need of healing" (Luke 9:11).
---
Hospital Construction & Upgrades 013805
Suggested Gift: $35,000 | Share the Cost: $175