This was the first time for Samaritan's Purse to offer eye operations in the Copper Canyon of Chihuahua.
Restore Sight to the Blind
014012
Fidel badly broke both his leg and arm decades ago, and despite the continuing pain, he still pushed through to do heavy farm work and cut firewood as best he could.
But when cataracts took his sight a couple years back, life quickly came to a halt.
"I mostly have to stay in the house," Fidel said. "Everything looks cloudy. It's always a fight to do anything."
Fidel's vision and circumstances have improved now though after he was a patient during a Samaritan's Purse cataract surgery campaign in Mexico.
Our team of surgeons, ophthalmologists, and nurses performed 84 surgeries for 75 people living in the remote Sierra Madre Mountains or "Copper Canyon" of Chihuahua, the largest state in the country. Hospital Mision Tarahumara in Samachique hosted our team and patients. The town and nearby communities are where the indigenous Tarahumara people have called home since the 16th century.
"[They] tend to be very marginalized and very much in need of the Gospel," said Bethany Densham, cataracts/cleft lip teams program advisor. "We felt that the cataract program would be a good fit in providing a much needed service to the Tarahumara, providing a great opportunity to share the Gospel, and supporting the hospital and local missionaries."
Living in Isolation
The Tarahumara live in isolated villages, caves, and cliffs that are tucked away and hidden deep within the mountains.
"They may live several hours walking on a dirt road from the nearest paved road. Many live without electricity or water and sleep on a dirt floor," said Willy Bustinza, a general surgeon serving at Hospital Mision Tarahumara with his wife Jessee, a pediatrician, through the Samaritan's Purse Post-Residency Program.
Willy explained that cataracts are common in the Copper Canyon because people spend their lives being exposed to the sun's radiation, whether working outside on a farm, herding animals, or walking long distances. Many Tarahumara children show signs of eye disease at an early age.
To reach an ophthalmologist or health care facility the Tarahumara often must walk for hours—or even several days—along treacherous and rugged terrain. And even then, they cannot financially afford the medical care they desperately need.
Without their sight, the Tarahumara are more prone to injury as they trek up and down the mountains. They are unable to work or to provide for themselves and their families.
"The cataract surgeries are a second chance at life," Willy said.
The Bustinzas were grateful for the cataract surgery project, as it provided an opportunity to share the Gospel with families who, because of their isolated living conditions, have never heard about Jesus Christ and hold to strong animistic beliefs.
The Good News was shared in both Spanish and Tarahumara, and because of an illiteracy rate of about 98 percent, every patient received an MP3 player with Christians songs and portions of the Bible.
"The project helped us to build trust," Jessee said. "The Tarahumara have lived in fear from outsiders and endured lots of oppression. There is a lot of spiritual darkness and bondage. It's been very difficult for the Gospel to extend into these areas."
Restored Sight
Before Arcetia developed cataracts, she earned a living growing tomatoes. "I worked a lot and I loved it," she said. "Now, I can't even sweep because I fall."
As her family's land isn't arable, Arcetia had to travel by plane to a village where she would farm and stay there for several days or weeks at time before returning home. Still, she enjoyed her farming and missed it very much when her sight began to fail.
"I never had the energy to do the surgery. I couldn't get the strength to do it," Arcetia said. "It's a battle to do things. With my eyesight, it will be much easier."
Arcetia lives a five-hour bus ride, or a three-day walk, from Hospital Mision Tarahumara. But Samaritan's Purse made the trip to the hospital much easier for Arcetia by partnering with UIM Aviation and turning that long walk into a 30-minute flight.
We organized more than 50 flights to remote communities to pick up patients. We also provided bus fare for patients and worked with local missionaries to transport patients to the hospital.
Loreta also came by plane, as it would have required more than a day of walking to reach Samachique. Loreta's husband died 12 years ago and she relies on her daughter to do all the cooking and to help with household chores because she can't see well.
"I can go close to the house, but far away, my daughter has to help me," Loreta said. "I would love to be able to do what I did before when I could see."
Loreta especially enjoyed making baskets and sewing her own skirts.
Now, with restored sight for the first time in a long time, Loreta has an opportunity to regain some of her independence and the simple joys of life.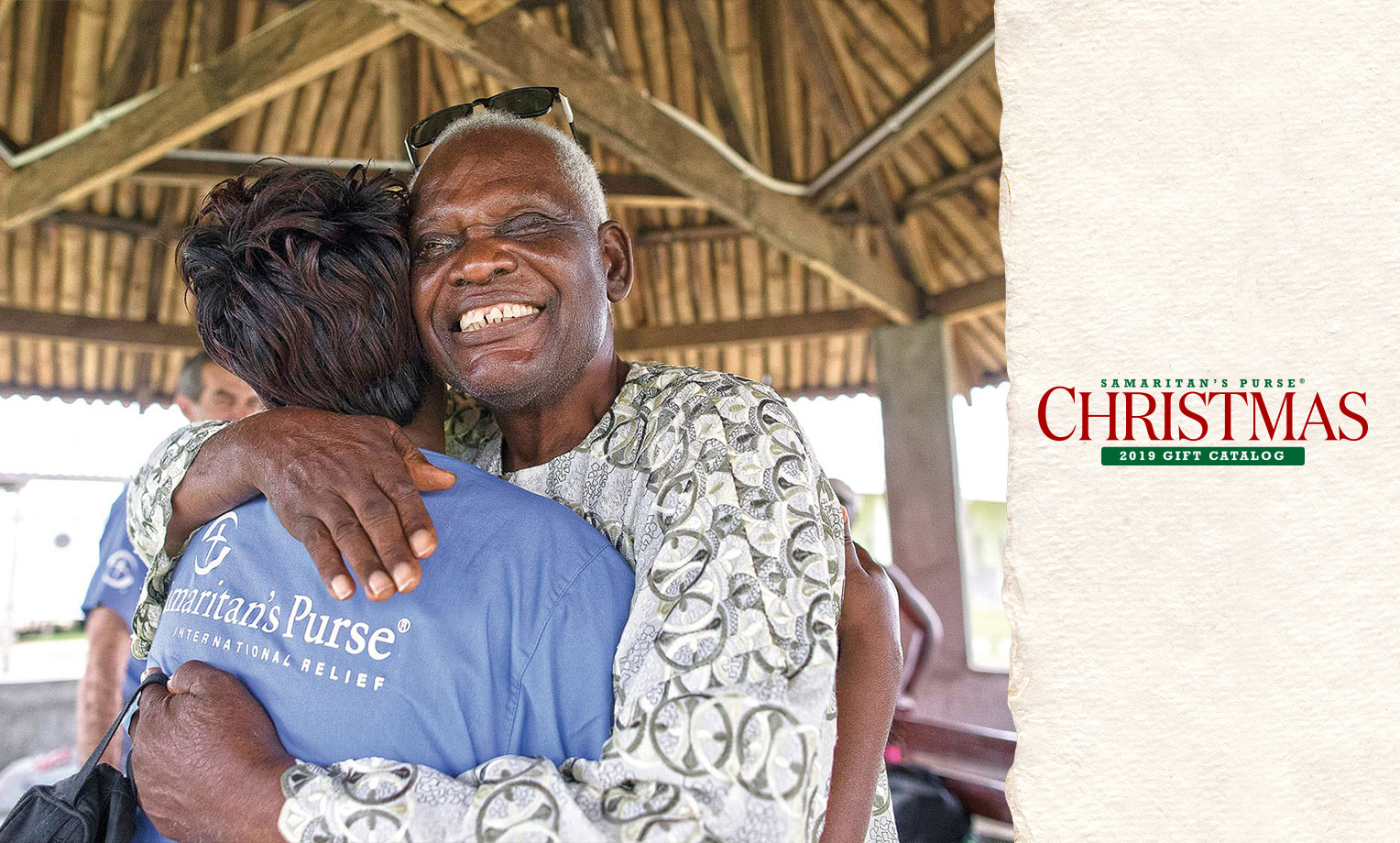 Restore Sight to the Blind
Cataract surgery is a common procedure in the U.S., but in countries like South Sudan, the elderly have no access to doctors who can correct their condition, which can eventually lead to blindness if left untreated. Samaritan's Purse seeks out those who are living in darkness, sending medical teams to restore their physical sight and offer new hope. Our surgeons can perform the procedure in just a couple of hours, and when gauze is removed, patients see more clearly than they have in years. A gift of $40 can equip us to change the life of someone who is living in physical darkness and open doors for us to share Christ, who said, "I have come as a light into the world, that whoever believes in Me should not abide in darkness" (John 12:46).

`