Samaritan's Purse completed disaster relief work in an Illinois community decimated by a cataclysmic storm
Samaritan's Purse has finished their work helping tornado victims in Washington, Illinois, a town devastated by a terrible twister that swept through on Sunday, Nov. 17.
The tornado was part of a large storm system that caused multiple funnel clouds to touch down in cities throughout Illinois, Indiana, and Kentucky. An astounding 80 tornadoes were tracked on that day.
But no place was as hard hit as Washington. An estimated 1,000 homes were destroyed or damaged in the town of about 15,000 people. Entire neighborhoods were leveled.
"Its mind blowing to see the devastation from the affects of such a strong wind. There are homes that were once standing where there is now nothing," said Kenny Adcock, the program manager on the response. "I spoke with a homeowner yesterday, and I could tell he was concerned about his family and how he was going to take care of them. And as he came and spoke with us, you could sense how grateful he was when we told him we're coming. Help is coming."
Samaritan's Purse staff members were on their way to the affected area within hours of the storm, and a Disaster Relief Unit was dispatched on November 18. We established a base at Grace Church in Morton, Illinois, about 10 miles from Washington.
On November 20, volunteers began to work, clearing debris, removing downed trees, and tarping roofs. By the time our work was completed, 101 work orders have been finished by our 854 volunteers.
Our teams prayed with homeowners and presented a Bible when each work order was finished. Working in conjunction with chaplains from the Billy Graham Evangelistic Association, we let storm victims know that God will be with them through the storm. As a result, three people came to salvation through Christ.
Katie and Kevin Beale barely had time to grab their young sons and head to the basement before the lights went out and the tornado hit. When Katie noticed a strange light from above them before they reemerged after the tornado passed, she realized that their entire house was gone and both she and her husband were beyond shocked and devastated. But when Samaritan's Purse volunteers came to help them pick up the pieces, they not only felt relief– they felt amazement at the amount of love that was showered over them.
"It's such a awesome, comforting, amazing thing to have someone you don't even know come pack your stuff up for you, pray for you and really know that they care for you," Katie said. "It's just really been amazing."
Please continue to pray for those who have been affected by this disaster.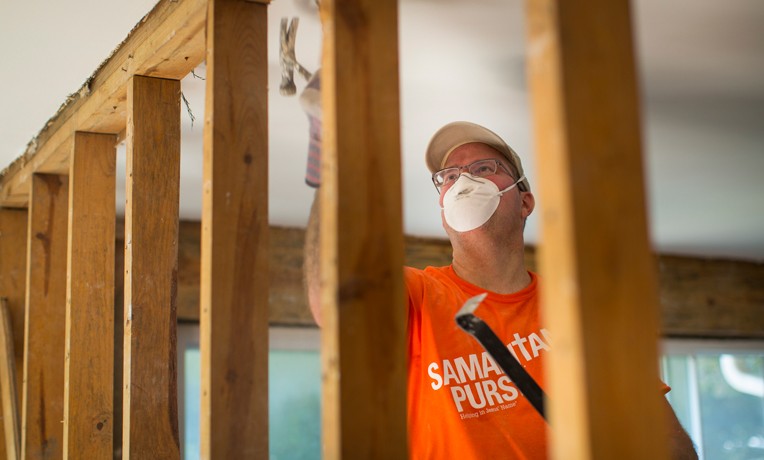 U.S. Disaster Relief
Samaritan's Purse mobilizes and equips thousands of volunteers to provide emergency aid to U.S. victims of wildfires, floods, tornadoes, hurricanes, and other natural disasters. In the aftermath of major storms, we often stay behind to rebuild houses for people with nowhere else to turn for help.
---
U.S. Disaster Relief 013622