God used Operation Heal Our Patriots to strengthen the marriage of retired Marine Drew Toothman and his wife Misty. They recently helped homeowners in West Virginia through another Samaritan's Purse project.
Drew and Misty Toothman know all about challenges of a time-consuming home renovation project, as they own a house in southeast Pennsylvania that dates as far back as 1724. Nonetheless, when an opportunity surfaced in early March to volunteer with Samaritan's Purse to help rebuild a home for an older couple in West Virginia, the Toothmans didn't hesitate. They jumped at the chance to serve homeowners affected by last year's deadly floods.
Drew and Misty are just grateful to be able to help out. A war injury and subsequent physical limitations couldn't stop them.
The two met at Liberty University in 2000 and married in 2003—two years after Drew joined the U.S. Marine Corps. In 2009 while on patrol in Afghanistan's Helmand River Valley, Drew was part of an operation investigating the use of a possible improvised explosive device. After the perimeter was set up and the team was set to leave, Drew walked past a pump house alongside a canal. It exploded.
"I was completely out of it for a while," Drew recalled. "My team leader had to come and shake me to.
"There was no way to replace me at the time, so I had to continue serving," he continued. "I slept it off in my truck with a massive headache. Though I continued to have headaches, I'd push through and keep going."
Drew returned home. Struggles on the home front started surfacing, but within a year, he was redeployed. This time, he tore a tendon, and the wear and tear on his feet while wearing 100 pounds of body armor and a pack full of gear took their toll. Five surgeries over the next year were needed to reconstruct both feet and ankles. Pain was his constant companion. And still is.
The couple also recognized that his short-term memory occasionally lapsed. He'd forget the location of a nearby grocery store, so he'd drive to one much further away. He also was hypersensitive to light and certain noises startled him. His moods changed quickly.
"Sometimes our three kids come up behind me to scare me—a simple thing that children should enjoy—but it puts me on edge," Drew explained. "I try my best not to subject them to how I'm feeling, but it's difficult and comes out as an irritation."
Finally, tests revealed that he had earlier suffered a traumatic brain injury. So in 2014, Drew was medically retired.
Operation Heal Our Patriots: Strengthening Marriages in the Alaskan Wilderness
Trouble continued brewing on the marriage front, and the couple acknowledged they needed help.
"There were definitely some rocky times after I returned from Afghanistan," Drew said.
"We were at a point in our lives where so much had changed," Misty said, "but we hadn't slowed down and taken the time to think about what had happened to us and how we should deal with it."
In 2013, the Toothmans applied and were invited to attend a weeklong marriage enrichment training in Alaska through Operation Heal Our Patriots, the Samaritan's Purse project that ministers to wounded veterans (post-9/11) and their spouses. In the pristine Alaskan wilderness, they enjoyed fishing and paddling kayaks. Most of all, they benefitted from classes and personal time with our retired military chaplains who taught them how they could put Biblical principles into practice for a Christ-centered marriage. While there, to celebrate their 10-year wedding anniversary, Drew and Misty renewed their marriage vows.
"That week was definitely something we needed to cement our relationship back together," Drew said.
Donate to Operation Heal Our Patriots
"Not only did our Alaska experience strengthen us, one of my favorite things about Operation Heal Our Patriots is that they stick with you, and their follow-up has also helped us," Misty added. The project has a dedicated aftercare team who is available 24/7 and regional meetings in many areas.
Serving God and Neighbors in West Virginia
Volunteer with Samaritan's Purse
As they've grown closer, Misty and Drew began scouting out opportunities to serve and to pay forward all the help they've received. God opened the door for them to come to West Virginia and join 13 other
Samaritan's Purse volunteers to rebuild homes severely damaged in last year's deadly floods.
They were assigned to the team assisting James "Jimmy" and Arbutus "Bootie" Sams of White Sulphur Springs, who had lived in their home for 40 years.
Back on June 23, the rain pounded the area. When Bootie looked out the window, she yelled out: "It's coming, it's coming in waves."
A man driving a huge earth mover rolled by and rescued Bootie in its front-end bucket. Jimmy stayed behind to protect the house against potential looters, but eventually left when his only lung reacted adversely to the mold growing inside the walls.
Samaritan's Purse has been working on their house for several months, and Jimmy and Bootie should be moving in soon. They recently toured their home and expressed thanks to our team members.
"It's kinda tough to start over at 82, but that's what we're going to do," Jimmy said. "Through the generosity of strangers, we're making a comeback. These volunteers have done great work."
Drew and Misty are glad they've been a part of the Samses' comeback story. They painted, laid tiling, grouted, and installed flooring.
"There are days when it's difficult to be motivated and get things done and not allow darkness to overtake me," Drew explained. "Volunteering with Samaritan's Purse has given me a sense of purpose. Working for God has strengthened our faith. While it's been challenging, it's also been uplifting, enriching, and worthwhile.
"Just as we've been able to renovate our own home in Pennsylvania, we've come here and used our skills to help the Samses get back into their home," he added.
Misty agreed. "I had the privilege of sitting down and speaking with them," she said. "It was heartbreaking to listen to their story, but inspiring to hear the hope they now possess because of the work of Samaritan's Purse. My hope is that every time they cross the threshold of their new home, they'll feel the love of Christ expressed through the hands of the many volunteers who worked on their house."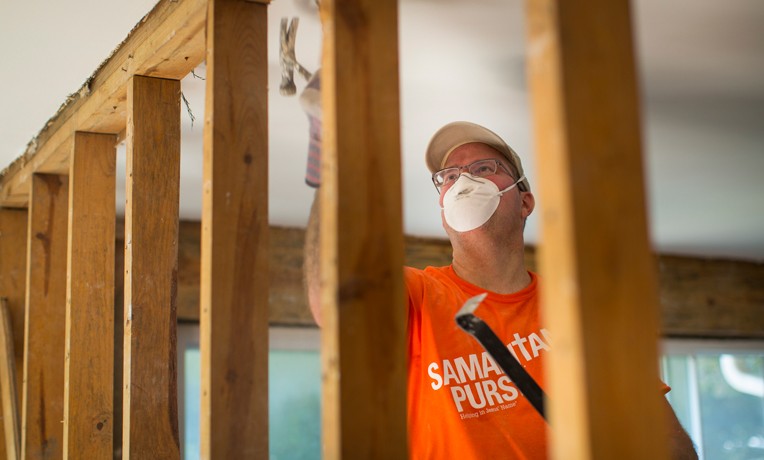 U.S. Disaster Relief
Samaritan's Purse mobilizes and equips thousands of volunteers to provide emergency aid to U.S. victims of wildfires, floods, tornadoes, hurricanes, and other natural disasters. In the aftermath of major storms, we often stay behind to rebuild houses for people with nowhere else to turn for help.
---
U.S. Disaster Relief 013622