Week One of the Operation Heal Our Patriots summer season ended July 10. Pray for the weeks to come.
Bless the Marriage of a Military Couple
013960
During their first morning at Samaritan Lodge Alaska, seven patriot couples headed down to the bay to receive kayak training together. Tandem kayaking is a great exercise in communication and teamwork—with the goal, as in marriage, of both partners being on the same page, headed in the same direction.
"You want to be one movement, in sync with each other," said our kayaking guide on that Monday, July 6, the start of the initial week of the Operation Heal Our Patriots 2020 summer season.
For two couples, that week ended with a momentous act of unity and faith: getting baptized together in the chilly waters of Lake Clark.
God Brought Them Here
Marine Corporal Zach Oglesby, a veteran of the wars in both Iraq (2008-9) and Afghanistan (2010), and his wife Courtney were the first couple baptized, publicly affirming their recent decisions to follow Christ as their Lord and Savior. Courtney accepted Christ in February of this year, after going to church with some of her friends from work. We praise God that Zach was saved while talking with one of our chaplains in Alaska.
"I feel like God meant for us to be here," Courtney said. "This year has been about getting aligned with God's plan for my life."
Zach, who now works in law enforcement, was visibly choked up as he shared his desire to follow Christ with those gathered to see his baptism. Shortly after the event he said, "I learned to understand the importance of it [faith] these past few days. I've sat on the sidelines too long. I was touched by everything here and ready to begin the journey."
For years, Zach has dealt with post-traumatic stress from his time in combat. His tour in Afghanistan was especially difficult as a number of his fellow Marines and friends were killed on that deployment and several others were terribly wounded.
"It's been hard for me to cope and deal and … be a good husband and family man. I've let more emotions get to me [this week] than I have in many years. I think it's actually a good thing," he said.
The Oglesbys were high school sweethearts, married since 2007. They celebrated their 13th anniversary recently and look forward to many more to come, strengthened by God's grace together. "I don't think I can ever express how much this week has meant to me or how grateful I am to all of you," Courtney told our staff at the fireside farewell.
The second couple to be baptized on Friday, July 10, was Army Sergeant Jake Southern, another veteran of both Iraq and Afghanistan, and Army Specialist Susan Southern. Both received Christ as Lord and Savior during their week in Alaska.
Neither wanted to be together at the week's start and the kayaking did not go smoothly. But, just a few days later, their demeanor toward each other had done an about-face.
"We're walking toward peace, and we have a path," Jake said. "When we were saved, even that night, I felt more peace. I felt that love, knowing God is for me and not against me."
Susan said she's done with "halfway" efforts at religion and wants God's Word to set their course.
"It's a new beginning. We have a map," Susan said. "We need to apply it [the Bible] more to our lives and use it as our guide."
Renewing Their Vows
Also during Week One, two additional couples renewed their marriage vows in an emotional ceremony led by our chaplains.
Army Specialist Brad Martinez, who served in Iraq, and his wife Jesy thanked the chaplains and the entire staff for their love and patience toward them. "This week has been like a breath of fresh air," Brad said. "We are addressing the wounds in our souls and spirits, and we're doing it together as a team."
Marine Staff Sergeant Brandon Fisher and his wife Morgan, an Air Force Senior Airman, also rededicated their marriage to God and each other.
"A load, a weight, was lifted off when we decided to forgive one another for past mistakes that we've made," Morgan said of their experience in Alaska. Renewing their vows "felt right," she added, and represents "a new start."
Unique Experiences
All seven military couples came away blessed by their time in Alaska, which included daily devotions and marriage classes, counseling opportunities with our chaplains, as well as incredible excursions—fishing, hiking, and wildlife watching—in Lake Clark and Katmai National Parks.
Samaritan's Purse President Franklin Graham and his wife Jane welcomed each couple to Samaritan Lodge and encouraged them along the way. Special guest Tammie Jo Shults, a former Navy fighter pilot best known for heroically landing a severely damaged Southwest Airlines plane in April 2018, shared her testimony with couples on Monday. She and her husband Dean, also an accomplished pilot who served in the Navy and flies for Southwest, joined couples on their adventures at various points during the week.
Alaska Governor Mike Dunleavy also visited the couples during Week One of this 10-week Operation Heal Our Patriots season. He told them: "You guys have sacrificed a lot for this country, and a lot of times I'm sure you wonder if people think about that. I have to tell you the vast majority of Americans know that, and they think about that all the time. You need to know that people care about you, that people are grateful for what you've done for this country, and we won't ever forget it."
Please pray for protection and encouragement for the dozens of military couples expected to come to Alaska through Operation Heal Our Patriots in the coming weeks. Pray that many will place their faith in Jesus Christ.
—
Since 2012, Samaritan's Purse has ministered to more than 1,100 U.S. military personnel injured or wounded after 9/11 and their spouses. Operation Heal Our Patriots offers a week of Gospel-centered marriage enrichment in Alaska combined with a program of long-term aftercare.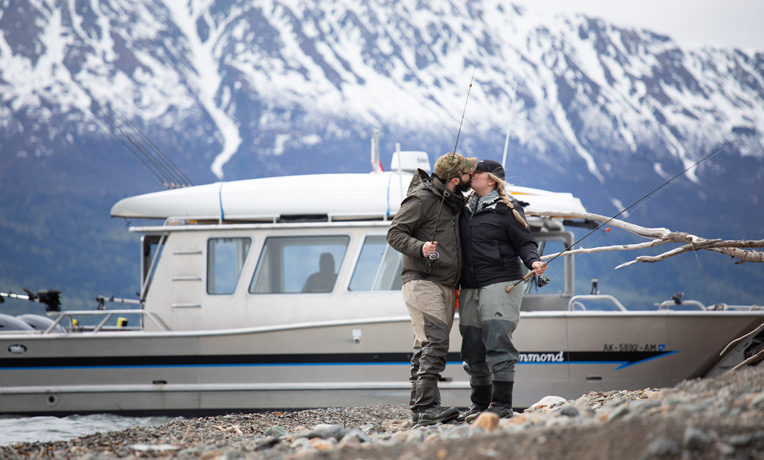 Bless the Marriage of a Military Couple
Operation Heal Our Patriots helps military couples build a strong spiritual foundation during a week of Biblically based workshops, relationship-building wilderness activities, and individual care by our retired military chaplains. We offer all this free of charge to these American heroes as a token of our appreciation for their service and sacrifice. Your gift will help us cover the costs—including transportation, lodging, activities, and long-term Family Care—so that we can help them find hope in the Lord.
---
Operation Heal Our Patriots 013960
Suggested Gift: $60