Bonds formed in Alaska were renewed last weekend for 2014 Operation Heal Our Patriots participants
Couples flown to Alaska last summer for one of 15 weeks of marriage enrichment through Operation Heal Our Patriots gathered Feb. 6–8 for a reunion at the Billy Graham Training Center at The Cove near Asheville, N.C.
The combat-injured veterans and their spouses were encouraged by the surprise appearance of influential news commentator Greta Van Susteren; by the Christian testimonies of Lieutenant General R. L. VanAntwerp and his wife Paula; and by powerful presentations from experts on post-traumatic stress disorder (PTSD) and traumatic brain injury (TBI).
In addition, Samaritan's Purse President Franklin Graham presented the Gospel from Daniel 5 and musician Dennis Agajanian wowed the crowd with his "good and fast" guitar playing.
Van Susteren emphasized the importance of the Operation Heal Our Patriots aftercare program, noting both staff and other couples are ready to help in times of need.
"Look around the room. These are your best friends," she said. "They're the ones who can bail you out; they're the ones who know what you went through."
Marshéle Carter Waddell, whose husband Mark was a career Navy Seal, deeply touched many couples as she and her colleague Marilyn Lash shared powerful stories of families struggling with the fallout from war trauma, or what they called "living grief." She offered husbands and wives hope in Christ, referencing Isaiah 53 and 1 Peter 1:3-5.
"Scripture tells us that Jesus bore all of our grief in His body on the Cross. All of it—already been dealt with," she said. "He also says by His wounds we are healed. Will you stay stuck in the shadows of living grief or will you step forward into the light and ask God to give you new birth into a living hope?
"It is our prayer that you will let your hope and not your hurts shape your future."
"The Past Is the Past"
Three couples chose to rededicate their marriage at The Cove's Chatlos Chapel, including retired Army Staff Sergeant James Taylor and his wife, Azeita, of Copperas Cove, Texas. James struggles with PTSD as well as daily physical pain after being run over and dragged by an enemy vehicle in a Taliban attack in Afghanistan in December 2009. The Taylors attended Week 1 of last summer's program in Alaska, and he said the experience came none too soon.
"We were in a very bad point in our relationship," he said. "I strongly feel that if we had not been in Week 1—if we had been one of those couples in Week 4 or 5—we may not have made it."
Since Alaska, their marriage has made progress. They wanted to mark that at the reunion.
"I got down on my knee and asked her, 'Will you remarry me today?'" James said. "Let's put our old marriage to rest and start anew. I'm going to church now; she's already been in church. The past is the past. I strongly feel that we're going to have a Godly marriage jointly, instead of it being one-sided this time."
"We Understand Each Other"
Of the 147 couples who traveled to Alaska with Samaritan's Purse in 2014, 111 were able to attend the reunion. For many, the highlight of the reunion was reconnecting with other couples.
"The friends we met six months ago we're still in contact with, and we're now seeing again face-to-face. There's so much laughter, there's so much community happening," said retired Army Staff Sergeant Conrad DeGrace, who served in Iraq from 2007-2008 and suffers with a variety of wounds including PTSD. "This is the band of brothers that I've missed."
Debbie Spires, whose husband Chuck served with the Army in Iraq and Afghanistan, said the reunion has huge benefits for both the wounded veterans and their spouses.
"Watch them (the veterans) before they get here, in the parking lot," she said, "and then watch them come in here and see the instant smiles and the love. The outside world doesn't understand. They don't get it. These guys have a brotherhood."
Regarding the spouses, Debbie said, "There's four or five of us girls [who met in Alaska] who talk all the time on Facebook. We're now going to start a Bible study via Skype. We're even going to do our own reunions for Week 12. We have a bond and we understand each other."
A reunion for 2012 and 2013 Operation Heal Our Patriots participants will be held April 24-26 at The Cove.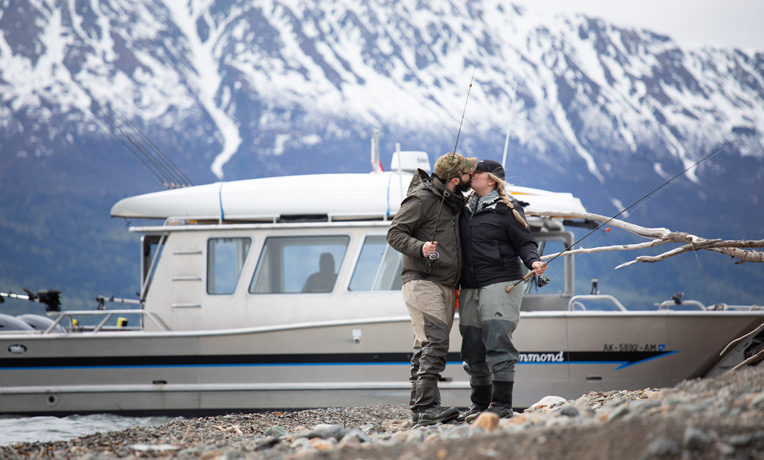 Bless the Marriage of a Military Couple
Operation Heal Our Patriots helps military couples build a strong spiritual foundation during a week of Biblically based workshops, relationship-building wilderness activities, and individual care by our retired military chaplains. We offer all this free of charge to these American heroes as a token of our appreciation for their service and sacrifice. Your gift will help us cover the costs—including transportation, lodging, activities, and long-term aftercare—so that we can help them find hope in the Lord.
---
Operation Heal Our Patriots 013960
Suggested Gift: $60