By God's grace, many couples experienced the healing power of the Gospel as they spent the Fourth of July week in Alaska.
Bless the Marriage of a Military Couple
013960
Over July 4 week we saw God at work in the lives and marriages of many military couples at Samaritan Lodge Alaska as they experienced the hope found only in the Gospel.
We praise God that seven couples renewed their vows, seven individuals received Christ as Lord and Savior, and 12 men and women were baptized in nearby Lake Clark during the week of July 3-8.
Former Army Sergeant Mike Morales and his wife, Former Army Private First Class Carolina Morales, were among those who experienced the beginning of new lives in Christ this week.
When Mike learned he'd been assigned to serve on convoys with the 1st Special Forces Group (Airborne), he envisioned trucks speeding across the desert carrying supplies. He didn't anticipate the constant threat of IEDs or the hour-long gun battles—or losing some of his closest friends in combat.
When Mike returned home after each deployment—twice each to Iraq and Afghanistan—the harrowing experiences followed him back and haunted him. They weighed heavily upon his marriage to Carolina, whom he'd met at basic training, and their growing family.
"It's been 16 years of putting a band-aid on the wound only to watch it bleed through again," Mike said. "Sixteen years of putting another stone in the bag and another and another and carrying that bag around on my shoulders."
Mike replaced trauma and grief with hope last week, receiving Jesus Christ as Lord and Savior.
"I believed in a higher power because I would have never made it out of those situations, but I never really opened my heart big enough to accept Him in and ask for forgiveness," Mike said. "But now I've given my heart to Jesus Christ. All that guilt, unforgiveness, self-doubt, and the burden of coming home when my brothers didn't make it—that's what I let go of this week. I am going home a new man."
Carolina, also an Army veteran, recommitted her life to the Lord. The couple also publicly recommitted their marriage to God and together were baptized in Lake Clark as a profession of their faith.
Renewed Marriages
Through Biblically based marriage enrichment classes and in conversations with chaplains, couples learned healthy communication skills, what a Godly marriage looks like, how to respond to difficulties and crises, and, most important, they learned of the true freedom offered to them through Jesus Christ.
Army Sergeant First Class Ryan Davis and his wife Asia said the training they received gave them critical tools for retuning their relationship with each other.
"This week has recharged the batteries of our marriage," Ryan said. "We've had a rocky couple of years. We've had to hit the restart button on a lot of things. No one heals all the way from something like this, but I'm healing well enough to where we can move in a new direction."
Ryan said he pursued leadership with the 75th Ranger Regiment "to take care of bad guys. I wanted to stand up for people who couldn't stand up for themselves." Ryan was severely injured in August 2019, losing three limbs during a mission.
"Being here has given us a chance to unload some of the stress we've been carrying around for a couple of years," Ryan said.
We praise God that Ryan recommitted his life to Christ, and Asia received Jesus as Lord and Savior. The couple renewed their marriage vows as well and were baptized.
"Our toolbox is getting stronger and talking to the chaplain helped me as well. I was pretty hateful to God the last few years about what happened," Ryan said. "I think that I've been able to let that anger go. I never stopped believing, but I had a faith-based anger. Letting that go has been like untying a tank from my back."
'We Leave Here Knowing We're Not Alone'
Army Staff Sergeant Orlando Gill and his wife, Sergeant First Class Candy De Hoyos-Gill said the week in Alaska renewed their faith and renewed their marriage. Orlando lost his leg in a rocket-propelled grenade attack in Ramadi, August 2005. The couple invited Christ into their lives last week, were baptized, and recommitted their marriage to God.
"We leave here knowing we're not alone and that we're never going to be alone," Candy said. "This place will always have a special place in our hearts."
Retired Navy Chief Petty Officer Lonnie Wynne and his wife, former Navy Petty Officer Liz Wynne both received Jesus Christ as Lord this week, recommitted their marriage to God, and were baptized together on Friday.
"On Monday we prayed with the chaplain to receive Jesus into our lives because we've decided to walk down this road together," Liz said, expressing appreciation for the ongoing assistance of our Family Care ministry when they return home. "We were hurting. We were breaking. We knew there was no way to fix this by ourselves. When we get home they'll follow up, help us walk through our next steps. We're grateful we came here and that when we get back home we won't be left to fall back into the same things."
The Family Care ministry is the ongoing discipleship and community component of Operation Heal Our Patriots. Regional chaplains and Key Leaders stay in contact with couples, providing them with ongoing care and connection through gatherings. The ministry also includes an annual reunion as well as opportunities to serve alongside other military couples through Team Patriot.
Please pray for these and the many other couples becoming a part of Operation Heal Our Patriots this summer.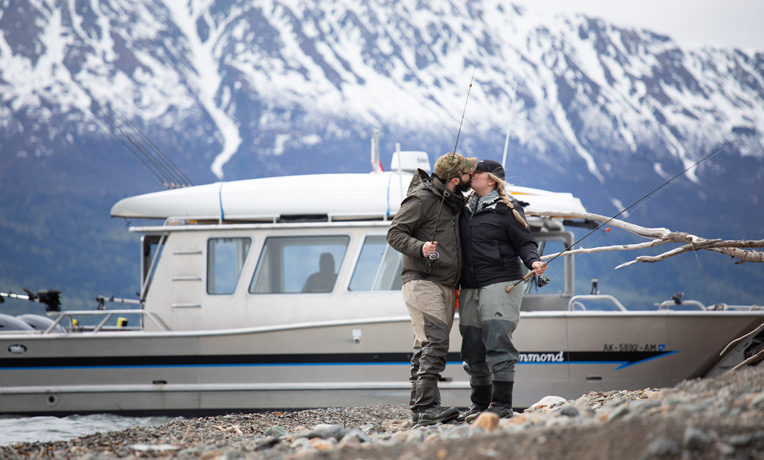 Bless the Marriage of a Military Couple
Operation Heal Our Patriots helps military couples build a strong spiritual foundation during a week of Biblically based workshops, relationship-building wilderness activities, and individual care by our retired military chaplains. We offer all this free of charge to these American heroes as a token of our appreciation for their service and sacrifice. Your gift will help us cover the costs—including transportation, lodging, activities, and long-term Family Care—so that we can help them find hope in the Lord.
---
Operation Heal Our Patriots 013960
Suggested Gift: $60