A week of focus on God and each other culminates in baptisms, marriage rededications.
Bless the Marriage of a Military Couple
013960
Mike Parsons served as a Marine from 2002-2006 and was first injured in 2003 during an IED blast in Iraq that left shrapnel in his leg, arm, and back. He continues to require surgeries for these physical wounds. But like many Marines and soldiers, airmen and sailors, Mike has struggled hardest with post-traumatic stress disorder (PTSD) as a result of his experiences in combat. The often-related issues of depression, alcoholism, and substance abuse have followed.
His 16-year battle with pain—physical and emotional—also wreaked havoc with his wife, Cathy, and two children. His relationship to them has been distant and problematic.
"I felt no one was there," he said.
His wife could say something similar. "I felt like he died overseas," Cathy said. "It was like seeing a shell of a person walk in front of you."
Mike lived in isolation to protect himself, but he only ended up pushing away the very people who could help him the most. Though Cathy once literally saved his life by administering CPR during a seizure, she couldn't even look Mike in the eye when they came to Samaritan Lodge Alaska from June 2-7 for a time of Christ-centered marriage enrichment through Operation Heal Our Patriots.
The Parsons, who married in 2003 after meeting at a New Year's Eve party in 1999, had been going in different directions for years. Though Mike resolved to make changes and concentrate on his physical and mental health in August 2018, the dots in their lives were still not connecting. They remained without hope.
"I don't know if you know what the depths of hell feel like, but we do," Cathy said. "You look up, and you can't see light."
During the first week of June, however, God radically changed their outlook, bringing both of them to salvation through His Son, Jesus Christ. The Lord used the beauty of His creation at sunrise, the couple's wilderness adventures together, classes with our former military chaplains, and encouragement from our guides and staff to knock down spiritual barriers and bring them to faith.
On Thursday, after Mike revealed a suicide attempt within the last year, the couple broke down in tears toward the end of a fishing trip. Comforted and reassured by staff that God loved them and there was hope for their future, the Holy Spirit worked in their hearts.
"We had people on that boat who reached their hands out and pulled us up to that light. It was an incredible feeling," Cathy said. "For the first time in my life, I had peace."
Later that day, Mike and Cathy talked with one of our chaplains and his wife, confirming their desire to follow Jesus Christ.
On Friday morning, June 7, the couple was baptized in Lake Clark and participated in a marriage rededication ceremony during which they recommitted themselves to each other and purposed to build their lives on a firm foundation of faith in Jesus Christ.
"Thank you for your hospitality, your kindness, your love," Cathy told lodge staff and other participating couples. "We will continue to choose life. You saved his life. You saved my life. And you saved our family's life."
New Beginnings
"All week it's been a new beginning for me," Mike Parsons said before his baptism, speaking to the audience gathered along the shores of Lake Clark.
Mike's words were an apt description for the experience of all nine couples during that first week of June. Though each couple was in a different place spiritually and in their marriage relationship, everyone benefited from the time together focused on God and each other.
Six couples, including Mike and Cathy, chose to rededicate their marriages on June 7 in a public ceremony at the beach in front of Samaritan Lodge.
Steve and Candice Ahearn were among them and also were baptized. Candice was a soldier from 1997-2003, and Steve served nearly 17 years in the Army, being medically retired in 2010. They met and married while in the military.
Steve served two combat tours in Afghanistan (2002 and 2004); working as a special operations flight medic during his first deployment there and as a brigade senior medic during his second deployment. He suffered back and neck injuries, as well as a traumatic brain injury, from a helicopter crash in 2002. He's dealt with seizures until the past couple years as well. PTSD is an ongoing struggle from the crash and other related experiences.
"Some things you can't just get out of your head. Sometimes I'm OK. Sometimes I'll just start crying," he said.
The effects of Steve's combat injuries on their marriage have been devastating, but the couple is hopeful that all they learned in Alaska will help.
"When we came here, we had forgotten how to communicate," Candice said. "I feel like we're leaving here with some really great tools not only to work on us and our marriage but also to be better parents. You've really just turned our lives around."
Reflecting on years of isolation from his wife and children, Steve said, "I want to reintegrate myself into their family, because I'm on the outside."
Shannon and Shannon Huddleston also rededicated their marriage. Husband Shannon joined the Marines at age 27, served six-plus years, and was medically retired in 2014. He was injured in an IED attack in Afghanistan on July 4, 2011. He's struggled ever since with TBI and PTSD from that and other incidents during combat.
Over the past year, he's sought treatment, and the couple has connected well at a church near their home.
"This [Operation Heal Our Patriots] has been a huge encouragement to my faith, just knowing people truly care about our wellbeing," he said.
His wife added: "This week was great for my husband and me. We are so excited to go home and plug into God more and really work on our marriage more and embrace our children with all of what we've learned here."
—
Operation Heal Our Patriots, a project of Samaritan's Purse, ministers to wounded and injured post-9/11 combat veterans and their spouses. Started in 2012, nearly 1,000 U.S. military couples have so far been flown to Alaska for a week of marriage enrichment in a Christian context. Our aftercare staff follow up on each couple and continue to encourage them over the long-term. We also offer ongoing regional events and an annual reunion. For more articles and videos from the 2019 season, visit our Operation Heal Our Patriots landing page.
There are 16 weeks of marriage enrichment at Samaritan Lodge Alaska this summer from May 26 to Sept. 13.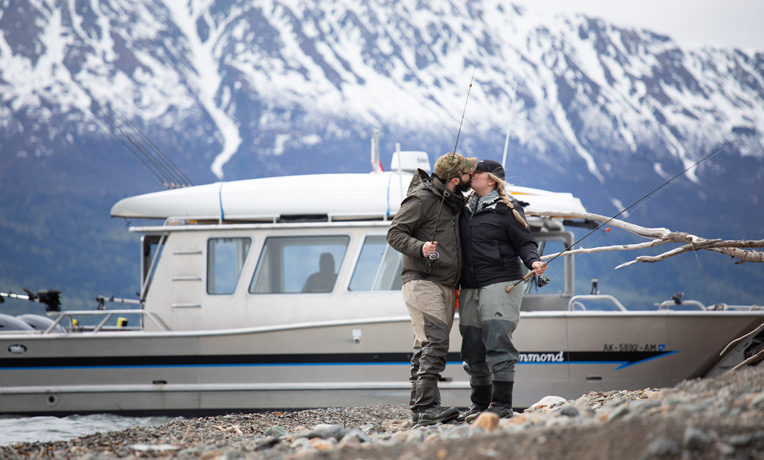 Bless the Marriage of a Military Couple
Operation Heal Our Patriots helps military couples build a strong spiritual foundation during a week of Biblically based workshops, relationship-building wilderness activities, and individual care by our retired military chaplains. We offer all this free of charge to these American heroes as a token of our appreciation for their service and sacrifice. Your gift will help us cover the costs—including transportation, lodging, activities, and long-term Family Care—so that we can help them find hope in the Lord.
---
Operation Heal Our Patriots 013960
Suggested Gift: $60