Wounded veterans and their spouses arrived to an enthusiastic, flag-waving crowd at Samaritan Lodge Alaska on Independence Day.
Bless the Marriage of a Military Couple
013960
As Americans celebrate our nation's independence, Samaritan's Purse welcomed 10 more military couples to Samaritan Lodge Alaska for a week of marriage enrichment with Operation Heal Our Patriots.
"We bring wounded veterans and their spouses here to Alaska and the most important thing we work on is their marriages," said Franklin Graham, president of Samaritan's Purse, who greeted two planeloads of participants arriving at Samaritan Lodge Alaska on Sunday afternoon, July 4. "We thank God for these men and women who continue to protect our freedom and our independence. This is a very special day for all of us."
These wounded veterans and their spouses are a direct reminder of the sacrifices required for the freedoms we enjoy. Their minds, bodies, and, many times, their marriages have paid a steep price for our way of life.
"We can't forget what it took in order for our country to become independent," said Marine Gunnery Sergeant T.J. Tejada and his wife, Veronica. "Our forefathers fought in order to live free. Being brought up here to Alaska symbolizes everything our nation was born to be."
The Tejadas are one of about 160 U.S. military couples who will come to Samaritan Lodge Alaska this summer for Biblically based marriage classes and once-in-a-lifetime excursions into the surrounding wilderness.
Special Guests Encourage Fellow Military Couples
Former Navy pilots Tammie Jo Shults and her husband, Dean, are special guests at Samaritan Lodge this week, joining Franklin and Jane Graham and Samaritan's Purse staff members to encourage military couples in their marriages and in their relationship with God.
Tammie Jo was in the spotlight in 2018 for the skillful emergency landing of a crippled and nearly doomed Southwest Airlines flight 1380. Her Christian faith was highlighted in the ensuing media attention.
"Not only does this place represent so many of the freedoms that we enjoy, but it celebrates the very people that continue to fight for those freedoms for us. Such a great reminder of what God meant us to live in," Tammie Jo said. "He meant for us to live in freedom."
Dean said it is an honor to spend time on the Fourth of July with the patriots who were wounded defending liberty.
"It's great to gather with people who honor our country and protect our country and hold it valuable," Dean said. "Today more than ever it's important to recognize how great this country is and what a wonderful place it is to live."
"This place celebrates the very people that continue to fight for us."
More than 1,270 couples have become a part of the Operation Heal our Patriots family since the project began in 2012. Since then, more than 520 individuals have made decisions for Christ, more than 630 individuals have been baptized in Lake Clark, and 612 couples have recommitted their marriages to God.
The ongoing ministry of Operation Heal Our Patriots continues long after the Alaska experience through our Family Care program. This integral aspect of the project includes reunions, training events, volunteer opportunities after natural disasters through Team Patriot, and our Key Leader program, which equips military couples to serve as mentors to other Operation Heal Our Patriots couples. Over the long term, regional chaplains work to connect families with local churches and to engage them with regular personal contact, whether through phone calls, emails, or visits.
You can see more from this year's summer season of Operation Heal Our Patriots.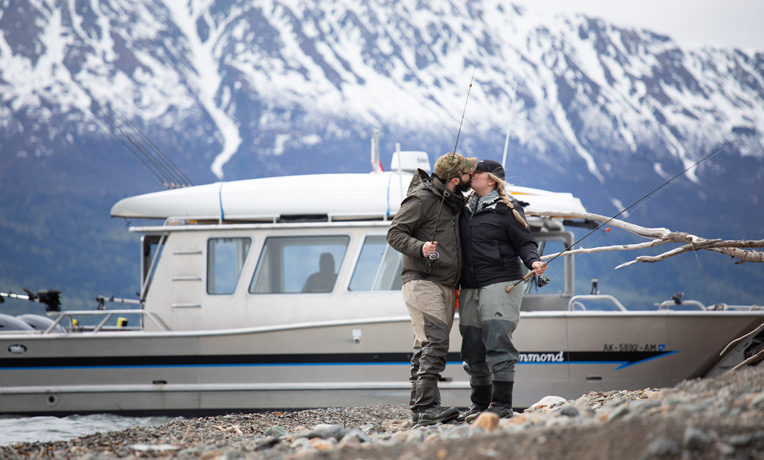 Bless the Marriage of a Military Couple
Operation Heal Our Patriots helps military couples build a strong spiritual foundation during a week of Biblically based workshops, relationship-building wilderness activities, and individual care by our retired military chaplains. We offer all this free of charge to these American heroes as a token of our appreciation for their service and sacrifice. Your gift will help us cover the costs—including transportation, lodging, activities, and long-term Family Care—so that we can help them find hope in the Lord.
---
Operation Heal Our Patriots 013960
Suggested Gift: $60