Wounded veterans and their spouses experience renewal through our Operation Heal Our Patriots project.
Bless the Marriage of a Military Couple
013960
Corporal Derrick Sharpe said he joined the U.S. Marine Corps because he wanted to "be the best of the best, be the first to fight."
"I don't have a very good, happy kumbaya story. I grew up really poor and all I knew how to do was fight and take a beating, so I joined the Marine Corps. I loved the Marine Corps. I wanted to do it my whole life," Derrick said. "The only family I had was the Marine Corps."
Sadly, his military career was cut short during his first deployment in 2006 when he stepped on an improvised explosive device (IED) planted in the streets of an Iraqi city.
Derrick's right leg had to be amputated and dozens of surgeries were required to stop internal bleeding and repair organ damage. He also suffered a traumatic brain injury (TBI) from the blast.
When Derrick and his wife, Cara, came to Samaritan Lodge Alaska in early July, the couple had been through years of difficulties following Derrick's injuries. While the Sharpes had both become believers some time ago, their marriage remained under stress from the wounds of war. Medical appointments, multiple health issues, and the emotional impact of traumatic battlefield experiences continue to be a heavy weight to bear.
"I got angry," Derrick said. "We lost lots of guys. I got a tattoo for every one of them."
Last week (June 30-July 6), Derrick and Cara, along with nine other veteran couples, were encouraged as they found a new family through the community of Operation Heal Our Patriots. Each week for 16 weeks during the summer, as many as 10 wounded U.S. military couples and their spouses join Samaritan's Purse in Alaska for Christ-centered marriage enrichment training at the edge of the wilderness.
Derrick said their week in Alaska offered them a new Godly perspective on their relationship and how to strengthen their marriage.
"It helped us understand what we've been dealing with," he said. "It got to a point where we were roommates before we got here but this week God taught me a lot about myself and it's one of the best things that's happened to me."
A Time to Grieve
Army Specialist Matt Brady and his fellow soldiers were severely injured in an IED explosion in Iraq during his 2005-2006 deployment. Matt suffered a traumatic brain injury in the incident. Having only served one year in the military, the then 20-year-old combat veteran found himself out of work, adrift without the discipline and camaraderie of the Army.
"I was 20 and trying to find that brotherhood I had in the military, and I was also looking for an adrenaline rush," Matt said. Alcohol became a coping mechanism for him as he also wrestled with what he'd experienced on the battlefield. This conflict raged inside him for years.
In Alaska, the emotional walls started falling for Matt. In a special ceremony commemorating fallen soldiers, Matt and his wife Jannell nailed a commemorative bracelet to a post at Samaritan Lodge. For 14 years Matt had worn the bracelet, engraved with his fallen friend's name.
"I hadn't expected on crying. I cried in our cabin before we came here," Matt told the small gathering. "They're not tears of sorrow but happy tears because I got to know him. Selfless service is what we learned in the military and the night he was killed that's what he was doing."
Jannell said their experience together in Alaska—the marriage classes, excursions, and more—helped them break down longstanding barriers to communication.
"I truly just want to be able to communicate with my husband and for him to become the spiritual leader I know he can be," Jannell said. "We have the tools now, and we have people to call if we run into a rough patch. And we have the little family (of Operation Heal Our Patriots staff, volunteers, and participants) that we've met this week. And our faith day by day here is getting stronger.
"It really has been a life-changing experience in just a handful of days."
Lives Changed, Marriages Strengthened
The Bradys and the Sharpes both rededicated their marriages to God in a public ceremony before leaving Alaska. Matt Brady also was baptized in Lake Clark.
We praise God for how He's been working during the first six weeks of the 2019 summer season. Twenty-two individuals have received Jesus Christ as Lord and Savior, 28 individuals have been baptized in Lake Clark, and 32 couples have recommitted their marriages to God.
For more articles and videos from the 2019 season, visit our Operation Heal Our Patriots landing page.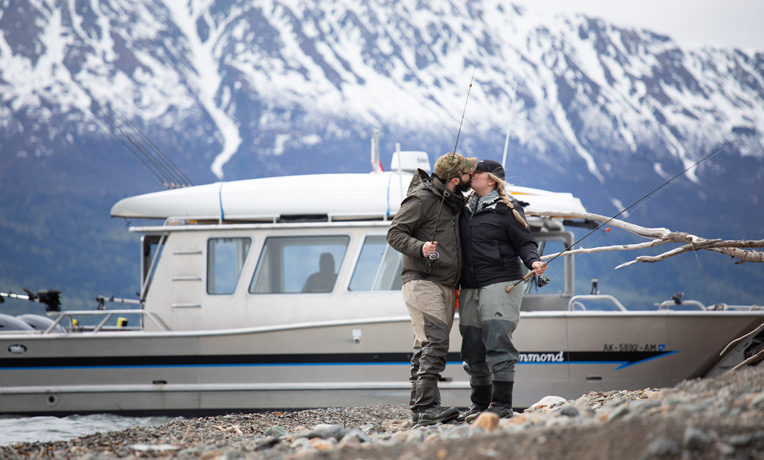 Bless the Marriage of a Military Couple
Operation Heal Our Patriots helps military couples build a strong spiritual foundation during a week of Biblically based workshops, relationship-building wilderness activities, and individual care by our retired military chaplains. We offer all this free of charge to these American heroes as a token of our appreciation for their service and sacrifice. Your gift will help us cover the costs—including transportation, lodging, activities, and long-term Family Care—so that we can help them find hope in the Lord.
---
Operation Heal Our Patriots 013960
Suggested Gift: $60