Samaritan's Purse is helping homeowners touched by tragedy
As soon as Leslie McClure stepped out of his red SUV, two dozen bleating goats rushed toward him. They knew their owner and hoped he would feed them anything besides the hay they always nibbled on. His goats were about the only things he recognized on his sprawling farm property in Tippah County, Mississippi.
Less than two weeks before, Leslie's modular home had been torn to shreds by a tornado packing winds of 135 miles per hour. It was strewn across his land—with much of the debris landing in a wooded gulley some 200 yards away.
Leslie is a long-distance truck operator. He had been driving home from a job, and his wife Marieke was to pick him up in nearby Corinth. She didn't make it. Marieke was killed when the tornado struck their home shortly before 5 p.m. on Wednesday, Dec. 23. It took two tortuous days to find Marieke's body.
She and Leslie met 20 years ago, and their married years began in The Netherlands, Marieke's home country.  The couple settled in rural north Mississippi in 2007, when Leslie introduced his wife to true country living. Though she drove 65 miles to and from her job in Memphis, her heart was firmly rooted in the Three Forks community near Walnut.
"My wife grew up a city girl," Leslie explained. "I used to tease her when she'd talk about coming from a small town of 40,000 people. Then I brought her here.
"She absolutely loved those goats," Leslie said, his voice trailing.
Faced with the daunting task of trying to clean up, Leslie almost crumpled under the pressure. He heard about Samaritan's Purse from a neighbor up the road.
Over a two-day period earlier this week, our volunteers chainsawed downed trees and cleared debris. And with great sensitivity, they combed through the wreckage searching for precious belongings.
While our volunteers worked on Leslie's property, Billy Graham Rapid Response Team chaplains came alongside him and provided spiritual and emotional care.
When the work was completed, the Samaritan's Purse team presented Leslie a Billy Graham study Bible signed by each volunteer.
"You guys have been fantastic," Leslie told the group. "I'd lay awake at night and think about all the stuff I would need to do the next morning. Then I'd get here and look at everything and I'd become overwhelmed."
Leslie gladly received the Bible. Turning toward the rubble, he said, "Somewhere out there is my Schofield Bible."
Team Leader Clint Rider said, "Now you have this one. We pray you wear it out—reading every bit of it and applying it to your life."
Leslie responded, "Thank you so much. I guarantee you, it will be well used."
"Part of a Bigger Family"
A different Samaritan's Purse team helped out at the home of Randy and Sherie Mauney in Lamar. They had just finished a smoked barbecue chicken dinner and were getting ready for the mid-week service at Ashland Baptist Church when they received a call from Randy's mom that a massive tornado was headed their way.
Randy and Sherie's home is encircled by tall, thick pine trees, along with some oaks and cherry trees. Looking outside, the couple—along with their twin 28-year-old daughters Allison and Angela and 27-year-old son Andrew—saw the approaching twister. They feared the possibility of having those 50- to 75-foot trees collapsing on their house.
So the five took the calculated risk of running for their Ford Expedition. They threw it into reverse, speeding into the soybean field behind their property away from the trees.
The tornado jagged toward their property and the violent winds sheered off the tops of two pine trees and threw them like javelins toward the vehicle. One bounced off the front hood, shattering the windshield, while the other slammed into the right-side frame, barely missing the back window by two inches. Seconds later, the storm passed. Though shaken, the Mauney family was fine.
When they surveyed the damage, they saw that one of those pine trees crashed onto their house.
Randy has been a pastor for the past 20 years. He's in between churches and they're attending Ashland Baptist Church, which is hosting Samaritan's Purse during this deployment.
Our volunteers came to their home and tarped the roof. They also sawed the fallen trees and raked the property.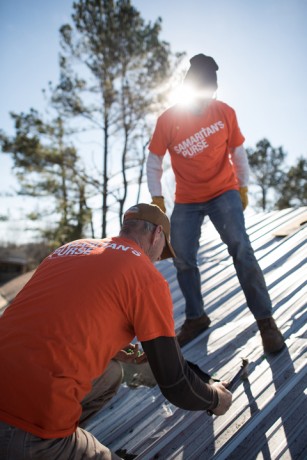 "At first I tried running a chainsaw and moving some stuff, but I didn't make a dent," Randy said. "So here comes 15 Samaritan's Purse people who helped us in our time of need."
Her voice cracking with emotion, Sherie added, "It's made us feel like a part of a bigger family."
One Samaritan's Purse volunteer—part of that "bigger family"—was Virginia Lipps, a senior at Appalachian State University in Boone, N.C. She drove nine hours to help in Jesus' Name. "It's a joy for me to help in any way I can," she said.
Gerald Hodges, pastor at Ashland Baptist, said serving as the base of operations for Samaritan's Purse has enabled his 110-member church to minister in concrete ways.
"These storms of life come, so it's been a privilege to participate first in the relief work," he explained. "Next we hope to get involved in reconstruction once Samaritan's Purse leaves.
"But ultimately, we want to be about the ministry of reconciliation, seeing people come to Jesus Christ," Pastor Hodges said. "That's what God has called us to do, and we want to be obedient."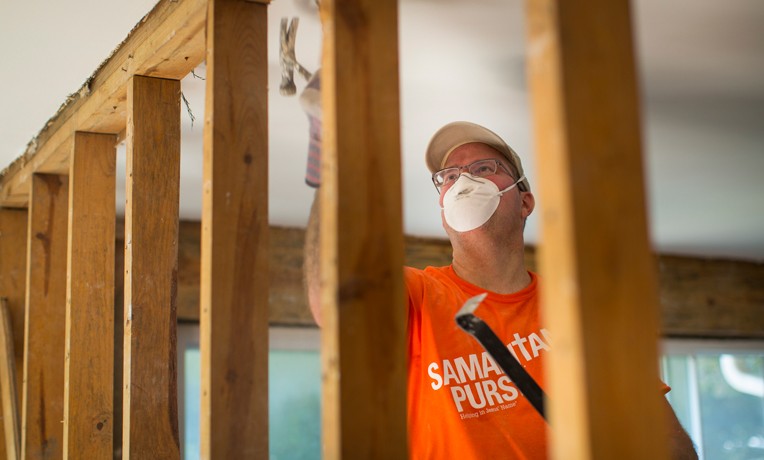 U.S. Disaster Relief
Samaritan's Purse mobilizes and equips thousands of volunteers to provide emergency aid to U.S. victims of wildfires, floods, tornadoes, hurricanes, and other natural disasters. In the aftermath of major storms, we often stay behind to rebuild houses for people with nowhere else to turn for help.
---
U.S. Disaster Relief 013622