Heartland homeowners thankful they don't have to shoulder the burden of flood cleanup alone.
It's a sight no one ever wants to see—your house about to flood.
The scene was that much more shocking to Scott Smith of Doniphan, Missouri, because he saw the image on his phone.
The Smith family was out of town the weekend of April 29-30 when a deluge caused the creek near their home in southeast Missouri to overflow and send 32 inches of floodwater into their house. Scott viewed the photo that had been sent to him by a relative with a sense of panic and helplessness.
The road to the house was already underwater; there was no way he could get there in time to retrieve any belongings. Relatives salvaged what they could, mainly family photos hanging on the walls. They had about 15 minutes in the house before the water rose.
U.S. Disaster Relief
013622
The house, built in the 1930s, had never previously flooded, Scott said.
Still in Shock
"I never expected this flooding," Scott said. "It's so overwhelming. I didn't know what to do. I've still been in shock."
Scott didn't realize how much of a mess flooding causes until he parked in his driveway after the water had receded.
"The smell was so bad, and I hadn't even gotten out of my truck yet," he recalled. In addition to the sour smell from the flooded home, the contents of the refrigerator were rotting on the living room floor, where the floodwater had tossed the appliance upside down.
"The hardest part is seeing your possessions all over the place, the kids' toys strewn across the yard," he said.
It was a tough decision for Scott and his wife, Amanda, when to show their three daughters, ages 8, 5, and 19 months, what had happened to their house. They waited until the house was empty of their damaged belongings.
"When our 5-year-old saw it, she just cried and cried," Scott said. "Our oldest, age 8, also had tears in her eyes but acted strong for her little sister, telling her, 'It's OK, Dad will take care of it.'"
A Christian, Scott says he's been reading Matthew 6 every day since the flood. "When God has done so much for you, why would you doubt Him?" Scott said as he paraphrased Matthew 6:25-34 about not worrying about belongings and trusting in God's provision.
'This Is Where I Need to Be'
Scott had been trying to find out as much as he could about how to gut a house after a flood, planning to do the work himself, until a relative contacted Samaritan's Purse for assistance.
When Scott found out and then searched online, he realized he had heard of our organization before. He had packed Operation Christmas Child shoeboxes at the middle school where he taught before becoming an educational administrator.
Samaritan's Purse volunteers soon arrived at Scott's home to help remove damaged walls and flooring. [We have been helping flood-affected homeowners in Ripley County, Missouri, since May 7.]
"Samaritan's Purse came in not only to help me but to guide me in what to do," said Scott, as he was working alongside our volunteers to pull out wallboards. "They provided both labor and education. They are showing me a lot."
One volunteer who came out to help was Scott's neighbor, Jason Latham. Jason didn't know he would be working in his own neighborhood when he answered his church's call for volunteers. He heard the announcement at His Place Fellowship, which is housing our volunteers in Doniphan.
"I decided this is where I need to be," Jason said. "Everybody's helping everybody," he said. "It's very fulfilling to help your neighbor."
Scott was so touched by the work of our volunteers that he says he would like to help in future Samaritan's Purse disaster relief efforts.
A Big Relief
Gail Keck, another Doniphan resident, posted a request on social media for locals to come by her flooded home to pick up loads of laundry and dishes to clean, in an attempt to salvage them.
"No one will show up for that," Gail's husband Nick told her. But when strangers as well as friends and family responded, it started to lift their spirits.
Their home, overlooking Doniphan's Current River, flooded to the ceiling with river water, mud, and countless worms. After the water receded, Nick worked hard to try to dry out the house before mold set in. Gail couldn't handle seeing her destroyed belongings and felt guilty about not helping Nick.
"I was walking in circles, pacing and crying in the yard, then ya'll showed up," Gail said of Samaritan's Purse volunteers. "Everyone worked so hard. We are just so thankful. It was like the weight of a house had been lifted off our shoulders. I was able to sleep better."
Gail is also grateful that the volunteers took the pressure off Nick to gut the interior of the house himself.
"It was such a relief that he didn't have to miss a month's worth of work to finish it himself," Gail said.
"He had no faith in people, but this has been an eye opener that people can be good, that God is good," she said. "We've lost a lot in this, but we've gained a lot. I thank God for that."
Please pray for our continuing response in Ripley County, Missouri. Work is scheduled to completed by the end of the day, Thursday, May 25.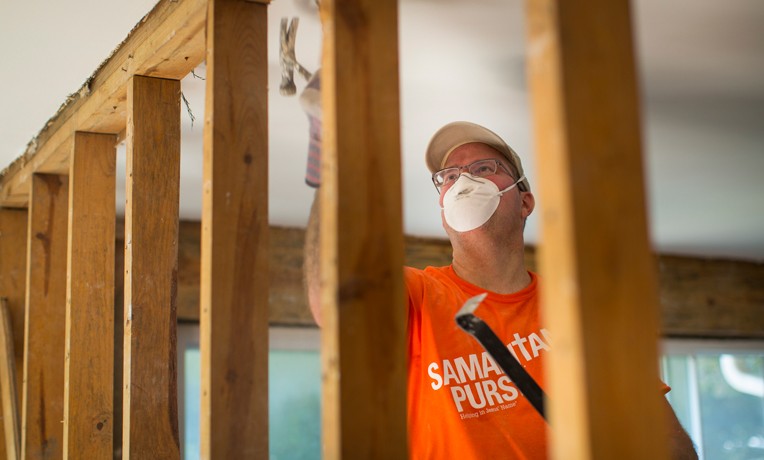 U.S. Disaster Relief
Samaritan's Purse mobilizes and equips thousands of volunteers to provide emergency aid to U.S. victims of wildfires, floods, tornadoes, hurricanes, and other natural disasters. In the aftermath of major storms, we often stay behind to rebuild houses for people with nowhere else to turn for help.
---
U.S. Disaster Relief 013622