Samaritan's Purse recently completed its 29th building project in Alaska with a new church facility for Mountain Village Covenant Church.
A vessel crossed the Bering Sea in 1919 and traveled inland along the Yukon River to help start the first native-led church in the newly-established settlement of Mountain Village—a small community in southwestern Alaska.
The ship's name was Hope and it was carrying its namesake—the hope found only in the Gospel of Jesus Christ. Over the decades, Mountain Village Covenant Church has been a spiritual refuge from the sometimes harsh realities of tundra life.
Like many parts of Alaska, Mountain Village has suffered under drug and alcohol abuse, domestic violence, and despair. More than 50 people in this village of less than 1,000 people attempted to take their own lives this year.
So Mountain Village needs the church, but the church was in desperate need of assistance as well. They were meeting in a "new" building constructed back in 1995. Worn down and weathered by the brutal Alaska winters, the two-decades-old structure had fallen into disrepair.
FIND OUT MORE ABOUT VOLUNTEERING WITH SAMARITAN'S PURSE
"I asked if they [Samaritan's Purse] could add 30 more feet. Just 30 more feet," said Elise Murchison, smiling. Elise is the wife of Marc Murchison, the church's pastor. "They told me: 'We don't do repairs. We build new buildings.'"
Instead of fixing up the existing building we were able to begin work on an entirely new one, right next to the old. It would provide more efficient heating, more space, more storage, and serve as a well-built place for people to gather in worship.
Over the course of this past summer, 84 Samaritan's Purse volunteers arrived in Mountain Village to help construct the building. And after months of work, our teams put the finishing touches on the new meeting space.
On Sept. 9 the church, community, regional church leaders, and Samaritan's Purse leadership arrived to celebrate God's work through His church in the community. We dedicated the new building and handed off the keys to the church leadership.
A Tool in God's Hands
"We believe that this is going to be a tool that God will use for the next 100 years to bless the village, to bless the people of the village, to honor God, and hopefully to use as an outpost to reach out to other villages that are close by," said Pastor Marc Murchison.
Luther Harrison, Samaritan's Purse vice president of North American Ministries, reminded the church about the profound power and purpose of such a building in this remote corner of Alaska.
"We want this to be a place for the broken to come and understand they can be loved on. They can see how real God is and how close He is to them," Harrison said. "We want to make sure this building is not just a pretty place but that it's God's house of worship."
Pastor Marc encouraged his congregation to use the new building as an opportunity to point others in the community to the hope found only in Jesus Christ.
"We want to be the aroma of Christ in this village. We want people to smell the food and come and be nourished here. Jesus is the food," Pastor Marc said. "He is our salvation. He's the one that feeds us."
Lloyd Alexie, a long-time member of the church, said he is praying that the new building encourages many more children and families to come to church and learn about Jesus.
"My grandpa said, 'If you don't know Jesus, you should.' And I thank God this church could be a part of our community. I thank God it will help our children and our community to know and serve our Lord and Savior Jesus Christ."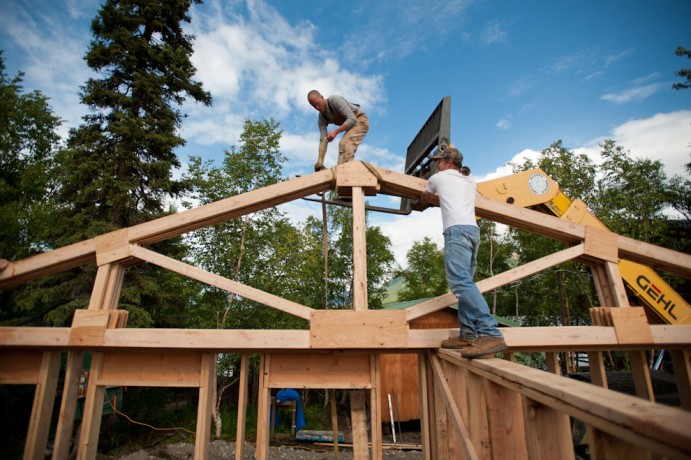 Alaska Projects
Samaritan's Purse staff and ministry partners aim to bring practical help and the Good News of Jesus Christ to native peoples in Alaska and the surrounding region.