Veterans and their spouses are strengthened by marriage enrichment training in Alaska through Samaritan's Purse. Marriage rededications, baptisms, and salvations have been celebrated this summer!
Army Sergeant Larry Kaibetoney and his wife Chani touched down on the runway at Samaritan Lodge Alaska to a hero's welcome—with a crowd, young and old, cheering and waving American flags. They might have expected such a welcome after Larry's injury in Iraq more than a decade ago, but those hopes had never before materialized.
In 2004, he was standing only a few feet away from a suicide bomber in the Army chow hall. By God's grace, he was still fully suited up from a recent mission, and his armor and other gear absorbed some of the explosive force when the attacker detonated himself. Larry was nonetheless badly injured as ball bearings and dining utensils pierced his armor and, in some cases, entered his body.
Larry underwent multiple surgeries to save his life. There's still a ball-bearing lodged behind his sternum that surgeons are afraid to remove.
"It's only a few millimeters away from his heart," Chani said of her husband.
The Kaibetoneys were one of 10 couples who attended Week Six of Operation Heal Our Patriots at Samaritan Lodge Alaska. For 16 weeks during the summer, Samaritan's Purse brings in planeloads of wounded veterans and their spouses each week for Biblically-based marriage enrichment training and excursions together in pristine wilderness.
---
"When we landed and there were all these people here who came out to meet us I felt energized. I felt welcome. I felt loved," Larry said.
Among the greatest challenges facing military couples is a lack of connection, community, and understanding from others. The physical and emotional limitations a wounded veteran and spouse struggle against often result in isolation.
In Alaska, Larry and Chani found new friends and a supportive community among their fellow patriot couples, and also rededicated their marriage to God and one another. Chani said she was encouraged during the week by others who've been experiencing many of the same things she's been going through for years.
"Being the spouse of someone with PTSD (post-traumatic stress disorder) and TBI (traumatic brain injury) can be pretty lonely sometimes, so I was really hoping to find some common ground with people who truly understand where I was coming from," she told volunteers, staff, and other military couples during a fireside farewell. "I can't put into words just how much this week has meant to us."
Marriages Rescued by God
When Army Staff Sergeant Derek Bowman was helping to clear routes in Afghanistan as an explosive ordnance disposal technician, he was electrocuted by low-hanging wires as he sat atop a moving military vehicle.
"I grabbed the wires and that was the last thing I remember," he said. He had been tasked with making sure the local village's drooping electric wires did not get tangled in the long antennas of his armored vehicle.
He was knocked unconscious and had shattered teeth and burns on his arms. Though he was cleared to continue that deployment (in 2009), he would later learn that he experienced a traumatic brain injury during the incident. (He also has other injuries from subsequent attacks from improvised explosive devices.)
In addition to TBI, Derek wrestles with depression stemming from PTSD. He turned to drinking whiskey on a daily basis to calm his brain and numb the pain. But this only drove a destructive wedge into his marriage.
He and his wife Megan had years of intense fights and talked of divorce. When they arrived in Alaska, Derek and Megan were exhausted, and Derek had even considered ending his own life.
"You guys all got to see me and Derek very raw," Megan told the other couples. "There was no hiding it. There was a lot of humility and vulnerability and all you did was offer your support. You guys really saved both of us in more ways than I could ever explain."
At the end of the week, Derek and Megan recommitted their marriage to God and now look forward to a fresh start.
'I Want to Give Myself to the Lord'
Jamie Compton, wife of Army Sergeant David Compton, was surprised by her experience in Alaska. The couple came to Samaritan Lodge to learn how to strengthen their marriage. But during conversations with our chaplains, Megan realized she needed something more—a relationship with God.
"This week has been a pretty eye-opening week for me," Jamie said before joining two other veterans' wives for baptism in Lake Clark. "I just want to give myself to the Lord, and I want to make things right. I haven't always been on the right path, but I feel with His acceptance and His help, David and I will be OK."
Ongoing Commitment
Samaritan's Purse President Franklin Graham was at Samaritan Lodge for Week Six (over July Fourth) and encouraged couples, reminding them of the ongoing commitment of Operation Heal Our Patriots. This includes continuing training and support, fellowship opportunities, and an annual reunion in March.
"We're just grateful to all of you and want you to know that God loves you and we love you," Graham told couples before they departed. "You're part of our family. It's been a privilege to have you here, to get to know you and we thank God for you."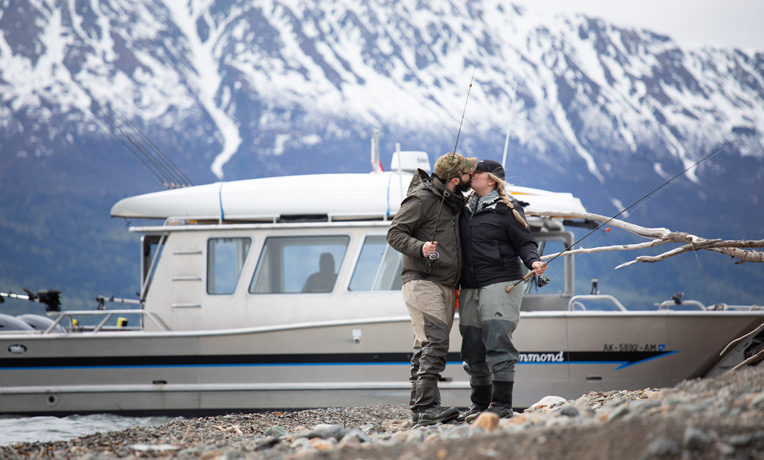 Bless the Marriage of a Military Couple
Operation Heal Our Patriots helps military couples build a strong spiritual foundation during a week of Biblically based workshops, relationship-building wilderness activities, and individual care by our retired military chaplains. We offer all this free of charge to these American heroes as a token of our appreciation for their service and sacrifice. Your gift will help us cover the costs—including transportation, lodging, activities, and long-term Family Care—so that we can help them find hope in the Lord.
---
Operation Heal Our Patriots 013960
Suggested Gift: $60