Three years ago, a Children's Heart Project recipient and his mother received Jesus Christ into their lives while in America for life-saving heart surgery. Today, he wants to become a pastor
Save a Child's Life
013687
At first glance, Erdembayar seems like an ordinary 12-year-old boy. He enjoys participating in physical education class at school with his friends as well as riding horses and cooking Korean food, fried rice, and cakes. But up until three years ago, he didn't have energy for any of these things.
For years previously, Erdembayar had found it difficult to sleep at night, so he made up for it during the day. Sometimes he even slept through class at school and the teacher would wake him up at the end of the period.
"Normally, I couldn't play with my fellow children freely," he said, describing how hard it was for him to run.
But in 2019, this all changed for Erdembayar when he received heart surgery through Children's Heart Project, a ministry of Samaritan's Purse that gives youth life-saving cardiac care that is not available in their home countries.
The First Signs that Something Was Wrong
At age 44, Dolgor was expecting Erdembayar. He was her fifth child, behind two brothers and two sisters, and everything seemed to go smoothly with her pregnancy and birth. But in his first weeks in her arms, she began to notice strange noises coming from her baby boy as she breastfed him. When he was three months old, she took him to the doctor because of a cough, only to learn that Erdembayar also had a heart condition.
Five months later, doctors from the capital of Ulaanbaatar traveled 12 hours to Dolgor's district of Bayandun in Dornod province along the eastern edge of Mongolia. These experts examined infant Erdembayar and determined that he had a hole in his heart.
For the next eight years, Dolgar and her husband, Bayaraa, were desperate to find help for their youngest child. Both teachers by trade, every option they uncovered seemed to come up short. That is, until they came across Children's Heart Project.
The Christian message and foundations of Samaritan's Purse immediately brought to mind a Christian leaflet about Jesus that was left on the couple's plot of land in the late 90s. What Dolgor heard from Children's Heart Project reminded her of the love that she'd read about in that leaflet back then.
Hope At Last
Dolgor was at work teaching a class the day the phone call came from Children's Heart Project telling her that Erdembayar had been selected for surgery.
"I was shocked with happiness and couldn't say anything," Dolgor said. She quickly excused herself from her class. "I went to the hallway and, near the window, I cried."
In 2019, a nurse came from the United States to escort, then, 9-year-old Erdembayar and his mother on the journey from Mongolia to South Carolina. They traveled together with Zaya, an interpreter from Children's Heart Project.
"When we landed in America, we were greeted by the team from Samaritan's Purse," Dolgor said. "I was very happy. The host family treated us really nicely, always smiling and very patient. I was surprised by such people."
Jesus, My Best Friend
Every morning after breakfast during their time in South Carolina, Zaya studied the Bible with Dolgor and Erdembayar, using The Greatest Journey, the 12-lesson discipleship course designed for Operation Christmas Child shoebox recipients. When they finished the last lesson, Zaya asked Dolgor if she was interested in asking Jesus to be her best friend. Dolgor said she needed more time to make such an important decision.
Suddenly, Erdembayar asked, "Can I accept Jesus as my best friend?"
The question surprised Zaya; she had thought he was too young to understand what they'd been studying together each morning.
"After that, he ran away upstairs," said Zaya. "He said, 'Please wait. It's a very important decision. I need to talk to God first.'"
So, in his room in the host home, Erdembayar pondered for a while the life-changing decision he was about to make. Then he returned to his mother. Together, with Zaya and the host family, the group prayed with Erdembayar to dedicate his heart and life to the Lord Jesus Christ.
"They were so happy and were crying," Dolgor remembered. "At that moment, I was a bit uncomfortable with the news and asked, 'Are you sure, my son? Are you believing in Jesus? In Mongolia, it's different. Children who believe in Jesus get mocked, with words such as 'Oh Jesus' boy!'"
"That's not a problem," Erdembayar said. "I believe in Jesus."
This impressed Dolgor. As she continued to read and write out the memory verses that Zaya had given them, she said, "I started thinking this is what I need! Then, I received Jesus."
Lasting Effects
By the grace of God, Erdembayar and Dolgor both were given new spiritual hearts before the child's physical procedure ever took place. To the relief of family and friends, when the long-awaited day finally arrived everything went smoothly in surgery.
"I came out from the room and my mom was so happy and, at the same time, crying with joy," Erdembayar said.
"I'm so grateful to God. I really want to obey His commandments to share the Good News to people."
After a recovery time in the States, Erdembayar and Dolgor returned to Mongolia where he quickly began playing freely with his friends. The physical improvements provided by the surgery were obvious, but so were the spiritual ones provided through Jesus Christ.
"I experienced many changes," Erdembayar said. "I also noticed my mom became calmer in receiving certain news. She became much more relaxed. As for me, I believe I received eternal life and I believe Jesus is with me all the time."
A Grateful Heart
Today, Erdembayar and Dolgor attend The Power of the Lord church where his Sunday school class recently completed The Greatest Journey discipleship workbook. This was Erdembayar's second time through the lessons, and he especially appreciated the story of David.
"He was a child who was very brave and always stood on his faith in God," said Erdembayar, noting that he wants to be like David, too.
Erdembayar dreams of becoming a chef and running his own restaurant, but also of becoming a pastor and planting a church.
"I'm so grateful to God," he said. "I really want to obey His commandments to share the Good News to people."
Dolgor is also living out her faith. She helped to facilitate an evangelistic outreach in her community, and, at her pastor's request, she's been privileged to share with her congregation what she is learning about God on weeks that the pastor is away.
Together, mother and son are shining as bright lights for Jesus Christ in eastern Mongolia.
"I thank everyone," Erdembayar said. "I thank my doctors and people who prayed for me, who helped with financial support. I thank all of you and feel so indebted. I will never forget your support and help throughout all my life. I will always remember your good deeds. Thank you so much!"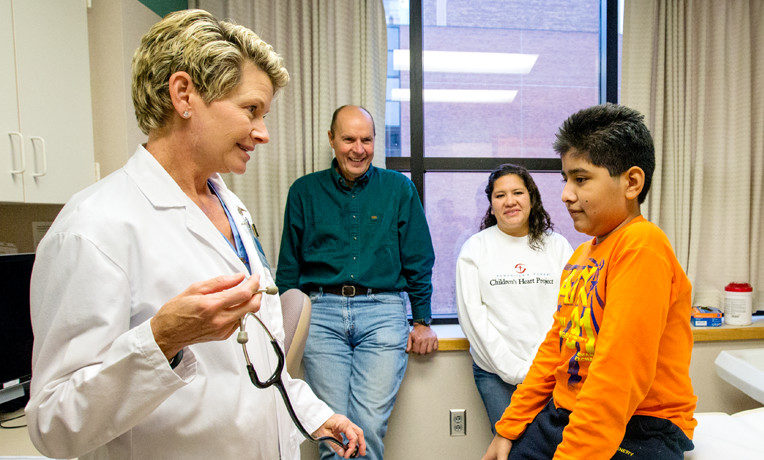 Save a Child's Life
About one out of every 100 babies has a heart defect that surgeons can routinely repair. Unfortunately, many of them are born in poor or remote places where their families cannot access the cardiac care they urgently need. Through our Children's Heart Project, Samaritan's Purse transports boys and girls from places like Bolivia, Mongolia, and Uganda to hospitals in North America. Doctors, hospitals, and host families and churches donate their time and services, but airfare is a major cost—typically $2,200 per person for international flights. For $50, you can share in this cost so that we can offer life-saving surgery and the unsurpassed hope of Jesus Christ, "the way, the truth, and the life" (John 14:6).
---
Children's Heart Project 013687
Suggested Gift: $2,200 | Share the Cost: $50