Six people gave their lives to the Lord, two rededicated their faith in Him, and seven were baptized last week.
Six couples out of 10 renewed their wedding vows to one another during Week 8 of the Operation Heal Our Patriots marriage enrichment program in Port Alsworth, Alaska. Led by former Air Force Chaplain Steve Keith, they resolved in part to "build my life and our family anew on a firm foundation of Jesus Christ and His Word."
One of those couples was Army Sergeant Colin Reisner and his wife, Amanda, from Tyndall, South Dakota. The Army deployed Colin to both Afghanistan and Iraq. In Baghdad on April 28, 2008, Iraqi insurgents attacked Colin's base with more than a dozen 80-millimeter rockets filled with ball bearings. The last of these rockets blew up a fuel truck that was ready to leave the base.
Colin was tasked to go to where the rockets came in to assess the damage to the company's equipment. When he got there, an officer handed him a pair of rubber gloves and a red biohazard bag and asked him to clean up. Colin did not realize what he meant at first until he looked down and saw human remains at his feet.
"For the next hour to hour and a half I walked around and picked up people," Colin said.
One helmet he picked up read "Mathes"—it belonged to his friend Army Sergeant Marcus Mathes, whom Colin and his wife had gone to church with back at their base in Louisiana.
Devastated, Colin didn't sleep for three days. He held in his internal torment so he would not get kicked out of the Army for post-traumatic stress disorder (PTSD).
Later Colin was charged with stripping equipment from U.S. vehicles before they were handed over to the Iraqis. While on the roof of one of them, a siren blared indicating incoming fire.
"I jumped off, landed funny, and tore my ankle apart," Colin said.
The Humvee protected him from the rocket that landed 150 meters from him, but the physical injuries were severe enough that he was medically retired in 2011.
"I miss the army," Colin said. "I loved it. With almost seven years of active duty, it's a lifestyle, not a job. I'd do anything to be back."
Married at age 18, Colin and Amanda never had a honeymoon. Colin said of Operation Heal Our Patriots: "It's kind of a honeymoon and a learning experience." Amanda especially appreciated the class on the difference between saying I'm sorry and actual repentance.
Colin and Amanda had been active in churches in Louisiana and Kentucky while they were in the military, but since moving back to South Dakota five years ago, they haven't reconnected with a church.
"Coming here is what we needed to put God back in the front," Amanda said. "Thank you for giving us a week to remember who we were before we had kids or were injured. Thank you for giving us a chance to reconnect and find what we were missing."
New Life in Christ
For Marine Sergeant Dexter Hocutt and his wife, Tiffany, a former Marine lance corporal, the week in Alaska did more than strengthen their marriage. "Tuesday night around 9:55 I gave myself to the Lord," Dexter said.
Following back-to-back deployments to Afghanistan, where he survived multiple attacks from improvised explosive devices (IEDs) and being shot at every day, Dexter suffers from PTSD. "I didn't lose any limbs; it's more mental for me," he said.
He was honored by the welcome provided by the residents of Port Alsworth, Alaska, as they lined up, waving American flags, to shake the veterans' hands and thank them for their military service.
"Getting off the plane was a crazy feeling," Dexter said. "These people are really thankful for the things we do for them, fighting for their freedom. "
Tiffany also gave her heart to the Lord on Tuesday night. As she met with Chaplain Dan Stephens and his wife Linda, they asked her, "If I asked you today if you were going to heaven or hell what would you say?"
"Hell obviously," Tiffany answered. "I know I'm going to hell."
Tiffany did not realize what it meant to be a Christian. "It took me coming here to realize that I was so far gone," she said. "I truly changed."
Before Tiffany and Dexter were baptized together in Lake Clark, she said, "I have found peace and I am so thankful."
Afterward, Tiffany said, "Baptism was really rejuvenating because I got to show everyone that I am starting a new life."
Lives Saved in More Ways than One
Former Marine Corporal Steven Diaz and his wife Laura of Columbia, South Carolina, were both Christians before they came to Operation Heal Our Patriots.
In Iraq in March 2005, Steven was injured by an IED that put shrapnel in his left eye and the right side of his brain, causing him to lose his vision in that eye and have traumatic brain injury (TBI) and seizure disorder. In addition, he took shrapnel to his left leg and right foot.
Laura married Steven after his injuries and has endured the symptoms of Steven's TBI, including his seizures, emotional disconnect, suicidal thoughts, and road rage.
"My Christian faith has saved my life," Steven said. "If I wasn't a Christian, I probably would have been a statistic."
Laura said of the week, "I will take away all the tools that we've been given to spiritually rejuvenate our marriage. I am very grateful for the new friendships and the spiritual renewal."
All ten couples gathered for a fireside farewell on Friday that included the staff and volunteers of Operation Heal Our Patriots. During that time, Steven said, "The number one killer of veterans today is suicide. It's safe to say that some of us contemplated suicide or had those ideations. You all have saved lives. That's very important."
Flying over the Alaska Range back to Anchorage, the couples knew they were leaving a mountaintop experience behind. But the changes God orchestrated in lives last week will last.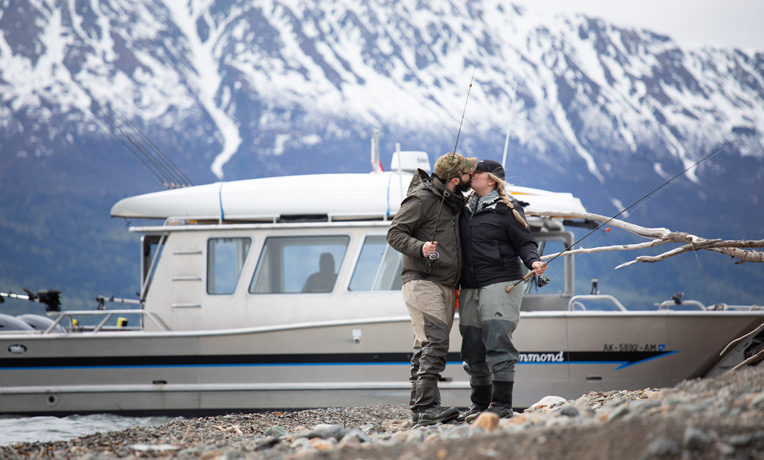 Bless the Marriage of a Military Couple
Operation Heal Our Patriots helps military couples build a strong spiritual foundation during a week of Biblically based workshops, relationship-building wilderness activities, and individual care by our retired military chaplains. We offer all this free of charge to these American heroes as a token of our appreciation for their service and sacrifice. Your gift will help us cover the costs—including transportation, lodging, activities, and long-term Family Care—so that we can help them find hope in the Lord.
---
Operation Heal Our Patriots 013960
Suggested Gift: $60