Samaritan's Purse volunteers are serving homeowners who have stood firm in their faith through life's most difficult storms.
Greg's doctors told him the likelihood of his survival was almost nil. He had a heart aneurysm, and they placed his odds of living at 99-1. Even if Greg did survive, they thought brain damage would be inevitable.
Greg Jones didn't worry about the physician's predictions, however, because he fixed his eyes on God.
"The doctors didn't believe I was going home [from the hospital], but I did," he said.
Greg has escaped death's grip more times than most—his latest deliverance coming when an EF3 tornado hit his hometown of New Orleans.
The February 7 twister was the most powerful to ever strike the city and damaged or destroyed nearly 700 homes.
Samaritan's Purse volunteers are hard at work serving homeowners like Greg in the Name of Jesus. They're clearing debris, tarping roofs, and cutting fallen limbs and trees. Billy Graham Rapid Response Team chaplains are also ministering alongside our teams.
U.S. Disaster Relief
013622
Our volunteers are meeting storm victims who have endured so much, yet refuse to give up because they're trusting God in the midst of tragedy.
A Walking Miracle
VOLUNTEER IN LOUISIANA
Greg was sitting on the couch in his living room, and before he could get up and run to a safe place in the house, it was too late. In a matter of seconds the tornado was gone, the damage done.
"The wind blew me through the hallway door—without opening it. The wind knocked the hinges down and the frame down. I fell on top of the door," Greg explained.
He made it out with only a few cuts and bruises. Although the roof was damaged, the windows burst, and his yard was full of debris, the house fared better than during Hurricane Katrina in 2005.
Greg's family was in Atlanta for his sister-in-law's funeral when hurricane evacuation orders went out, and the family remained there until it was safe to return to New Orleans. They returned to devastation that would take nearly three years to overcome.
God healed Greg when everyone said it couldn't be done.
"We lost the whole house and had to get rid of everything," Greg said. "We had to rebuild it from the ground up."
During the rebuild process the house was broken into and a number of items were stolen. Around this time, Greg had the aneurysm. His only symptom was a little back pain, nothing more than a "tingle," but Greg had a feeling it was serious and went to the hospital.
"My faith is strong. There's nothing that can get me down or stress me out because I've been through it and I'm still here," Greg said. "Every day of my life I believe it's going to be alright."
Samaritan's Purse volunteers prayed with Greg and his wife Janet and encouraged them, and that meant everything to homeowners trying to pick up the pieces.
"Ya'll being here is better than anything money can buy," Greg said.
Clinging to the Savior
Keisha Westbrook doesn't know a stranger and she loves to take care of others. Her face wears a smile that, even when stained with tears, reflects a deep, abiding peace and joy.
"Peace only comes from Him. It can't really be explained, only in one word: God," Keisha said. "I love Him. Loving Him gets me through."
She has needed Jesus' love to carry her through as the recent tornado caused the entire roof on one side of her house to collapse. Keisha is staying at a nearby shelter until the house is livable.
Our volunteers tarped Keisha's roof to help protect her belongings and cleaned up debris in the yard.
Thankfully, Keisha wasn't home when the twister touched down. She was in Alabama visiting her daughter, but when a friend called to tell her the shocking news, she immediately began the drive home.
Keisha was still adding finishing touches to her home, which was nearly under water after Hurricane Katrina and had to be completely gutted. All her possessions were destroyed.
About two months after the hurricane Keisha's mom died, and a few years later, her brother passed away. Sorrow piled upon sorrow overwhelmed Keisha's heart.
"I was unhappy and questioning; I felt tormented and taunted."
Giving up would have been easy—but that's not Keisha. She takes her pain and frustration to God.
"When you're in your darkest hour, God is there," Keisha said. "You're never alone."
A Family Stands Together
As soon as the storm passed, April Jenkins and her son ran outside into the street.
"We heard people hollering and crying. We heard someone screaming for help," April said.
Police who lived in the neighborhood had to rescue the woman screaming. She was elderly and in a wheelchair, trapped in her house with debris all around her. Power lines were down, the poles ripped from the ground. Huge chunks of the roof next door now sprawled across April's yard.
April had a hard time believing that just a few minutes earlier she was hiding in a closet with her son while talking on the phone with her mom.
"I was telling her, 'Please don't hang up. I'm scared.'"
April is very close to her parents and sisters. She's still grieving the loss of her brother, who died last year on Christmas.
"He was my best friend," April said. "If he was still here, he'd be right here beside me."
April's family knows what it means to be there for one another. As they mourn together, they're also rallying around her dad, who recently had a kidney transplant.
Their family ties were also put to the test after Hurricane Katrina flooded April's home.
"I can remember that Saturday like it was yesterday. It was a beautiful day. It was a regular, normal day," April explained. "By early Sunday morning, the weather had totally changed. My sister kept telling me we had to leave."
They evacuated and returned to find that hardly anything in April's home was salvageable. The hardest memories to see swept away were photos of her children.
Despite death, sickness, and natural disasters, April lives with a joy that's grounded in Jesus Christ. She chooses gratitude over bitterness and anger.
"I am blessed. We have our lives—I'm very thankful," she said.
April also voiced thanksgiving to the Samaritan's Purse volunteers who worked at her home.
"It's so heart-filling. Words can't even express."
Visit SP Volunteer Network to learn about volunteering with Samaritan's Purse.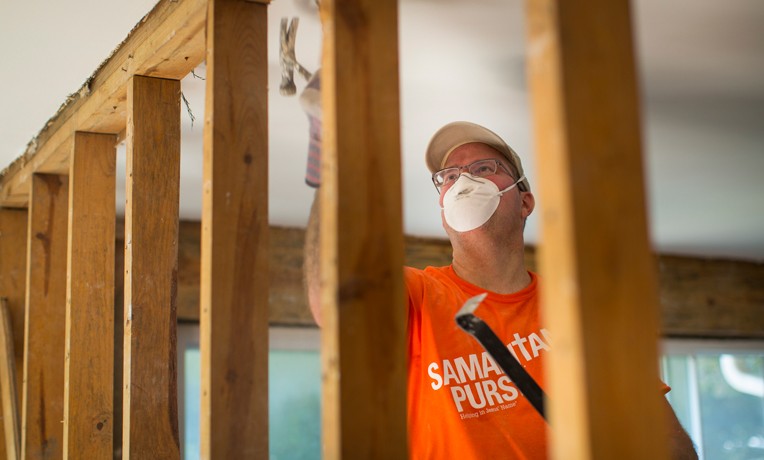 U.S. Disaster Relief
Samaritan's Purse mobilizes and equips thousands of volunteers to provide emergency aid to U.S. victims of wildfires, floods, tornadoes, hurricanes, and other natural disasters. In the aftermath of major storms, we often stay behind to rebuild houses for people with nowhere else to turn for help.
---
U.S. Disaster Relief 013622