A Ukrainian homeowner gives thanks for the food that Samaritan's Purse and our church partners are distributing in her war-torn village.
Responding to the Crisis in Ukraine
014064
The town where Natasha lives in Ukraine was destroyed during a month-long military bombardment earlier this year. When the fighting finally stopped and people returned to the village, they discovered their homes were either damaged or destroyed. Even worse, there was no food.
"Everything was stolen," Natasha said.
Samaritan's Purse learned about Natasha's town and started distributing food there. "This humanitarian aid is a big help for our village," Natasha said. "We simply wouldn't survive without it."
Since the conflict began in February, we have handed out over 100 million pounds of food throughout Ukraine—including areas close to the front lines where food is particularly scarce—to let those who are suffering know that God loves them and hasn't forgotten them. We also are providing warm clothing, blankets, tarps, wood stoves, and other relief supplies through our network of churches and Christian partners in the country.
Watch the video at the top to learn more of Natasha's survival story and our work in Ukraine.
Please continue to pray for the people of Ukraine and that the fighting would soon stop. Pray also for the safety of our teams and church partners as they help in Jesus' Name.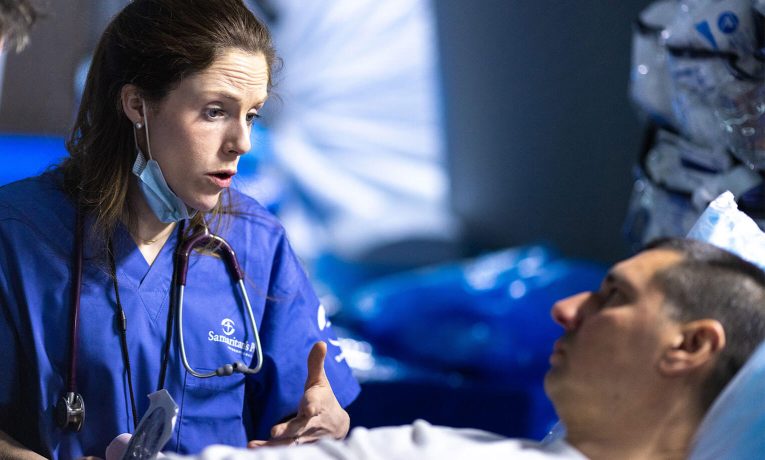 Responding to the Crisis in Ukraine
Samaritan's Purse is providing food and non-food items to suffering families in Ukraine while airlifting medical supplies into the country as fighting rages on. In partnership with churches in Ukraine, we are transporting these urgently needed relief supplies to families suffering in areas impacted by conflict. After providing months of medical care starting this spring, we have recently opened a new Emergency Field Hospital in a recently liberated area.