The Reads were among 10 military couples fighting together for stronger marriages and taking hold of their freedom in Christ during Fourth of July week in Alaska.
Bless the Marriage of a Military Couple
013960
Marine Corporal Tim Read had just knocked out a couple miles of hiking and a steep descent to the falls of the Tanalian River—on one leg.
"That was the fastest I've hiked in a long time," he said.
Then, he knelt on the banks, his left prosthetic leg digging into the sand, as he scraped magnesium filings onto a strip of birch bark. No camp is complete without a campfire; and, finally, after half an hour of refusing to quit, he watched a flame come to life in the damp twigs.
Everyone loved the fire, especially since it was an unusually chilly and rainy week this year at Samaritan Lodge Alaska around the Fourth of July. The warmth Tim's fire provided was a highlight on the first full day of the group's marriage resiliency training.
That fire represented for Tim and his wife, Anh, and the nine other couples in attendance the start of rekindled relationships with one another and with God. Their week of Operation Heal Our Patriots ended with three baptisms and three marriage rededications, and countless other God-granted transformations that may be harder to record.
Nearly Dead in Afghanistan
Tim said the hike and fire reminded him a bit of his Boy Scout days. And his love of the Boy Scouts program is one factor that prompted enlisting in the U.S. Marine Corps at age 18.
"My mom called the Marine Corps my Eagle Scout Ph.D.," Tim said, laughing a bit as he recalled how naïve he had been back then about military service. "I was actually surprised when I received a paycheck. I thought I was volunteering."
Over the next three years, Tim would put his Boy Scout skills and everything else to the test on the field of battle in Afghanistan. At age 21, he'd be wounded—the first time.
"I was crossing Route Rabbit in Marjah, Afghanistan, and was shot while crossing the route in a wadi with my fire team," Tim said. "My point man was hit and I didn't know I'd been hit. I was administering first aid to him, and didn't realize I was also bleeding out. I administered a tourniquet on myself and called in a medivac."
The second wounding, on that same deployment a few weeks later, was unmistakable. Stepping to the right of what he thought could be an IED placement, he actually stepped on a ten-pound IED. This is the blast that mangled his left leg and rattled his brain. This blast nearly killed him, and he thought that it had.
"I had given enough to that platoon, and I was ready to just meet my Maker, but my corpsman didn't want that to happen. He started putting tourniquets on me. Another guy in my unit also started putting tourniquets on me," Tim recalls.
Less than an hour later he was lying on a table and remembers holding the nurse's hand during the painful insertion of a chest tube. He passed out and woke up in Germany.
Pursuit of Freedom—and Romance
Just a few months—and multiple surgeries—later he was getting around in a wheelchair at a Tampa, Florida, veterans hospital. This was where he met a nurse named Anh.
"She was jumping around the hallways with a smile on her face," Tim recalls. "I caught a glimpse of her and I had to see her more. I was like, 'Man, that girl is beautiful. I want to marry her.'"
Anh had a special appreciation for servicemen and women and an understanding of their suffering. She escaped Vietnam in the 1980s with her father, a South Vietnamese soldier who had fought against the Communist north. She had seen her father suffer in camps at the hands of his enemies following the U.S. withdrawal.
"I can't imagine what my life would be like if we still lived in Vietnam," Anh said, noting a majority of her patients at the VA hospital are U.S. military veterans who served in Vietnam. "I have been successful because they fought for my freedom."
Meanwhile, Tim was fighting for her heart. He was persistent in his pursuit of the small spark of a smile he'd seen, and later he did marry that beautiful nurse.
Start of Something New
The years since haven't been easy as Tim continues to struggle with pain, post-traumatic stress, and a traumatic brain injury from the IED in Afghanistan. Anh admits that during some of the struggles, they have allowed God to slip from their lives.
They saw their time in Alaska through Samaritan's Purse as fanning the flame of a new beginning with Christ.
"When we signed up, I thought 'I think that's going to get us more united and closer to God," Anh said. "Because we're just kind of restarting. We're starting to embrace God in our lives again."
Through the daily wilderness excursions around Lake Clark National Park and surrounding wilderness areas, the Reads were able to experience God's creation on a new level, to bond with each other, and to connect with other couples. And during Biblically based chaplain-led marriage enrichment classes, they learned more about what a Godly marriage is supposed to look like.
They were able to leave behind, and commit to God, the burdens they'd been carrying with them over the years and in their marriage. During a symbolic ceremony around the fire at Samaritan Lodge Alaska, couples burned a list of things they wanted to leave behind—a list known only to them.
Leaving Burdens Behind, Finding Love
"The chaplains told us to just leave it all in Alaska," Anh said. "That it's not for us to carry home with us. So, Tim and I wrote down a list of things and we burned it on the fire and prayed to God to lift those burdens from us."
Tim said the fire that Thursday night, a fire that burns each night at the Lodge, felt more intense than it had all week.
"It burned a lot hotter than normal," he said.
The couple burned some long-shouldered burdens last week, built new connections, and also experienced the blessing of renewing some old friendships. Tim and another veteran in Alaska, Marine Gunnery Sergeant TJ Tejada, had known each other during their recovery.
So, it was a blessing for the Reads to see that TJ and his wife, Veronica, were at Samaritan Lodge, too. It was even more surprising and refreshing when TJ, a double amputee, pounded on Tim's door one rainy morning at the Lodge.
"Tim was in a lot of pain from his prosthetics and he was sleeping in that morning," Anh recounts. "Then Gunny TJ came in and said, 'Come on, man. Let's get on this boat.' So, we went and we've never enjoyed fishing so much."
Finding community with fellow military couples and also a deeper connection with Christ during their week in Alaska made it a once-in-a-lifetime experience.
"The only thing I feel here at Samaritan's Purse and Operation Heal Our Patriots is love," Tim said. "Love so great that you can't describe it. Similar to the love I felt in combat, where you'd lay down your life for somebody else. And I know everybody here would do that for each other."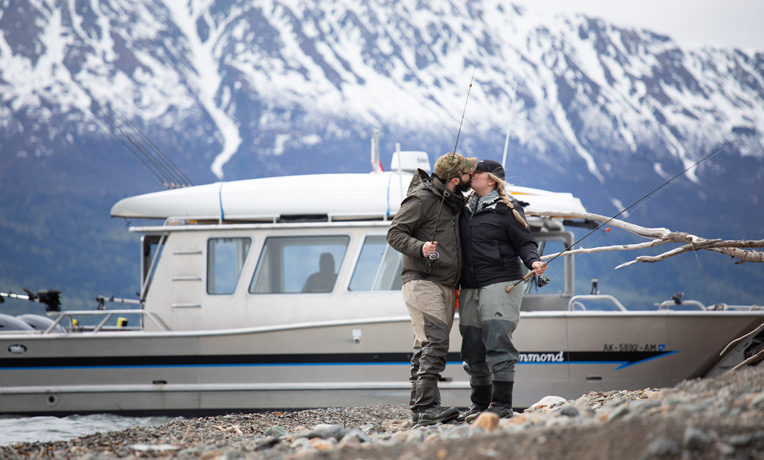 Bless the Marriage of a Military Couple
Operation Heal Our Patriots helps military couples build a strong spiritual foundation during a week of Biblically based workshops, relationship-building wilderness activities, and individual care by our retired military chaplains. We offer all this free of charge to these American heroes as a token of our appreciation for their service and sacrifice. Your gift will help us cover the costs—including transportation, lodging, activities, and long-term Family Care—so that we can help them find hope in the Lord.
---
Operation Heal Our Patriots 013960
Suggested Gift: $60