Samaritan's Purse recently completed a disaster relief deployment to New Orleans East following a devastating February twister.
More than 700 homes were damaged or destroyed when the most powerful tornado ever to hit New Orleans touched down on February 7. The EF3 twister cut a path directly through a number of neighborhoods that were submerged after Hurricane Katrina in 2005.
Nearly 240 Samaritan's Purse volunteers helped more than 130 homeowners in New Orleans East clean up after the storm. Our volunteers worked hard clearing debris, cutting fallen limbs and trees, and tarping roofs.
Household of Faith served as our base of operations during the deployment, which came to a close on February 28.
Our volunteer teams encouraged homeowners with the love of Jesus and shared the hope of the Gospel. They worked alongside Billy Graham Rapid Response Team chaplains and reported 13 salvations. One of our staff shared this story of a homeowner who found himself dragged down by darkness until a chaplain shared the light of Christ with him: "When the man was asked if he wanted to know Christ as his personal Savior, he said, 'That is all I have ever wanted and I want it all.' With a smile on his face, the gentleman prayed to God asking for forgiveness and receiving Christ. Today, he chose Light over darkness that had held him captive throughout his life."
Testimony of Grace
Ebony Lockett's business flooded during Hurricane Katrina, as did her rental house and the house she was preparing to buy. She had to start all over back then, and she's starting over now, as the tornado ripped apart her roof and dumped debris inside and outside her home.
"My mom is still in shock and shaken up. Everything is ruined," Ebony said.
Ebony is dedicated to her family and friends and always willing to help someone in need. Ebony's mom lives with her and Ebony helps take care of her. She has also taken care of her niece and nephew the past 10 years.
This time, it was Ebony's turn to be on the receiving end. Volunteers covered her roof with a tarp and removed piles of debris from her yard. They also prayed with Ebony and presented her with a Billy Graham Study Bible.
Ebony is one of many homeowners who inspired our volunteers with their perseverance in the face of trials. She is determined to press on in faith, holding fast to God.
"I can make it through," she said. "I love the Lord. This is just another testimony [of grace]."
A Lifelong Commitment
Sam Landry was born and raised in New Orleans, and when the tornado came for his hometown, he knew he wanted to help.
Yet, Sam and his wife, Ethel, are both 75 years old and were worried that their age might prevent them from doing the necessary work on job sites.
"We were hesitant because we saw the devastation and weren't sure if physically we could do it," he said. "We're not like we used to be, but we don't think God is finished with us. God gives you strength."
The couple continues pushing themselves to work and serve hard because they want people to hear the Gospel of Jesus Christ.
"These peoples' hearts are broken," Sam explained. "When devastation strikes, their hearts are open, and we can introduce the Lord to them."
First-timers Serve with Their Hearts
Last August floodwaters came for Lafayette, a town about three hours west of New Orleans, and nearly 300 homes in Ryan Branam Leblanc's community suffered damage. About 70 percent of those homeowners are still doing repairs and replacing belongings so they can move back home.
Ryan had never seen such devastation, but in the midst of tragedy, she also saw people coming together to help those in need.
So, when the February 7 storm hit nearby New Orleans, Ryan had an idea of what the city's residents were going through and wanted to help.
Ryan and a group of 10 first-time Samaritan's Purse volunteers came from Vineyard Church of Lafayette to give several days of hard work in New Orleans.
Ryan said she volunteered to help point homeowners "in a different direction than where their problems are—to point them to God."
While Ryan and the group expected to serve, they didn't expect to be so richly blessed in return. They heard many testimonies of homeowners trusting God despite suffering through Hurricane Katrina and now a tornado.
They shared prayers and hugs with homeowners who encouraged the group to keep on living for God's glory.
When it came time to make the drive west, there was hardly a dry eye in the bunch.
"This community has fought back," Ryan said. "It's a blessing to help and love on people."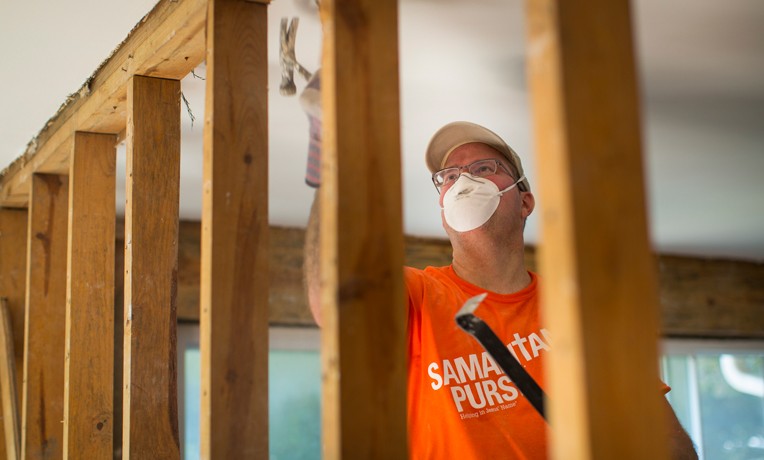 U.S. Disaster Relief
Samaritan's Purse mobilizes and equips thousands of volunteers to provide emergency aid to U.S. victims of wildfires, floods, tornadoes, hurricanes, and other natural disasters. In the aftermath of major storms, we often stay behind to rebuild houses for people with nowhere else to turn for help.
---
U.S. Disaster Relief 013622