Our ministry to military couples includes spouses from the very start and for years to come through a unique Family Care program. Two of these couples, Varalin and Ken Dees and Christina and David Mercado, share the beginning of their stories.
Bless the Marriage of a Military Couple
013960
Varalin never anticipated that the impact of her husband's wartime brain injuries could be so devastating—that expressing any kind of emotion would become nearly impossible for him.
"After 13 years of marriage, he still struggles to tell me how he's feeling," Varalin said. "He has to choose every day to feign emotion. He doesn't laugh because something is funny, but because he knows that he should."
She doesn't see happiness or sadness in her husband's eyes anymore. Even when he's angry, Varalin has a hard time discerning how he feels because she is greeted with the same neutral expression.
More than a decade in the military, including deployments to Iraq and Afghanistan, resulted in a number of severe injuries for Army Sergeant Ken Dees, but the unseen scars haunt him the most.
"If I didn't already know Ken to my core, I would never have known the person who came home," Varalin said.
Varalin and Ken wanted to participate in Operation Heal Our Patriots—the Samaritan's Purse project for wounded military personnel—to learn tools to help them better communicate and, in turn, strengthen their relationship.
Because no matter how much Ken struggles to convey his feelings, and no matter how much he has changed after years of combat, they didn't want to give up on their marriage.
Welcomed and Loved as a Couple
From the moment the plane touched down at Samaritan Lodge Alaska and Varalin saw the crowd of people waving American flags and waiting to greet them and nine other military couples, she realized that the Operation Heal Our Patriots experience wasn't only for the soldiers—she was also welcomed and appreciated as a spouse.
"This is one of the first times we've been honored as a couple together. We get to celebrate how much we love each other, instead of celebrating this identity that was forced upon us as caregiver and spouse."
Valarin was thrilled to connect with her small group of other military wives while in Alaska. "As a spouse of a wounded warrior I'm always on my guard as to whether or not someone is going to have judgment toward my husband. There's no judgment when people love you. I feel that here in Alaska," she said.
"You have people who are going through the same thing. It's really freeing. You have the ability to be open. When we leave, the friendships are going to still be meaningful."
Varalin said that in Alaska she was encouraged by other spouses and our chaplains to remain resolved in her commitment to her husband and to her marriage. The couple was so moved that they participated in a special ceremony at week's end and publicly rededicated their marriage to God and renewed their vows to each other.
"You intentionally choose to love," Varalin said.
The Mercados Find Spiritual Renewal
Christina Mercado knew within two weeks of her husband's return from Afghanistan that he wasn't the same. She thought it was an adjustment period, but as weeks turned into months, she knew they had a problem.
Marine Gunnery Sergeant David Mercado was diagnosed with post-traumatic stress disorder (PTSD), helping to explain the mood swings, depression, anger, and constant irritability.
"This wasn't like me, ever. I was the most happy-go-lucky guy. That is the opposite of who I am now," he said. "PTSD is a challenge every day."
Christina's eyes filled with tears as she considered the cruelty that PTSD had unleashed upon her husband. "It's hard for me because I know how hard it is for him," she said, barely able to push out the words. "Knowing the carefree person he was before and now—it's hard."
After more than 25 years of marriage, the high school sweethearts were struggling when they arrived in Alaska. "I had given up. I was done talking, and I was tuning him out," Christina said. "Operation Heal Our Patriots came at the perfect time."
Like Varalin, Christina discovered Samaritan Lodge Alaska to be a safe place where she could open up to other military spouses. "We're not around military families often. You can try to explain things to other people, but they can't connect at that level."
Christina especially connected with our chaplain mentors, who are the spouses of our military chaplains. "They are very real, and I appreciate that," she said. "It's nice that they are here for us."
Christina said the marriage enrichment classes helped her learn about effective communication and the importance of forgiveness. Throughout the week, Christina and David also heard the Gospel, and both came to faith in Jesus Christ.
"We've been lost for a while. I knew we were, but I didn't know what to do."
"We've been lost for a while. I knew we were, but I didn't know what to do," Christina said. "We realized the Gospel is what we needed. Life is going to have more joy."
Ongoing Ministry to Families
For military spouses like Christina and Varalin, the experience in Alaska is just the beginning of long-term support through Samaritan's Purse.
"Operation Heal Our Patriots is far more than just one week in Alaska," said Greg Duvall, chaplain manager for the program. "After they get home, our regional chaplain team reaches out to each couple to further the relationship and provide follow up care and support. Our goal for Family Care is to help couples grow stronger in their marriage and deeper in their walk with the Lord Jesus Christ."
Family Care includes reunions, training events, volunteering after natural disasters through Team Patriot, and our Key Leader program, which equips military couples to serve as mentors to other Operation Heal Our Patriots couples. Regional chaplains are also available to connect families with local churches and to engage through regular personal contact, whether phone calls, emails, or visits.
"Operation Heal Our Patriots is not just a ministry to the veteran. We deeply care about the spouses," said Shawna Duvall, an Operation Heal Our Patriots mentor who serves alongside her husband, Greg. "We're focused on marriage and on the family."
No matter the challenges military couples may be facing when they arrive in Alaska, our prayer is that they leave knowing the hope of Jesus Christ and the fellowship and unity that comes through their new Operation Heal Our Patriots family.
"Veterans face atrocious battles on the battlefield. But when they come home, they are facing some battles that are even harder and last longer—battles for their homes, their marriage, their family," Shawna said. "No one would ever walk into battle alone. We want to stand by their side in the battle on the home front."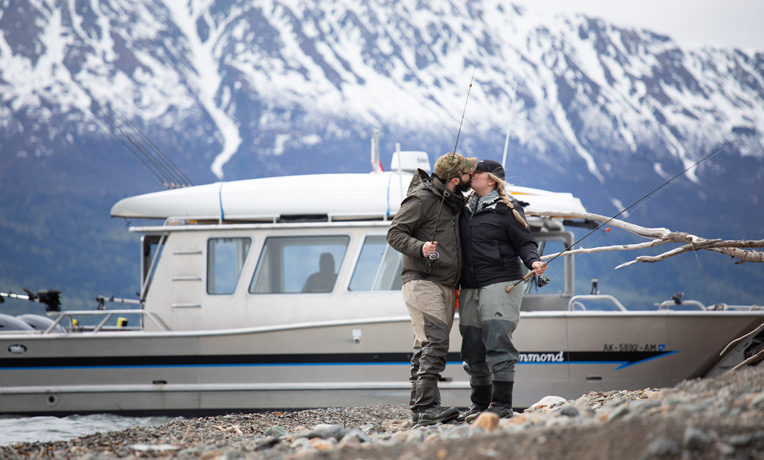 Bless the Marriage of a Military Couple
Operation Heal Our Patriots helps military couples build a strong spiritual foundation during a week of Biblically based workshops, relationship-building wilderness activities, and individual care by our retired military chaplains. We offer all this free of charge to these American heroes as a token of our appreciation for their service and sacrifice. Your gift will help us cover the costs—including transportation, lodging, activities, and long-term Family Care—so that we can help them find hope in the Lord.
---
Operation Heal Our Patriots 013960
Suggested Gift: $60