Samaritan's Purse North American Ministries volunteers and Billy Graham Rapid Response chaplains heard from Franklin Graham and others at the Sharing Hope in Jesus' Name conference.
For the first time ever, Samaritan's Purse North American Ministries volunteers and Billy Graham Rapid Response Team chaplains gathered together for a special conference, Sharing Hope in Jesus' Name. More than 1,200 people participated in the event, which was held in Orlando from April 25-28.
Attendees learned how to help people facing crisis and grief, not only when deploying as disaster relief volunteers or chaplains, but also in everyday life in their own communities.
Being a disciple of the Lord Jesus Christ means wholeheartedly following Him, not holding back or looking back, said Franklin Graham, president of Samaritan's Purse and the Billy Graham Evangelistic Association. Citing Luke 9:23, he said, "Disciples of Jesus need to tell Him in obedience, 'I'll follow you,' period. No buts, whens, or as soon as this or that happens. If He's calling you, you respond. You go."
"God wants first place in our lives and hearts," Graham said. "Our love for Him needs to be so strong, so much, so powerful. We have to give Him first place in everything in our lives to be a disciple."
Franklin Graham thanked disaster relief volunteers (dressed in orange) and chaplains (dressed in blue) for their service in Jesus' Name. The two groups work together after natural disasters to show the love of Christ and bring comfort and relief.
"At Samaritan's Purse and the Billy Graham Evangelistic Association, it's about one thing—the Gospel," he told them. "We want people to know Jesus Christ."
Responding as the Body of Christ
The conference provided opportunities for attendees to enhance their skills in disaster relief and crisis response, as well as a forum for volunteers to encourage each other as they continue to provide physical, emotional, and spiritual care to those in need. Guest artists Aaron Shust and Dennis Agajanian led in worship, and several featured speakers challenged the gathering to share God's love with a hurting world—starting at home.
Unifying as the body of Christ to respond to disasters and crises together brings honor and glory to Jesus Christ, said Doug Sauder, pastor of Calvary Chapel Fort Lauderdale.
"This creates the type of culture where churches help one another," he said, referring to John 17, so that churches "act as one with the heart of Jesus."
Calvary Chapel Fort Lauderdale is part of a group of churches who reached out to survivors of the 2017 Fort Lauderdale airport shooting, and the 2018 shooting at Parkland's Marjory Stoneman Douglas High School. Calvary also hosted Samaritan's Purse volunteers who responded to Hurricane Irma in Key West.
"Samaritan's Purse and the Billy Graham Evangelistic Association have always been there to help us mobilize and organize," Sauder said. "They help churches to be effective in moments of crisis."
Mike Stroud, senior pastor of First Baptist Church in Wewahitchka, Florida, said doors and hearts continue to open in his area because of the Gospel witness that volunteers and chaplains showed homeowners. First Baptist was one of our disaster relief bases after Hurricane Michael.
"God, thank you for this army that came to our rescue," he prayed, "that let us know that there's hope, that there's people who care, to say, 'Pastor, you're not alone,' and to remind us that Jesus said, 'I will never leave you nor forsake you'" (Hebrews 13:5).
Guest speakers also included:
—Ken Bevel, pastor of membership and local missions at Sherwood Baptist Church in Albany, Georgia, thanked Rapid Response Team chaplains and Samaritan's Purse volunteers for their work over the past couple years—after tornadoes and Hurricane Michael. "God's used you for His glory," he said. "But there's still much work to be done for the kingdom of God. People need to hear the hope that can only be found in Jesus."
—Jim Henry, pastor emeritus of First Baptist Church in Orlando, told conference attendees they're going to be placed "in the lives of people who've been robbed of hope."
"People need to hear the hope that can only be found in Jesus."
"They can hope again because our Lord reigns," he said. "You are going to help people open that door of hope—God's going to put you in that place."
—Fred Luter pastors Franklin Avenue Baptist Church in New Orleans, where church grounds became a staging area for Samaritan's Purse disaster relief efforts for three years after Hurricane Katrina. He said that when difficulties come, we must rely on God's promises: "Many are the afflictions of the righteous, but the Lord delivers him out of them all" (Psalm 34:19).
God Will Use You
Event attendees ranged from first-time to experienced disaster relief workers and chaplains, as well as those who came to the conference to learn about available opportunities.
Nance Stelow of Newville, Pennsylvania, has served both as a Billy Graham chaplain and as a Samaritan's Purse disaster relief volunteer. She's been on the Rapid Response Team for four years and continues to serve in that capacity.
But more than a year ago when the Ohio River flooded along the Pennsylvania border, she called Samaritan's Purse and said it was time for her to put on orange for a week, referring to our brightly colored disaster relief volunteer T-shirts.
"[When] you are serving the Lord, you start by praying and saying, 'Yes, Lord,'" she said. "That will open up opportunities to serve Him, but first you just need to say 'yes' to the Lord, and He will lead you to what that means."
She volunteered with Samaritan's Purse again this past year to help residents of Kauai, Hawaii, recover from flooding. And, besides an occasional quick trip home to visit family, Stelow has spent most of this past winter as a Samaritan's Purse disaster relief volunteer in Wewahitchka and Panama City, Florida, in the wake of Hurricane Michael.
"When I wear the blue shirt of a chaplain, one of the first ministry opportunities I have even before I meet the homeowners is to pray with the orange-shirted volunteers," Stelow said. "When I wear the orange shirt of a volunteer, it's still all about relationships—relationships with the homeowners and your fellow volunteers—how you build those relationships and support each other in the Name of the Lord."
Dan Walter from South Elgin, Illinois, has been on three disaster relief deployments since November—in Wilmington, North Carolina, after Hurricane Florence; in Panama City, Florida, after Hurricane Michael; and in response to flooding in Dodge County, Nebraska.
He said the conference helped him to focus on helping people in need locally as well as nationally.
"It's great to think big, but this conference taught me that we as churches also need to start small and think local," he said. "We need to ask ourselves, 'Who is my neighbor, and how can I serve them?'"
To volunteer or learn more about Samaritan's Purse disaster relief responses and rebuild projects, check spvolunteer.org regularly for updates. You also can sign up for text alerts and download our volunteer app to receive more information.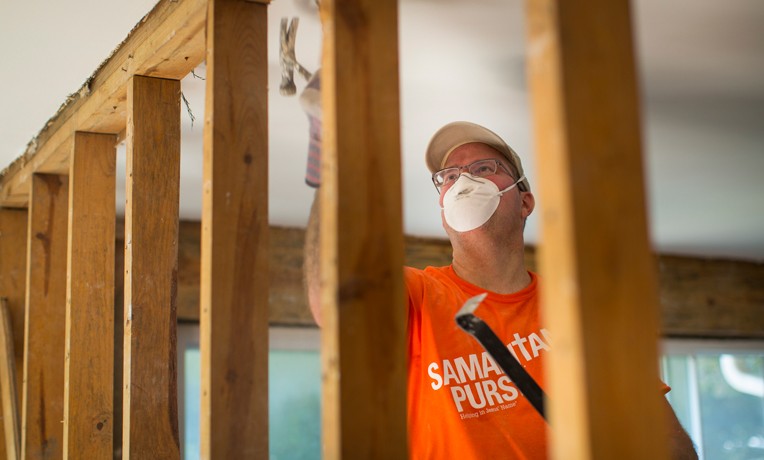 U.S. Disaster Relief
Samaritan's Purse mobilizes and equips thousands of volunteers to provide emergency aid to U.S. victims of wildfires, floods, tornadoes, hurricanes, and other natural disasters. In the aftermath of major storms, we often stay behind to rebuild houses for people with nowhere else to turn for help.
---
U.S. Disaster Relief 013622