The inaugural motorcycle tour in California raised awareness and financial support for the Samaritan's Purse project for wounded veterans and their spouses.
Bless the Marriage of a Military Couple
013960
More than two dozen motorcyclists joined Edward Graham on Saturday, Nov. 13, in California for the first-ever Pacific Coast Warrior Ride. The event, hosted by Latitude 33 Adventure Tours and longtime Samaritan's Purse supporter Mark Mitchell, helped raise awareness and financial support for Operation Heal Our Patriots, the Samaritan's Purse ministry to post-9/11 wounded veterans and their spouses.
"This has been an unbelievable event: being able to come out here and have a good time riding motorcycles as a way of serving and loving veterans and their spouses and sharing the Gospel of Jesus Christ," Edward Graham said. "It's been a great way to support Operation Heal Our Patriots."
The California ride, modeled on the High Country Warrior Ride held each spring in Boone, North Carolina, carried bikers along a 168-mile route starting in Fontana, California, where riders began the day with a special two-lap ride around the NASCAR track at Auto Club Speedway.
Participants traveled high into the San Bernardino mountains, back down and through Riverside, finally arriving for a special gathering at the Samaritan's Purse Ministry Center in Fullerton.
Former Marine Walter Segura and his wife Touri said they came out in support because they know the challenges military couples face. Walter served on deployments in Iraq and was married to Touri for much of that time.
"We believe in the importance of marriage and in the sanctity of marriage," Touri said. "We also know how difficult it can be for your marriage during deployments."
Mark Mitchell, one of the organizers of the event and an Army combat veteran of the Vietnam War, said he understands the strain of military service on the families of veterans.
"I've always been aware of the need to support veterans and the toll combat can take on marriages," Mark said. "It was wonderful to get out here today with people who believe in the sanctity of marriage and believe in the values this country was built upon."
A Ride That Changes Lives
At our ministry center, participants heard from special guests Army Master Sergeant Josh Grzywa and his wife Neysa.
"It's because of events like this and the generosity of strangers we will probably never know that in 2015 we were able to attend Operation Heal Our Patriots in Alaska," Josh told the gathering, recalling how their week in Alaska helped bring him to salvation in Jesus Christ. "Alaska did more than bring veterans together for a great time. It changes lives. Thank you for coming out today because this will change lives and save marriages."
The Grzywas also emphasized the importance of the Operation Heal Our Patriots Family Care ministry, which provides veterans and their spouses with around-the-clock access to chaplains, connection to fellow military couples, contact with local churches, opportunities to serve through Team Patriot, and marriage-strengthening events throughout the year.
"We still have challenges," Neysa said. "It's still difficult sometimes, and having someone we can call has been a lifeline."
Highlighting Other Ministries of Samaritan's Purse
Toward the end of the night, Mark presented Edward Graham with a check of proceeds from the ride. Participants were also introduced to the work of Operation Christmas Child, whose West Coast volunteer operations are handled in the ministry center in Fullerton.
At this campus, we also house U.S. Disaster Relief Units—tractor trailers that carry relief supplies and equipment following disasters—along with shower trailers and laundry trailers for responses. Ride participants were invited to tour the trailers and explore volunteer opportunities through Samaritan's Purse.
Disaster Relief teams have deployed from Fullerton multiple times this year for wildfires and other disaster events. Housing equipment and staff at this location allows for quicker response times, which are especially critical given the number of fire responses in recent years.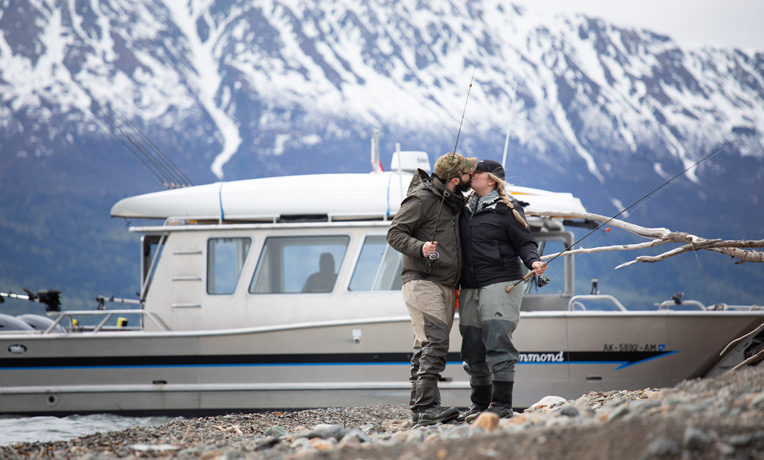 Bless the Marriage of a Military Couple
Operation Heal Our Patriots helps military couples build a strong spiritual foundation during a week of Biblically based workshops, relationship-building wilderness activities, and individual care by our retired military chaplains. We offer all this free of charge to these American heroes as a token of our appreciation for their service and sacrifice. Your gift will help us cover the costs—including transportation, lodging, activities, and long-term Family Care—so that we can help them find hope in the Lord.
---
Operation Heal Our Patriots 013960
Suggested Gift: $60