Samaritan's Purse is delivering emergency aid to people devastated by the terrible storm
The true extent of the nightmarish damage inflicted on the people of the Philippines by Typhoon Haiyan became shockingly clear as the Samaritan's Purse team traveled to hard-hit areas where we are beginning to help.
Help Disaster Victims Around The World
As they approached, they began to see debris piled up higher and higher along the road. People stood in front of their destroyed homes—children, mothers, and families—crying out and holding signs: Need Help, We Are Hungry and Thirsty.
"The sight is gut-wrenching," said Andrew Conard, the Water, Sanitation and Hygiene specialist on the team. "In the areas where the winds were the highest intensity, nearly every house is either completely destroyed or has lost the roof."
It's been just over a week since the deadly super typhoon—one of the most powerful ever recorded—slammed into the Philippines. The winds leveled tens of thousands of homes. In some places, tsunami-like storm surges swept up to one-mile inland, causing more destruction and loss of life. At least 580,000 people have been displaced.
The days following the storm have revealed the true extent of the destruction.
"There is total devastation everywhere," said Patrick Seger, the Samaritan's Purse team leader. "People are living in the rubble of their homes and sleeping out in the rain, open to the elements. Even if they have a partial house, they are staying with it to protect their belongings. They need tarps to put over their homes as they begin to rebuild."
Samaritan's Purse deployed disaster response specialists, including water and nutrition experts, to the region immediately after the storm. Our team is working in the Bogo City region, on the northern part of Cebu Island, and on Bantayan Island. We are distributing protective tarps, blankets, hygiene kits, and emergency family food packets, and installing community water filters.
"Bantayan Island and the smaller islands near it are struggling to get a daily supply of water and food," Conard said. "Nearly all of the boats are destroyed. These boats were the means for their livelihoods. They depend on boats for transporting supplies, food and water to their homes. The water sources in the island are too brackish to drink and now they are short on supplies."
Since arriving, we have been working with church partners and volunteers to prepare hygiene and family food kits. Four thousand emergency supply kits, containing food and hygiene items, have been distributed to families in northern Cebu and on Bantayan Island. Another 4,000 kits are being assembled for distribution to families in affected areas.
"We are trying to share the love of Christ and work with all the churches here," Seger said.
On Wednesday, a team of Samaritan's Purse staff, church pastors, and volunteers traveled to Bantayan Island to begin distributing the emergency supplies, including food parcels and tarps that can be used for shelter.
More relief arrived on Sunday morning local time, when a cargo jet chartered by Samaritan's Purse and filled with 110 tons of emergency supplies landed in Cebu City. The airlift included plastic sheeting for shelters, as well as community water filtration systems, thousands of blankets and mosquito nets, medical tents, medical supplies, and generators.
"There is a huge need here for water, " Seger said. "People want water more than they want food. Water filters are needed in towns and villages everywhere. Tarps are also needed to cover damaged roofs and homes. They are on their way."
Samaritan's Purse also is working with health officials to see how we can meet critical medical needs.
"They were very appreciative and very much want to incorporate us into their plan," said Lance Plyler, medical officer for our response. "They have tentatively assigned a hospital for us to partner with and help them get back on their feet."
As teams continue to meet physical needs, they also pray with people in dire straits, letting them know that God has not forgotten them
"When people say, 'What are immediate needs?' they always say water and food and shelter, which is great," said Dave Shields, a volunteer helping to assemble the kits. "But they forget the fourth need, which is hope. As much as we can, we want to install hope and remind people that God is here in the midst of it. And the way they know God is here is because we're here in the flesh."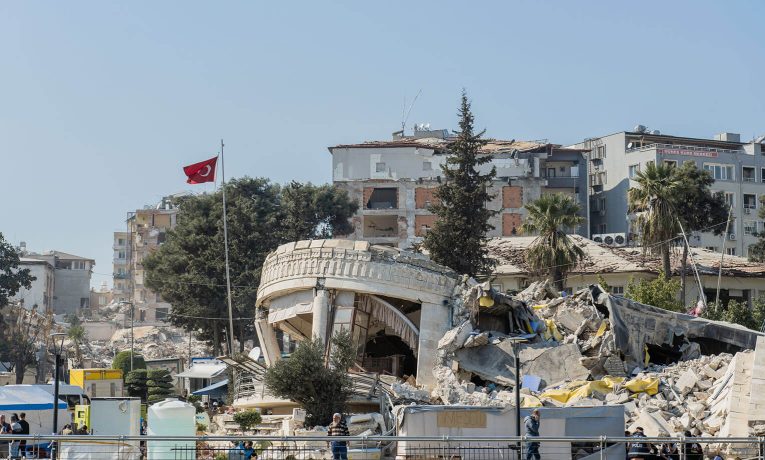 International Emergency Relief
When natural disasters strike or armed conflict causes people to flee, Samaritan's Purse responds quickly to bring relief to those in urgent need. We can provide food, clean water, and shelter, among other necessities. One way we help in disaster situations is by handing out "family survival kits" that include warm blankets, buckets with water filters, cooking utensils, soap, and other daily essentials. For just $45, we can provide a lifeline to a family that has lost everything, to help them get back on their feet.
---
International Emergency Relief 013310
Suggested Gift: $45