Samaritan's Purse volunteers are rebuilding a church and parsonage in Scammon Bay, a remote coastal village in southwest Alaska.
As Alaska's interior undergoes its annual thaw, there are just enough weeks of milder weather to rebuild in the state's hardest-to-reach areas. This would include Scammon Bay, population 500, on the edge of the Yukon Delta National Wildlife Refuge where the Kun River meets the Bering Sea. There are no roads leading into or out of Scammon Bay—only barges, cargo ships, and airplanes.
As with many of Alaska's remote villages, the hardy people of Scammon Bay do a lot of living off the tundra, spending the spring and summer weeks gathering and storing fruit, fish, and moose ahead of harsh winters. And their buildings take a beating from the elements.
That's why this summer Samaritan's Purse volunteers are arriving weekly in Scammon Bay to help build a 5,000 square-foot worship center and three-bedroom parsonage on the property of the local Covenant Church. Built on a triodetic foundation, the steel frame moves and adapts to the drastic freezing-thawing movement of the tundra.
Almost two dozen volunteers have already joined our work in Scammon Bay and dozens more will be flown in aboard our aircraft from late June to October.
"The pastor of this church and its members are a faithful congregation serving this village for many years," said Samaritan's Purse project superintendent Russell Richardson. "This is a strong Alaskan village and a strong Alaskan church with good leaders, and we want to help strengthen their presence and ministry here with structures that will withstand the harsh winters for many, many years to come."
This is the 32nd Samaritan's Purse rebuild project since our first Alaska construction project in Hooper Bay, just to the southwest of Scammon Bay, in 2006.
Please pray for village residents, for the Scammon Bay Covenant Church, and for our volunteers as they work hard to help these people in Jesus' Name.
While our Alaska rebuild project is full for this year, other volunteer opportunities exist with North American Ministries. Please see our current list at spvolunteer.org.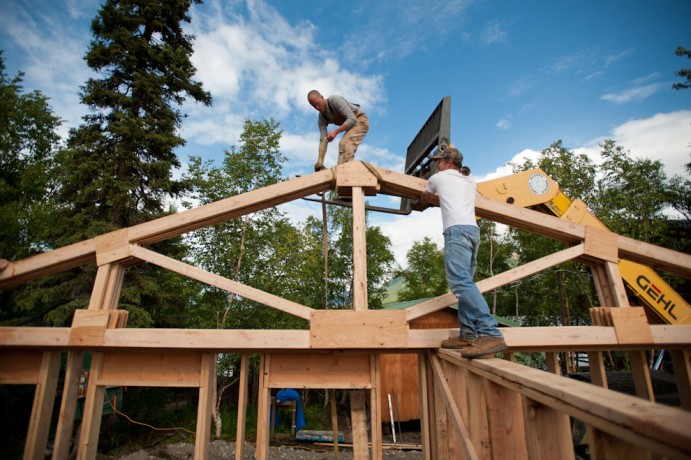 Alaska Projects
Samaritan's Purse staff and ministry partners aim to bring practical help and the Good News of Jesus Christ to native peoples in Alaska and the surrounding region.