Samaritan's Purse continues to work in southeast Texas where volunteers are rebuilding and repairing homes damaged by Hurricane Harvey.
When Hurricane Harvey struck southeast Texas in August 2017, the Category 4 storm pounded the region with 130 mph winds and more than 60 inches of rain. Everlena Chambers watched as floodwaters quickly rose in her Houston home, destroying walls and furniture. The mold that soon formed inside her house forced her to leave—for more than a year and a half.
Everlena says she's experienced many sleepless nights since that horrific day when she fled her beloved house. But recently her lack of sleep is the result of joy as she stays awake praising God. This week, we welcomed Everlena and her husband back to their home that was newly restored by Samaritan's Purse volunteers.
"I'm still just praising God," said Everlena, who said she recently slept through the night in her home and woke to what felt like a dream. "I woke up to a brand-new house. It's a beautiful house. I couldn't have asked for more."
Through the tireless work of more than 2,500 volunteers, we've helped repair or rebuild 56 homes in the storm-mangled region of Texas. Additionally, we've provided rebuild grants to more than 500 churches and other ministry partners. Our goal is to help 1,000 homeowners, churches, and ministry partners through these efforts.
"We need lots of volunteers," said Edward Graham, son of Franklin Graham, when he joined volunteer teams and North American Ministries vice president Luther Harrison to dedicate homes in Texas this week. "We're going to be here for the next few years. God has entrusted us with resources [and it's] going to take some time in order to accomplish the mission."
Shortly after Hurricane Harvey battered Texas more than a year ago, Samaritan's Purse deployed five Disaster Relief units to the region. With the help of more than 11,000 volunteers, we assisted more than 3,000 families with emergency repairs, debris removal, and mud-outs of homes with severe flood damage.
"We want God to be seen here," Harrison said. "We want [homeowners] to see it was God's people that came here in a time of crisis to put their house back together."
Please continue to pray for homeowners and for our volunteer teams during these ongoing rebuild efforts in southeast Texas. Also pray for the hurricane-damaged areas of the Florida Panhandle and the Carolina coasts as these communities are still recovering from devastating storms last year.
SIGN UP TO VOLUNTEER FOR DISASTER RESPONSE AND REBUILD PROJECTS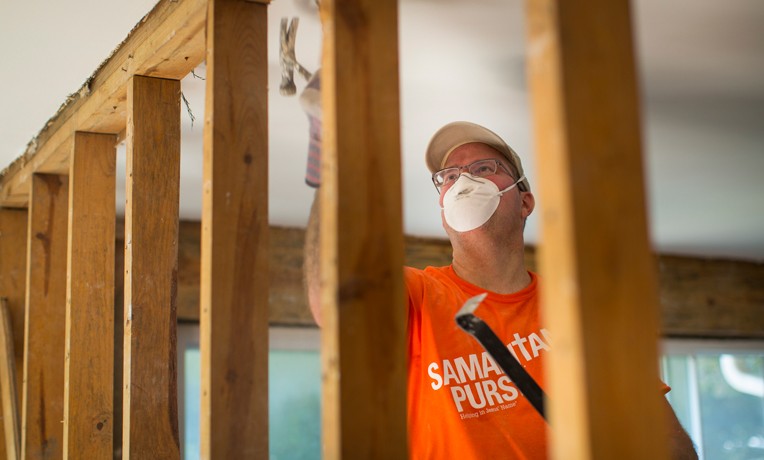 U.S. Disaster Relief
Samaritan's Purse mobilizes and equips thousands of volunteers to provide emergency aid to U.S. victims of wildfires, floods, tornadoes, hurricanes, and other natural disasters. In the aftermath of major storms, we often stay behind to rebuild houses for people with nowhere else to turn for help.
---
U.S. Disaster Relief 013622