Samaritan's Purse is responding to the devastation that Hurricane Harvey, once a Category 4 storm, has brought to the Texas coast.
UPDATE: Please see "All Disaster Units Bound for Texas as Harvey Keeps Churning" for all the latest information—that story is being updated regularly as of August 31. This story was last updated about 1 p.m. on August 28.
Samaritan's Purse disaster relief units are now in Texas as Harvey's deadly fury has moved inland and continues to pummel the state, especially flood-prone Houston. Our teams are ready to go in and help homeowners in Jesus' Name as soon as we are able to access affected communities.
When the Category 4 hurricane came ashore late Friday night, the coastal town of Rockport and other areas suffered considerable damage and at least one fatality was reported.
Houston, the fourth largest city in the U.S., is now getting battered, with more than three feet of rain having fallen in the last 24 hours. At least two people have drowned, and more than 2,000 people have been rescued—many of those from rooftops. Much of the city is under water, and rains could last four to five more days.
SIGN UP TO VOLUNTEER
"My heart continues to be heavy for the good people of South Texas as they begin to deal with the devastation caused by Hurricane Harvey—and the flood waters are still rising in many areas," said Franklin Graham, Samaritan's Purse president. "We have pre-positioned Samaritan's Purse disaster relief trucks and materials outside Dallas and will be moving into the hardest hit areas as soon as we are given the all-clear by the state authorities. We hope that over the next few months there will be thousands of volunteers who will want to come and help those whose homes have been damaged by this destructive storm."
Though the remnants of Hurricane Harvey are now classified as a tropical storm, torrential rains and catastrophic flooding remain a terrible threat to millions of residents. The tropical storm could continue pouring water on Texas for days, with up to 50 inches of rain possible in some areas through Wednesday. Tornadoes have been spotted, with more possible. It is estimated that about 11 trillion gallons of rain have inundated the area—and counting.
"We are praying for God's protection for those in the storm's path."—Franklin Graham
Much of southeast Texas is under a flash flood watch until Tuesday. The situation is extremely dangerous and could render some locations uninhabitable for weeks or months. More than 300,000 residents statewide are without power.
"Our first and foremost focus at this particular time is saving lives," said Texas Governor Greg Abbott on "Face the Nation." "We are working on as many water rescues as we possibly can and trying to find ways to get people out of harm's way."
Governor Abbott has activated the entire 12,000-member Texas National Guard to respond to this disaster. The city of Dallas has three evacuation centers ready for use by those fleeing flooded Houston.
President Donald Trump earlier signed an emergency disaster declaration for storm-battered parts of Texas, at the request of Governor Abbott. The President is expected to travel to Texas on Tuesday.
A state of emergency has now been declared for parts of Louisiana as Tropical Storm Harvey may be bringing heavy rain there.
Harvey is the first Category 4 storm to wallop the U.S. since Hurricane Charley hit Florida in August 2004. The last time the Texas Coastal Bend suffered through a Category 4 hurricane was 1961.
Poised to Serve
Two disaster relief units left our base in North Wilkesboro, North Carolina, on Friday, and the tractor trailers will stand by in north Texas until weather permits our staff to move into areas of devastation. We're fully prepared to come alongside hurting homeowners in Jesus' Name and will be accompanied by Billy Graham Rapid Response Team chaplains.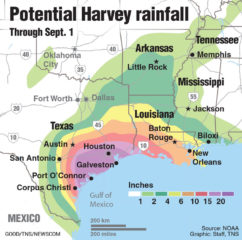 We're reaching out to partner churches, from Victoria, where our first disaster relief unit made its first deployment in 1998, all the way to Houston. Once we identify the areas of greatest need, we will secure host church locations and begin deploying volunteers to physically and spiritually minister to homeowners.
Luther Harrison, vice president of North American Ministries, said that U.S. disaster relief teams will be ready to serve as soon as the green light is given. "Once the flood waters recede, our staff will identify the greatest areas where our help is needed and send our volunteers in to help these families remove their waterlogged possessions and do it with a Christ-like love," he said.
"When people come home, let's have the church be there, walking with them, hand in hand, supporting them, showing them Christ's compassion," he added.
Please pray for safety for those in the path of this deadly storm, and pray for our teams who will respond.
Interested in Volunteering?
Please check SP Volunteer Network for the latest information, which we will update as more details become available.
Samaritan's Purse U.S. Disaster Relief has been quite busy in Texas over the past two years. We have responded nine times since the beginning of 2015, six of those involving floods. During those six deployments—including two in the Houston area last year—our 4,997 volunteers assisted 624 families. And praise God, 323 people prayed to receive Jesus Christ as their Savior.
Editor's note: This article was originally published on August 25. It was significantly revised and updated to reflect changing conditions on August 26-28.
Hurricane Relief
Samaritan's Purse responds to the urgent needs of families devastated by the wind, rain, and storm surge of catastrophic hurricanes. Whether in the United States or abroad, we come alongside hurting people to bring emergency relief and practical help in the Name of Jesus Christ.