Samaritan's Purse assists a family dealing with the death of a loved one after the Louisville, Miss., tornado
When Roy Eichelberger arrived at the scene to check on his sister, everything was already gone. Both her house and her next-door daycare center were flattened. Only the house's foundation remained, surrounded by strewn children's toys, diapers, and scrap metal tangled with splintered planks of wood embedded with nails dangerously jutting out.
Help Storm Victims in the U.S.
The EF-4 tornado that swept through Louisville, Miss., only landed for a matter of seconds, but the damage was devastating. Everything was gone—including Roy's sister.
"The storm hit the daycare and hit the house, and my mom didn't make it," said Ruth's son, Damon Eichelberger, 33. "I was numb at first, but I needed to be strong for my sister and strong for my wife."
The community loved Ruth Eichelberger Bennett. She ran a popular local daycare with a long waiting list. Damon said that it wasn't unusual for children to cry when their parents came to pick them up because they didn't want to leave Ruth just yet.
Her love for the children of Louisville was more than evident in her life. It was even apparent in her death.
Ruth's body was found with her arms wrapped around a 4-year-old girl who was covered in a blanket. The child was her only charge who hadn't been picked up by her parents before the storm. Ruth gave her life so the little girl could live.
When Samaritan's Purse volunteers arrived on the scene to help clear the debris, the lot looked like a junkyard. Ruth's relatives, including her brother Roy and her son Damon, insisted on working alongside the volunteers.
"They came out quicker than we thought," Damon said. "Within an hour, they had someone over here, and before the day was out, they let us know someone would come this morning. I've been looking around, and it's looking better. "
Roy said everyone in the family was appreciative of the volunteers who helped. Without assistance, it would have taken the family much longer to deal with the devastation—something that overwhelmed them as they were simultaneously planning a "home-going" for Ruth. The prayers and comfort they received from volunteers also made an impact on the family emotionally.
"It's great indeed to have someone here to come and help and just tell you they love you," Roy said. "I didn't know them until now, but, you know, it's good to have them on board. My sister loved the Lord and helping people. She'd be real happy to see this and see you all."
Please pray for Ruth's family and community as they grieve her loss, and continue to pray for the families of tornado victims as they deal with the aftermath of the storms across the country. Please also pray for our staff and volunteers as we strive to serve these hurting people in Jesus' Name.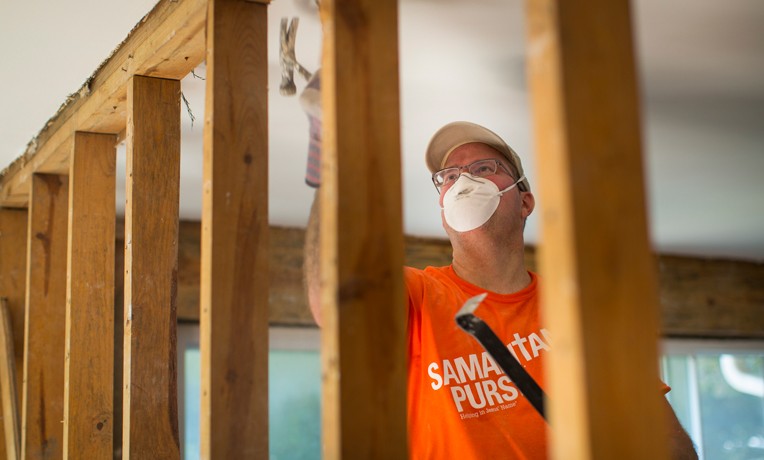 U.S. Disaster Relief
Samaritan's Purse mobilizes and equips thousands of volunteers to provide emergency aid to U.S. victims of wildfires, floods, tornadoes, hurricanes, and other natural disasters. In the aftermath of major storms, we often stay behind to rebuild houses for people with nowhere else to turn for help.
---
U.S. Disaster Relief 013622